All Star Game By The Numbers
Andrew Simon
Posted: 2019-07-10
The American League's recent All-Star Game dominance is growing more prolific by the year.
The Junior Circuit held on for a tight 4-3 victory over the National League on Tuesday night at Cleveland's Progressive Field, in the 90th All-Star Game presented by Mastercard, notching its seventh straight win in the Midsummer Classic. It was a game that moved quickly, wrapping up in less than three hours, but also featured a ton of entertaining banter via live mics on the field, and some timely hitting from both sides.
Here are 11 facts to know about a rocking night near the shores of Lake Erie.
19 of 23 for the AL: The AL has claimed 19 of the past 23 All-Star Games dating back to the last Midsummer Classic at Progressive Field in 1997. The Junior Circuit won five straight All-Star Games from 1997-2001, and then another seven in a row after the leagues tied in 2002, for a total of 13 straight All-Star Games without a loss. The longest "uninterrupted" All-Star win streak is 11, accomplished by the NL from 1972-82.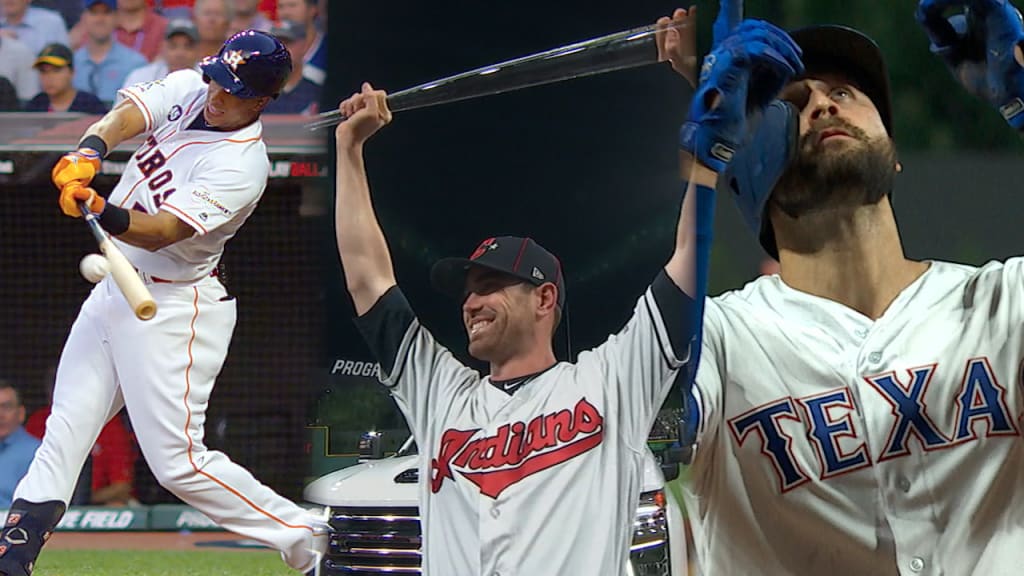 Best of the 2019 All-Star Game
00:01:362019-07-10T04:52:51.358Z
After a brief three-game win streak by the NL from 2010-12, the AL has not lost since. The AL now leads the all-time series, 45-43-2, and holds a 373-370 edge in combined runs.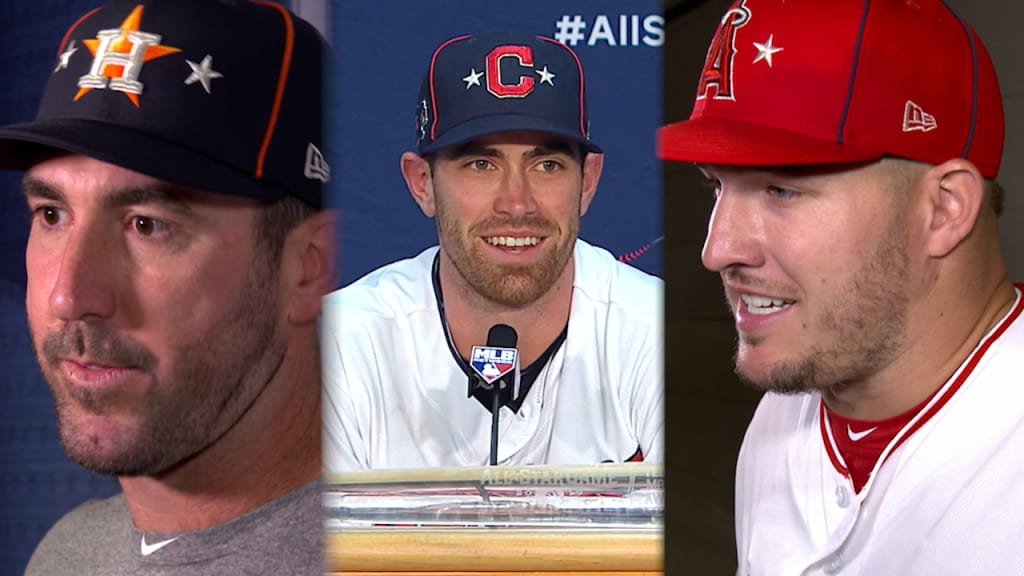 AL All-Stars on win over NL
12:272:38 AM EDT
Bieber the hometown hero: The Indians' Shane Bieber entered the game in the fifth inning, and pitching in front of his home crowd in Cleveland, struck out Willson Contreras, Ketel Marte, and Ronald Acuña Jr. in order. That made him the first Indians pitcher to strike out the side in the All-Star Game (In 1968, Sam McDowell struck out three batters in the same inning, but also allowed a hit).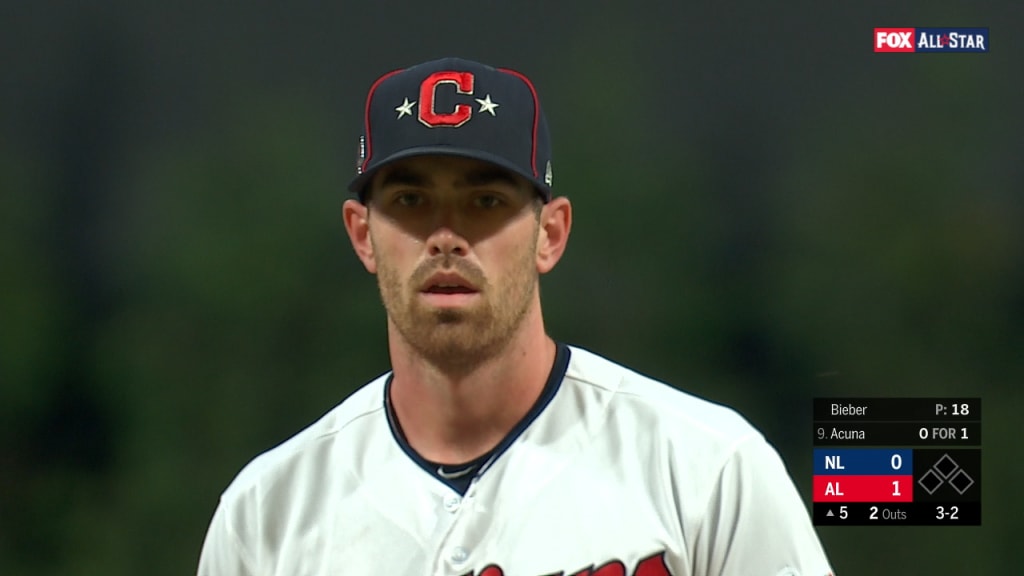 Bieber strikes out side in 5th
00:39Jul. 9th, 2019
Bieber was named the game's MVP for his efforts, joining Sandy Alomar Jr. as the only Indians players to win the award. Fittingly, Alomar did so in 1997, the last time Cleveland hosted the Midsummer Classic, also at Progressive Field. Only four players younger than Bieber (24 years, 39 days) have won the award, according to Elias Sports Bureau: Roger Clemens, Ken Griffey Jr. and Mike Trout (twice).
AL pitchers make strikeout history: AL pitchers combined to strike out 16 NL hitters, setting an All-Star Game record for the most punchouts by one league in a nine-inning game. The previous high mark was 15, recorded by NL pitchers in 2015. The all-time single-team record, regardless of game length, is 17 strikeouts, set in a pair of 15-inning games (both the AL and NL in 2008, and the NL in 1967). Tigers closer Shane Greene, who pitched a clean seventh, was the only AL pitcher who did not record a strikeout Tuesday night.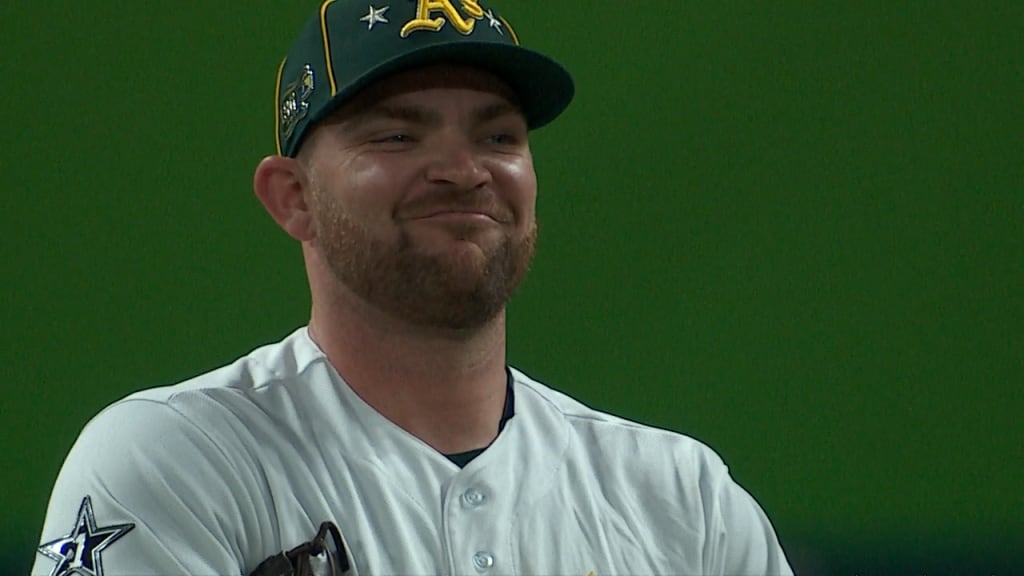 Hendriks' eventful strikeout
00:311:25 AM EDT
111.5 mph laser from Gallo: Rangers slugger Joey Gallo put an emphatic insurance run on the board in the bottom of the seventh when he laced Will Smith's first pitch a projected 397 feet to the right-field stands to extend the AL's lead to 4-1. Gallo struck Smith's pitch with a 111.5 mph exit velocity, making it the hardest-tracked base hit in an All-Star Game since Statcast began tracking in 2015. The previous high mark was Kris Bryant's 110.8 mph homer off Chris Sale in 2016.
Gallo's homer was the first by a Ranger in an All-Star Game since Mark Teixeira in 2005, and just the fourth that the southpaw Smith has allowed to a lefty batter since the start of 2016. And, per STATS, It also made Gallo just the third player this century to homer off the very first pitch he'd ever seen in a Midsummer Classic, joining David Wright (2006) and Contreras (2018).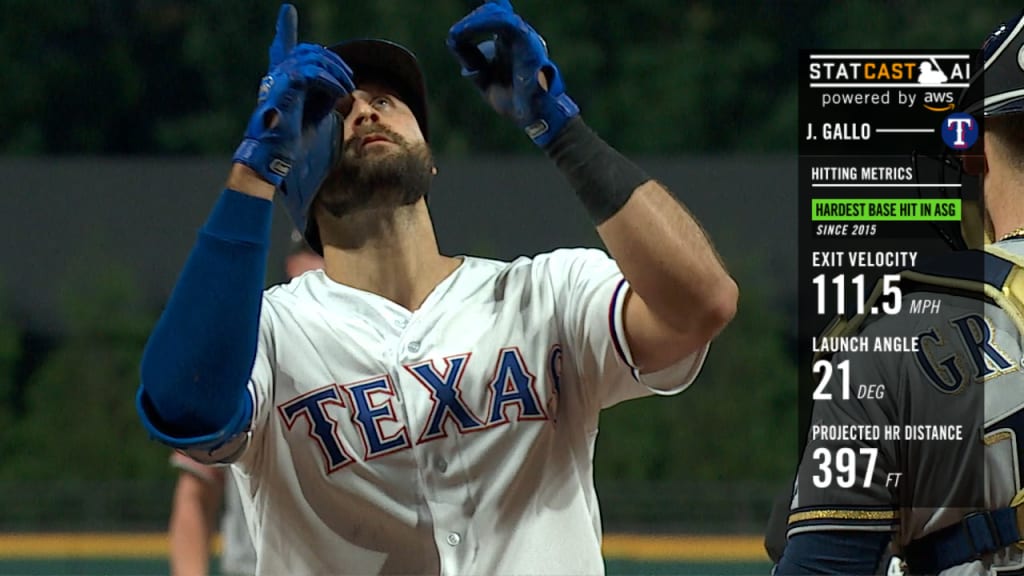 Statcast: Gallo's All-Star homer
00:2912:06 AM EDT
Polar Bear keeps it going: A day after winning the Home Run Derby, Mets rookie sensation Pete Alonsocollected his first All-Star Game hit in his Midsummer Classic debut. It was a big one, too -- a two-run single with the bases loaded and two outs in the top of the eighth inning that pulled the NL within a run.
Alonso made some history in the process: He's the first rookie ever with multiple RBIs in an All-Star Game. Alonso is also just the second Mets player with multiple RBIs in an All-Star Game, joining Lee Mazzilli, who had two in the 1979 game.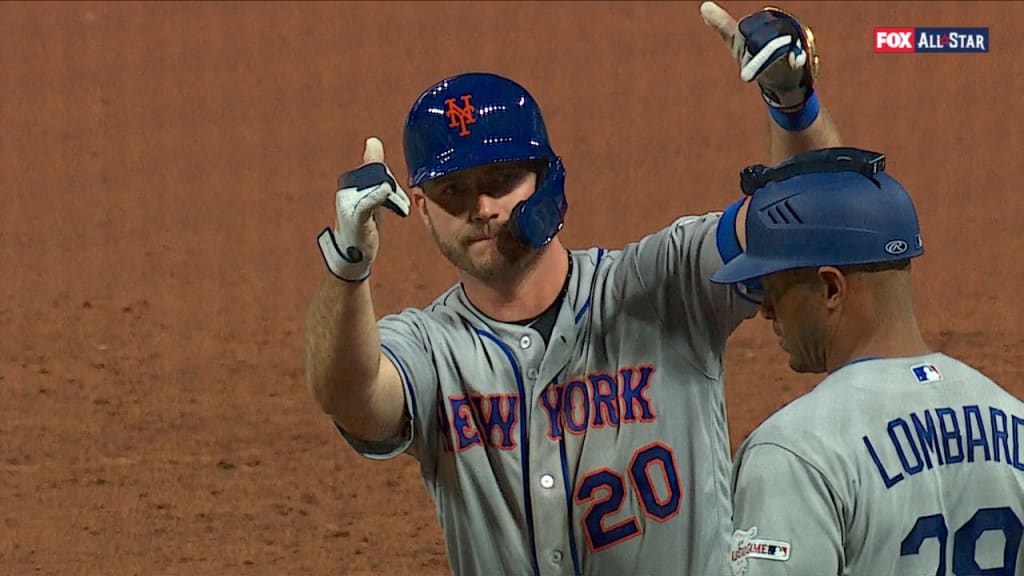 Alonso's 2-run single
00:18Jul. 9th, 2019
Chapman unhittable: Yankees flamethrower Aroldis Chapman entered with a one-run lead in the ninth inning and quickly struck out J.T. Realmuto, Max Muncy and Yasmani Grandal to finish off the AL victory. The left-hander became the first pitcher to strike out at least three batters in an All-Star Game save since Hall of Famer Bob Gibson in 1965, though that was in a two-inning appearance.
It was Chapman's first All-Star appearance since 2015, when he pitched for the NL as a member of the Reds and also struck out the side. He joined Fernando Valenzuela (1984, '86) as the only pitchers to strike out the side in multiple All-Star Games, according to Elias.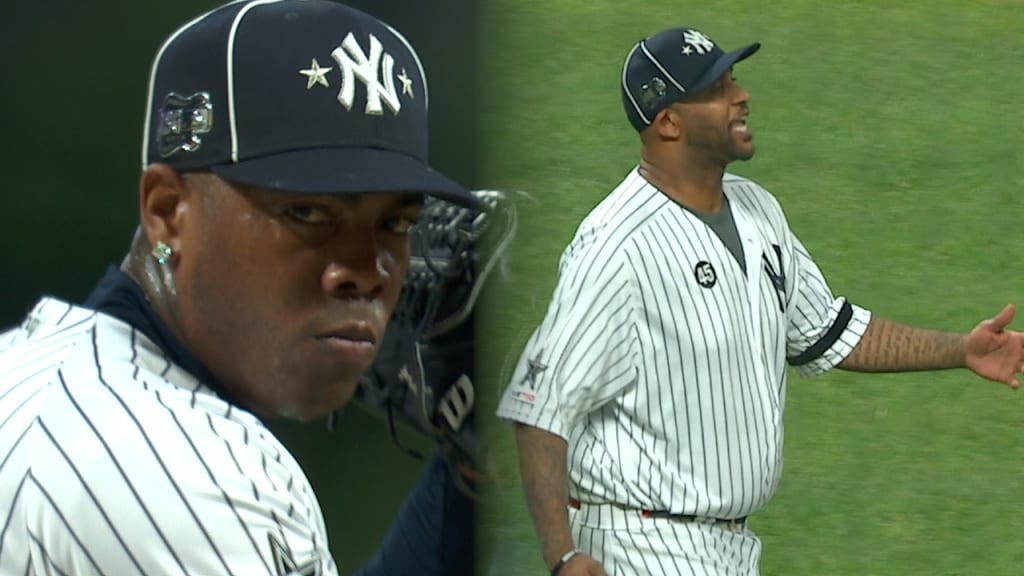 Chapman K's side with aid from CC
00:59Jul. 9th, 2019
Yankees tag-team the box score: A Yankee got the win in the All-Star Game -- Masahiro Tanaka -- and a Yankee got the save -- Chapman. That made them the first pair of teammates to pick up the win and the save in an All-Star Game since the Mariners' Freddy Garcia and Kazuhiro Sasaki in 2001.
Chapman is the first Yankees pitcher to save an All-Star Game since Mariano Rivera, who closed out the last of his four Midsummer Classic saves a decade ago in 2009. Tanaka is the first Yankees pitcher to get the win in an All-Star Game since Vic Raschi, in 1948.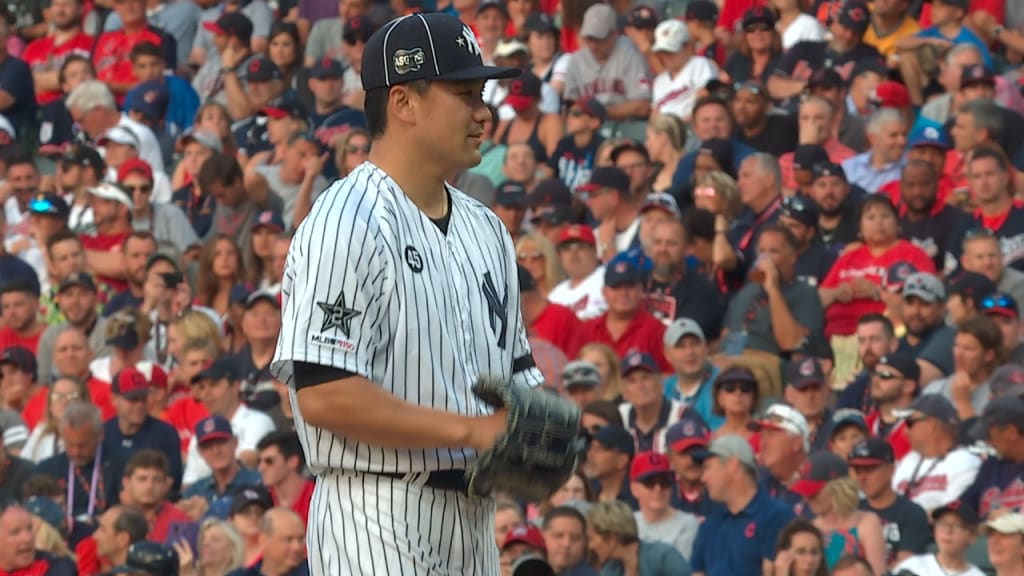 Tanaka earns win in All-Star Game
00:40Jul. 9th, 2019
Blackmon gets on the board: Charlie Blackmon brought the NL back within a 2-1 margin by smacking a home run in the top of the sixth inning. That broke an 0-for-8 slump for Blackmon to begin his All-Star Game career, after he'd gone hitless in 2014, '17 and '18. Blackmon, who has hit 16 of his 20 regular season homers at Coors Field in '19, gave the Rockies All-Star Game big flies in back-to-back seasons. Trevor Story went deep last year, after Colorado had just two previous All-Star homers in franchise history (Todd Helton in '03 and Matt Holliday in '08).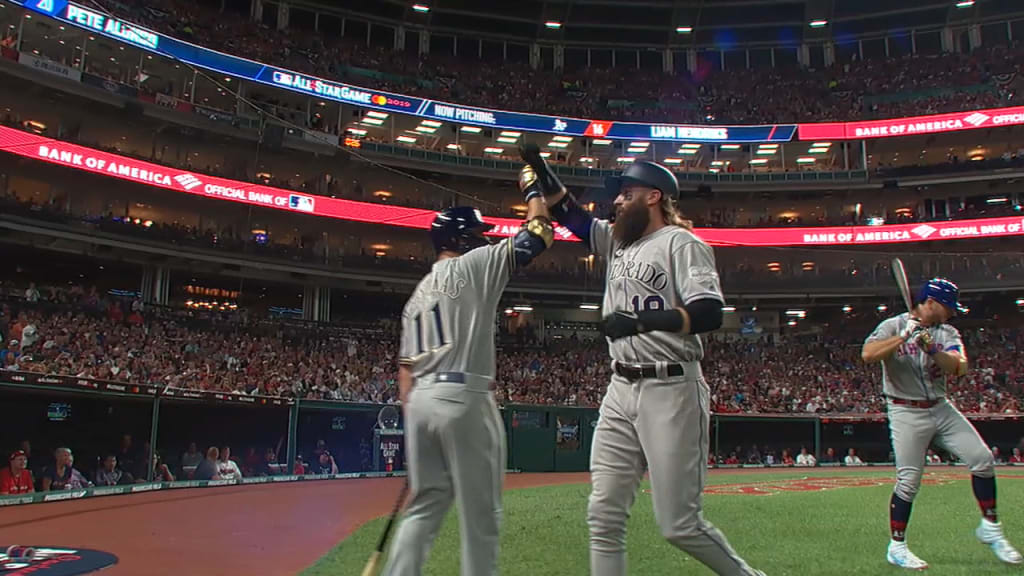 Blackmon's solo home run
00:46Jul. 9th, 2019
Gary's scary liner: The Yankees' Gary Sánchez set up the AL's second run in the bottom of the fifth by ripping a 95.9 mph Walker Buehler fastball to left field for a double and scoring on Jorge Polanco's single. Sanchez's 110.2 mph exit velocity is the third-highest on an All-Star Game base hit since Statcast began tracking in 2015, trailing only Bryant's 2016 homer and Gallo's homer this year.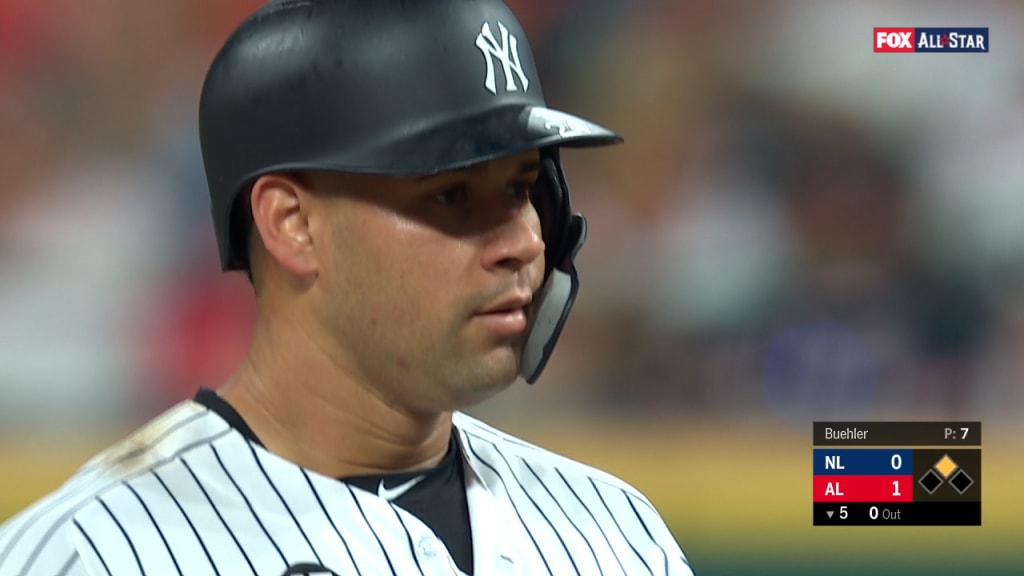 Sanchez's leadoff double in 5th
00:41Jul. 9th, 2019
An ASG trio for Astros: In the first inning, George Springer singled. In the second, Alex Bregman singled and later scored on Michael Brantley's double off Clayton Kershaw. According to STATS, that made the Astros the first team to record a league's first three hits in a single Midsummer Classic. It was the second year in a row that Houston had three players get a hit in the game, after Springer, Bregman and Jose Altuve all did so in 2018. Prior to last year, the Astros had never had more than two players record an All-Star hit in the same game.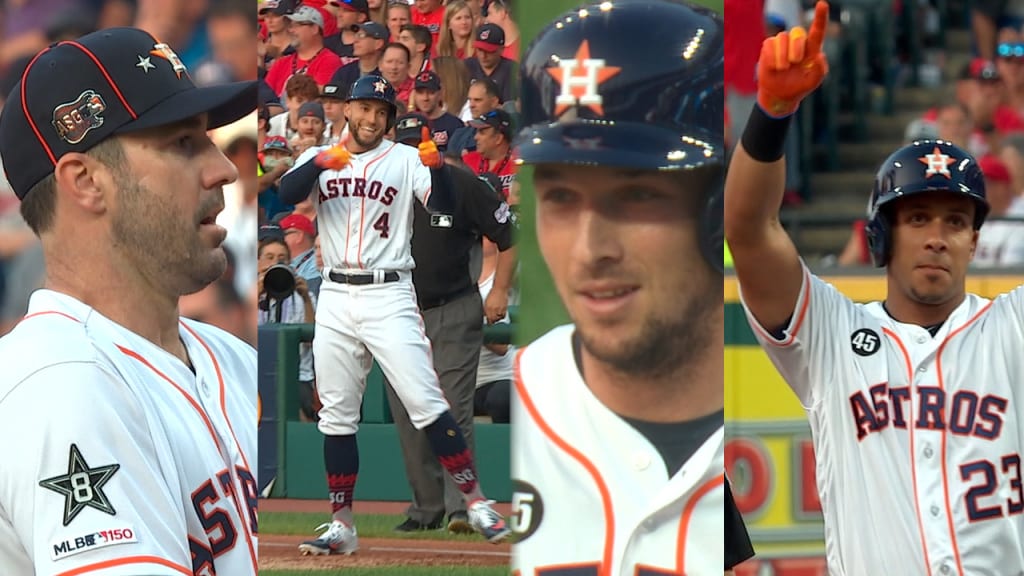 Astros shine in All-Star Game
01:34Jul. 9th, 2019
Trout's ASG streak stopped: Angels superstar Trout went 0-for-2 (groundout, popup) before exiting the game in the fifth inning. That ended his All-Star Game hit streak at six games, one shy of the all-time record of seven straight set by Hall of Famers Mickey Mantle, Joe Morgan and Dave Winfield. Trout's career line at the Midsummer Classic is now 7-for-17 (.412) with two doubles, a triple, two homers and three walks. It's Trout's first All-Star Game appearance in which he did not reach base.
For more insightful content from Marc-Lawrence click here