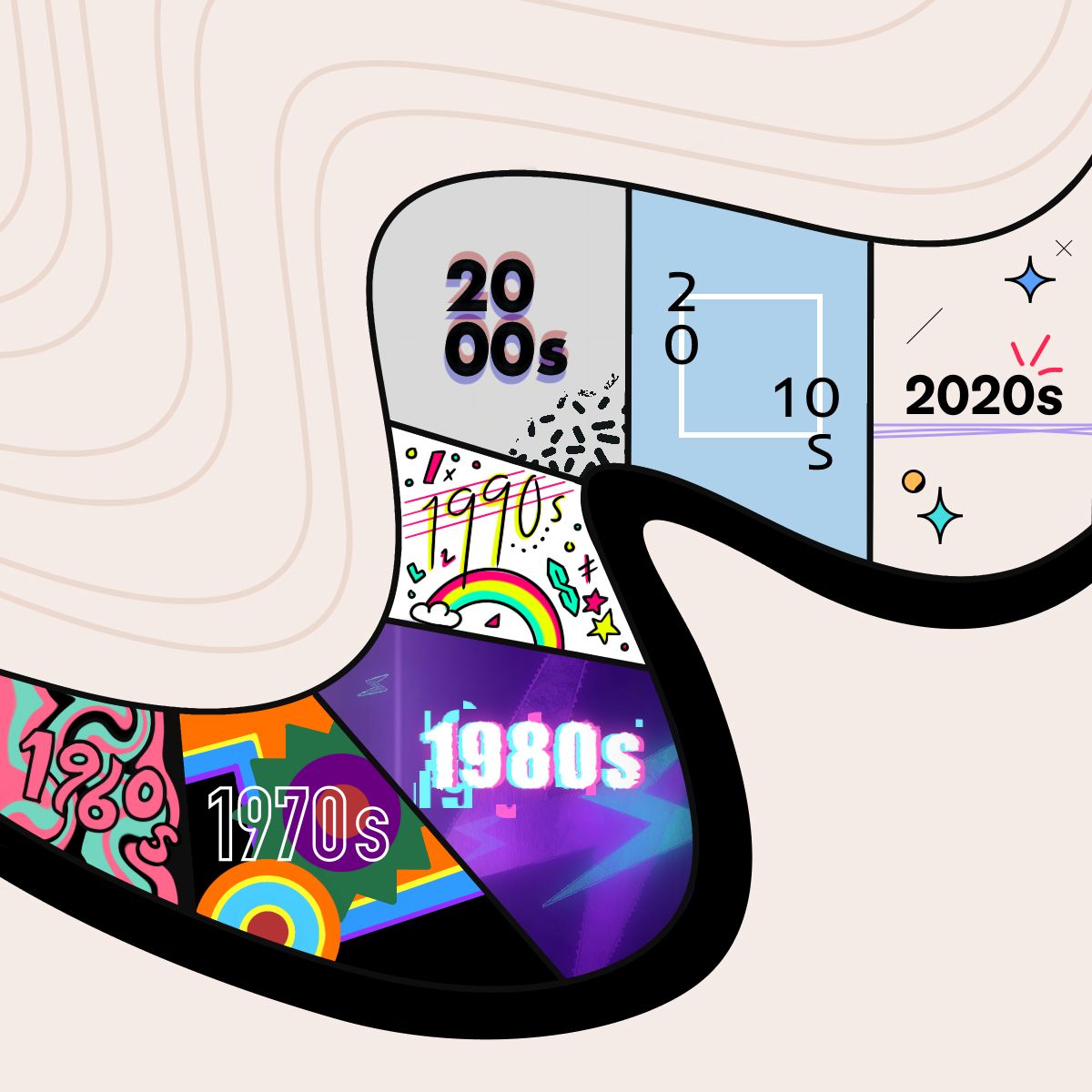 Apple iPhone. Sony Walkman. Toblerone. All iconic designs that changed the world (OK, maybe Toblerone didn't change the world, but it sure is tasty).
It's easy to forget that the products and technology we now take for granted all began as an idea inside a designer's head.
Designers shape the world around us by coming up with creative solutions to some of humanity's most perplexing problems.
In this article, we've rounded up 15 of the world's most influential designers in the areas of:
Graphic design
Product design
Web design
UX design
Some are household names. Others are the new kids on the block who are shaking up the world of design. Here they are, in no particular order.
1) Aries Moross
📍 Location: London, UK
🎨 Design discipline: Graphic design
Aries Moross is a multidisciplinary designer and creative director who started out as a designer on the London music scene. They have a bold, colorful aesthetic and an energetic typography-led style.
They have worked with global brands such as Disney, Keihl's, and Uniqlo. They run a design studio, Studio Moross, in London, where they direct designs for a wide range of clients, including artists like Kylie, Disclosure, and Sam Smith.
2) Jonathan Ive
📍 Location: Chingford, UK
🎨 Design discipline: Product design
Even if you haven't heard of Jonathan Ive, you've almost certainly used his products. The British-born architect and product designer was the chief designer of Apple from 1992 to 2019, where he oversaw product design, implementation, and interface design.
Ive's iconic creations include the iMac, iPod, iPad, iPhone, and MacBook. Ive left Apple in 2019 to co-found the creative collective, LoveFrom. He is also chancellor at the London Royal College of Art.  
3) Ethan Marcotte
📍 Location: Boston, USA
🎨 Design discipline: Web design
Ethan Marcotte is a designer, author, and speaker and one of the pioneers of responsive web design and accessibility. He made one of the earliest references to responsive web design back in 2010 and published a book on it in 2011.
Marcotte's clients include New York Magazine, The Boston Globe, People Magazine, and the Sundance Film Festival.
"If you're already a front-end developer, well, pretend you're also wearing a pirate hat." -  Ethan Marcotte
4) Paula Scher
📍 Location: New York, USA
🎨 Design discipline: Graphic design
Paula Scher has been a partner at Pentagram since 1991 and is described as a "master conjuror of the instantly familiar" for her brand design work.
She has worked with some of the world's biggest brands, including Citibank, Tiffany & Co., and Coca-Cola, and has won numerous industry awards. Her TED talk on design has over half a million views.
5) Veerle Pieters
📍 Location: Ghent, Belgium
🎨 Design discipline: Web and graphic design
Veerle Pieters is a UI designer with a large following. She's known for her icon and illustration work and writes regularly for Smashing Magazine.
Pieters offers tutorials and inspiration on her website. While she might not be a household name in design (yet), she's one of our designers to look out for.
"It's often things you have seen around you that make you appreciate the beauty of it. There is so much to be seen and I think we sometimes have forgotten how to look." - Veerle Pieters
6) Chip Kidd
📍 Location: New York, USA
🎨 Design discipline: Graphic design
Chip Kidd is best known for his book cover designs. He uses evocative images and inventive typography that have graced the covers of authors such as Neil Gaimon, David Sedaris, and Michael Crichton, among many others.
One of Kidd's most iconic book covers is the Jurassic Park logo, which became a well-known symbol of the 90s that still endures to this day.
Kidd's TED talk on book cover design has been viewed 2.6 million times, and his book "Go: A Kidd's Guide to Graphic Design" is the first graphic design book for children.
7) Yael Levey
📍 Location: London, UK
🎨 Design discipline: UX and product design
Yael Levey is a Product Design Manager at Facebook, UX designer, and emerging design thought leader with over ten years of experience in product and UX design.
Levey blogs about UX design, product design, and growing design teams on her website, I Am Not My Pixels. Her YouTube channel is full of UX design tutorials and tips on portfolios and finding design work.
She also designs greeting cards and wrapping paper through her studio, Little Goat Supplies.
8) Michael Beirut
📍 Location: New York, USA
🎨 Design discipline: Graphic design
Widely regarded as one of the world's best designers, Michael Beirut pioneered the concept of accessible design — simplifying difficult texts and making them easier to read.
His TED talk on how to design a library that makes kids want to read has received 1.9 million views.
9)Julie Zhuo
📍 Location: California, USA
🎨 Design discipline: Product design
Julie Zhou is the former VP of Product Design at Facebook and one of Silicon Valley's most respected product designers. During her 13 years at Facebook, she helped the service scale from eight million users to over two billion. She oversaw the development of products such as Newsfeed, Groups, Stories, and Workplace.
Zhou is the author of a bestselling book for new managers, "The Making of a Manager," and blogs about product design in her blog, The Year of the Looking Glass. She also pens a newsletter, Looking Glass, where she writes about product design, leadership, and personal growth.
"Your job, as a manager, is to get better outcomes from a group of people working together." - Julie Zhuo
10) Dan Cederholm
📍 Location: Salem, USA
🎨 Design discipline: Web design
Dan Cederholm is a designer, author, speaker, and co-founder of Dribbble, an online platform where designers can showcase their designs and find work.
He received a TechFellow award for Product Design and Marketing in 2012 and currently runs his own web design studio, SimpleBits. His clients include Google, Microsoft, MTV, ESPN, Fast Company, and Inc. Magazine.
Cederholm is an expert in standards-based web design and has written four books:
"CSS3 for Web Designers"
"Handcrafted CSS"
"Bulletproof Web Design"
"Web Standards Solutions"
11) Don Norman
📍 Location: San Diego, USA
🎨 Design discipline: UX design
Former Vice President of Apple Don Norman is now retired but still worth mentioning for his influential work in UX design, collective ergonomics, and user-centered design.
Norman was the founding director at the Design Lab at the University of California, San Diego. He authored several books on design during his career, including the 1988 bestseller, "The Design of Everyday Things."  
In his retirement, Norman is focusing on how design might enhance society through his project, Future of Design Education. The project is rethinking design education so that design students not only learn about design and technology but also about history, politics, economics, business, social and behavioural sciences.
12) Lara Mendonça
📍 Location: London, UK
🎨 Design discipline: Product design
Brazilian-born Mendonça is Head of Product Design at Twitter. She has over 11 years of design experience across disciplines, including:
Interaction
Brand identity
Motion
Editorial
Advertising
Illustration
Mendonça has been featured in TechCrunch and Forbes and believes we need "better design practices to change our relationship to technology." She has worked for Bumble, Wise, HSBC, Mitsubishi, and Sky and founded Mischief Studio.
13) Steve Krug
📍 Location: Chestnut Hill, USA
🎨 Design discipline: UX design
Steve Krug is known for his work in web usability and human-computer interaction. His book, "Don't Make Me Think," was published in 1999 and has sold over 600,000 copies worldwide. It was followed by his usability handbook, "Rocket Surgery Made Easy: The Do-It-Yourself Guide to Finding and Fixing Usability Problems".
Krug wrote his books based on over 25 years of experience as a usability consultant working with clients like Apple, Bloomberg, Lexus, NPR, and the IMF. He continues to consult through his consulting firm, Advanced Common Sense.
14) Fabricio Teixeira
📍 Location: New York, USA
🎨 Design discipline: UX design
Fabricio Teixeira is a thought leader in UX design with over 17 years of experience in digital product design.
He is the founder of UX Collective, a Medium publication on UX design with over 400,000 followers. In the past, he has worked with Google, Mailchimp, and Samsung and is currently a partner and designer at Work & Co.
15) Marc Newson
📍 Location: London, UK
🎨 Design discipline: Product and industrial design
Australian-born Marc Newson is considered one of the most influential designers of his generation. He has worked on a range of projects, including:
Aircraft cabin design
Furniture design
Jewelry and clothing design
Newson's work has been featured in art galleries around the world. He was named one of Time magazine's 100 Most Influential People in 2005. In 2012, he received a CBE from Queen Elizabeth II for his contributions to design.
Who will be the next big name in design?
The future of design will be shaped by those who step up to tackle some of society's biggest challenges, including sustainability and how to embrace the metaverse (learn more about 2022's most prominent design trends).
But the reality is that all designers leave their mark on the world, no matter how big or small — and Playbook is here to help. Sign up and join a growing community of designers and artists who are changing the way they organize, share, and collaborate on design projects.