Australian artist Cat Gerke has specialized in still life paintings since she was a child enrolled in adult art classes. Years later, her primarily food-focused work is featured in various galleries both close to home and across the continent. Read our interview below to learn more about her "creative hive," her favorite foods and artists, and some of her forthcoming artistic plans.
---
How did you first get into painting?
My parents enrolled me in a morning art class at the age of 6, which was run every Saturday in our local town. I had always been obsessed with drawing, so my parents thought it would be good for me to further learn skills there. Over a few years I advanced and ended up staying on for the afternoon class, which was for adults. My parents were pretty pleased with this—they got every Saturday off! I loved it though, I was treated like an adult and I acted like one in the art room.
My mum tells this story of how we went away to Belligen when I was 12 to do Camp Creative, which is a yearly art and social camp-style thing. I was enrolled in a fine art drawing class and when they realized my age they tried to un-enroll me, as the class was going to feature nude drawing. My mum wasn't phased and pushed back and said I could handle it. I did. There were 18-year olds who walked out in the nude drawing class because they couldn't handle it, but my 12 year-old self was fine. I actually remember thinking that I didn't know what the big deal was at the time!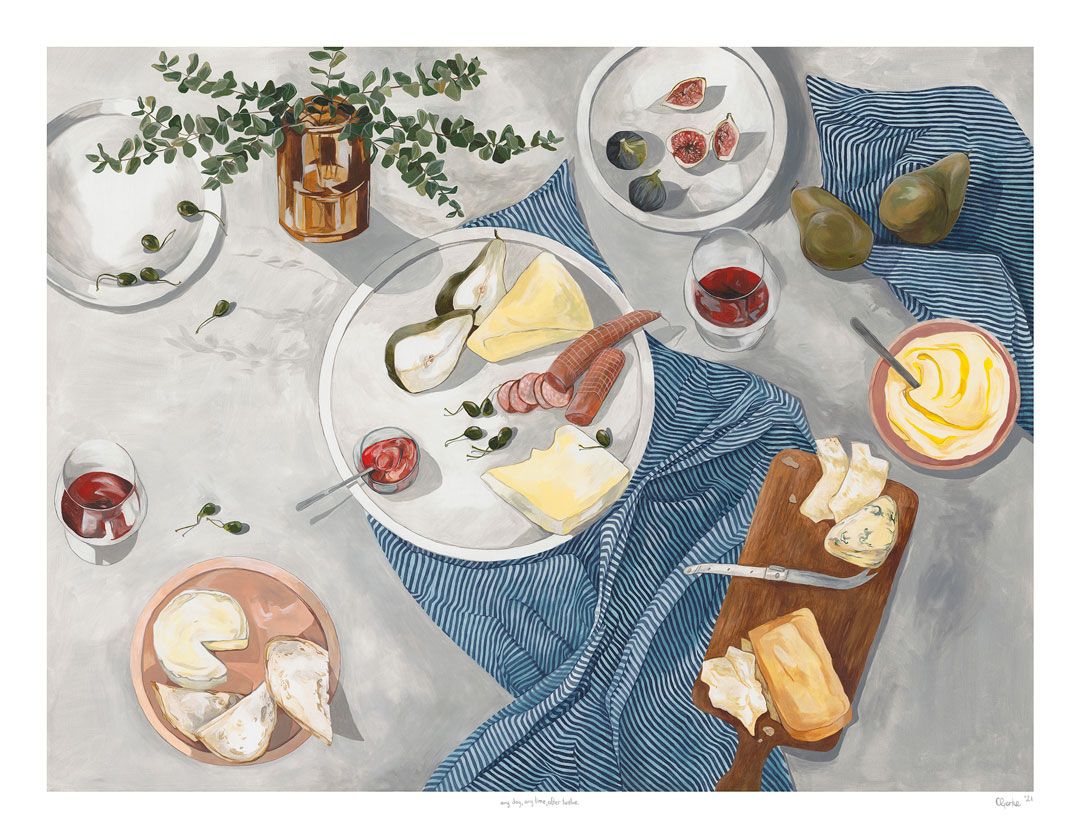 In High School and University I pursued the fine arts and I'm pleased that it is still a major part of my life. In my early 20's I began a career in marketing, but art has always been in the wings! These days I work part-time as a brand manager, overseeing an incredible Fair Trade homewares business, and if I'm not doing that, I'm painting.
Did you ever imagine yourself doing anything non-artistic?
I think for a large chunk of my life I have considered art to be a passion, but something that would be difficult to make a career out of. Over the past few years I've come to the realization that everything is linked! My artistic eye influences everything I do, from a marketing and brand management perspective and vice versa. Over time I was able to make art into a stable career for myself, but I also like my life busy, so I am constantly working on new things.
How has living in Australia influenced your art? What is the creative community like where you live?
I'm not sure if where I live has influenced what I paint exactly, but it heavily influences my tastes. I love Australian art, Australian landscapes, and the creative community here in Australia. I live in Clunes, which is a small village about 20 minutes from bustling Byron Bay, and everyone here seems to be creative in one way or another! Our neighbor is an incredible international actress, the barista who makes my coffee every morning is also a talented ceramicist. Everyone in this region has a story to tell and so much creativity to offer—sometimes it can feel like living in a creative hive. I love it.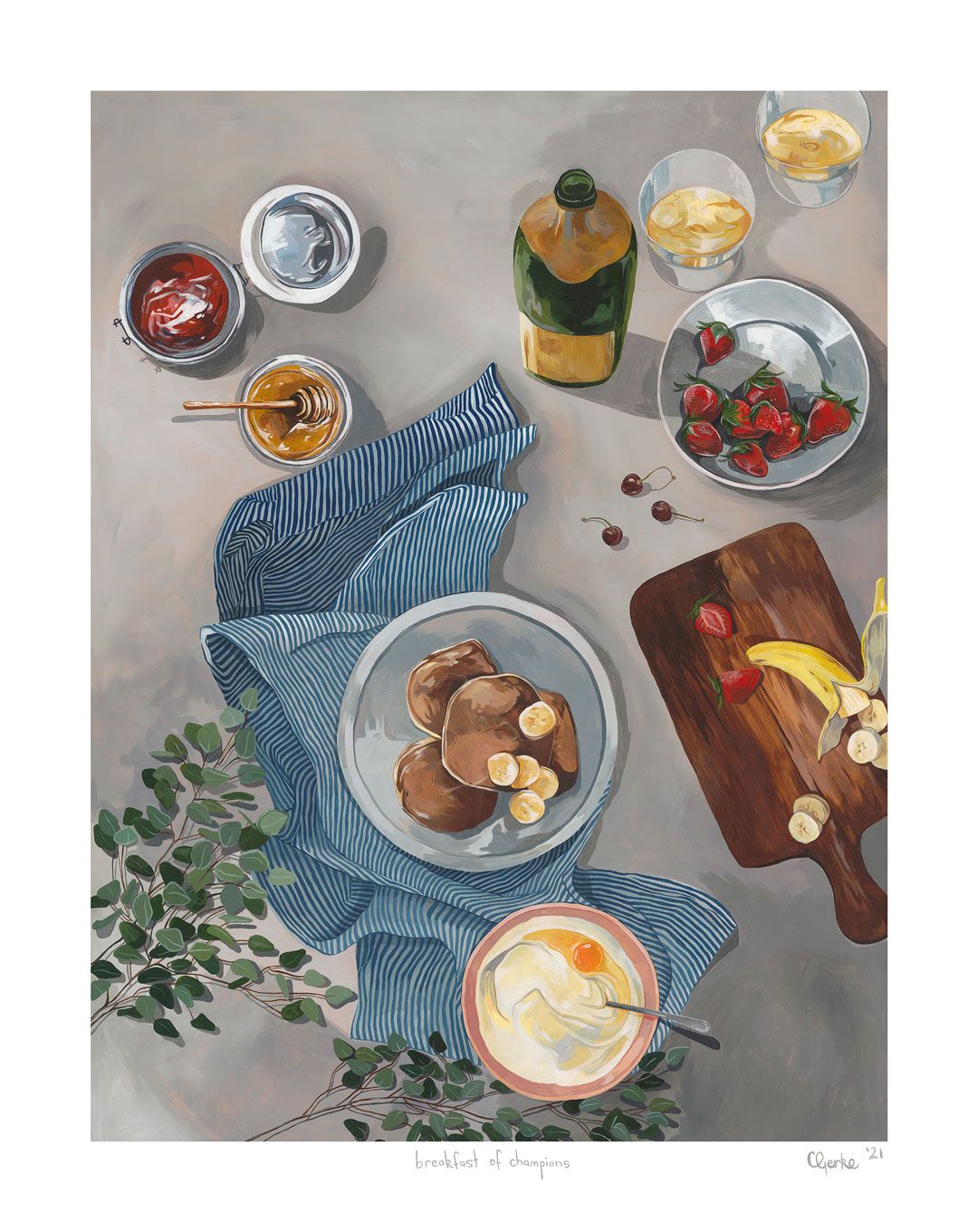 It's clear you're inspired a lot by food, why is that? Do you have any other muses?
Food seems to be the obsession at the moment in my work—I'm sure this won't always be the case! I am married to a very talented chef, so food is a constant source of conversation in our home. We watch food shows on the telly, subscribe to all the recipe magazines, and obviously we both love to eat! I haven't always been obsessed with food, I would say the true obsession is with color. A few years ago I worked on predominately abstract works and was fascinated with light and shade. I have some plans for some future works in 2022 and I am actually going to be working on paper more, playing with charcoal and pencil—at least in the summer season when the paint dries out in a matter of minutes in the hot Byron summer!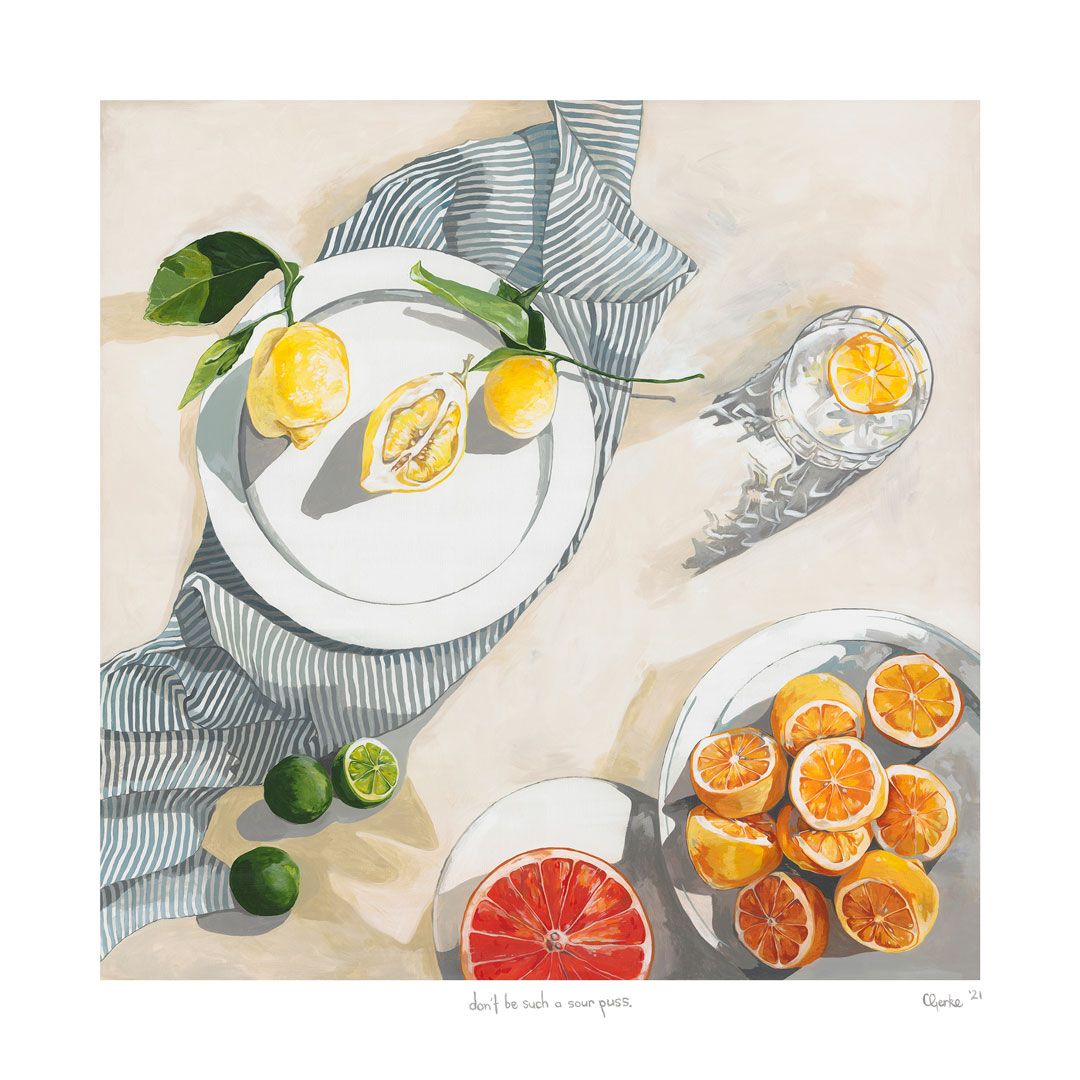 Your work is sold in a handful of gallery spaces. How did that come about? How do you balance interior design and photography with your painting?
My works have been picked up by a few amazing regional art spaces which I am really proud of. Having grown up in a regional location as a child I would have loved to be able to go and see a gallery but there just weren't any unless you went to the city. Now regional galleries are popping up everywhere, helped by e-commerce and social media. These galleries provide so much to the local color and culture and also give you great exposure. I haven't been doing too much photography work at the moment, mainly as painting has stolen all my attention. I hope to get back to this more in 2022 but who knows.
What is your favorite piece you've done? What are you most proud of yourself for?
I have never met an artist, myself included, that is ever satisfied with a work entirely. Finished pieces are never really finished, simply abandoned. I could work and re-work a piece until the canvas in 5 inches thick with paint if I allowed myself too! The work that probably means the most to me, though, is a work I painted for my parents' home entitled "don't be such a sour puss". It was designed and painted to feature in the kitchen of their new home which they spent almost 6 years building. It meant a lot of have something of mine in the heart of their home.
Where would you most want to see your works displayed? Where is the best place you've currently seen them displayed?
I've honestly never thought about this! I suppose the most humbling thing about making art is when someone actually wants to buy it and have it have a special place in their home. Something you poured so much work into resonates with someone else and becomes part of their life—that's the magic, really!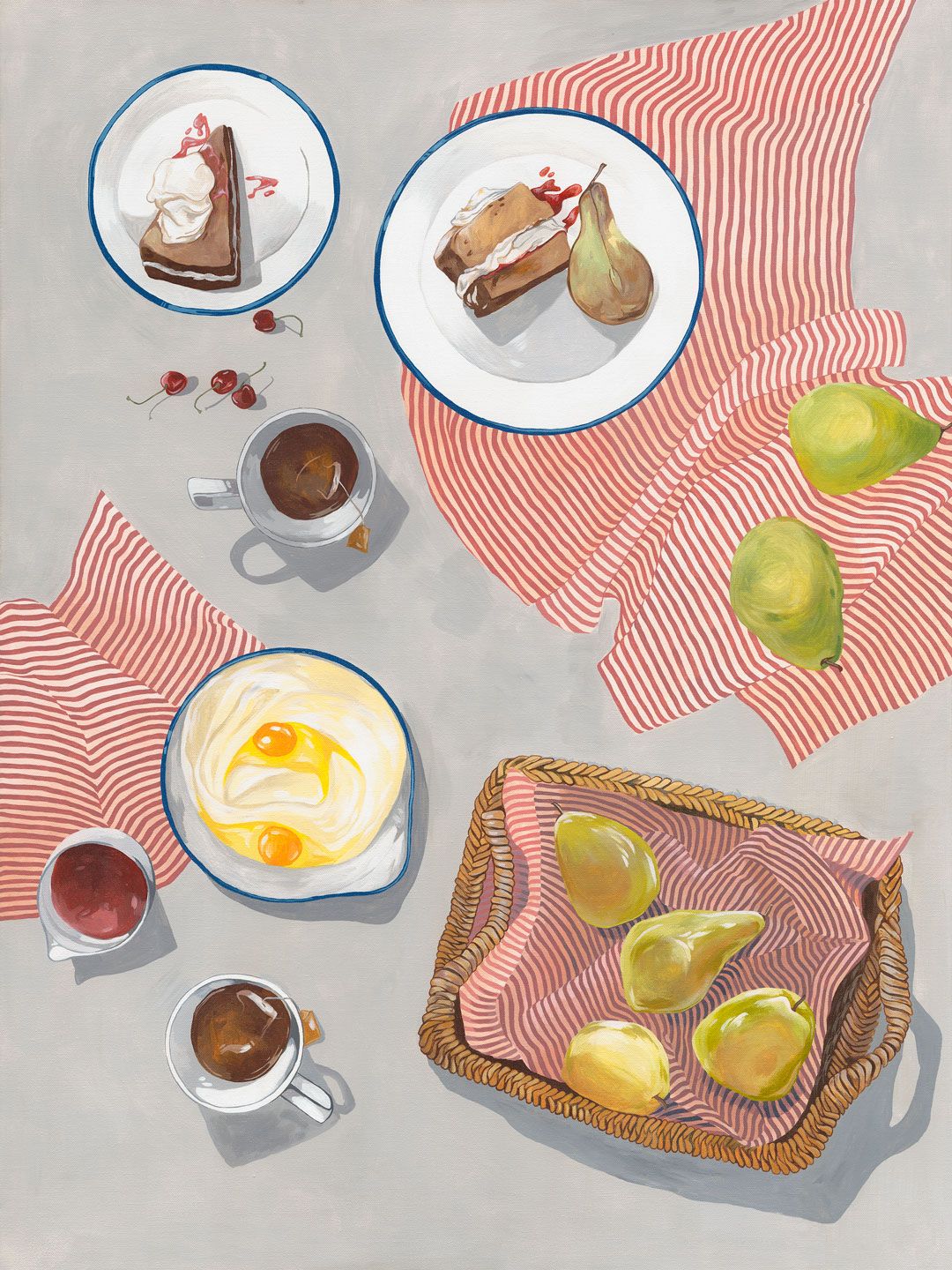 What other artists inspire you? Whose work do you have in your home?
I am hugely inspired by current Australian working artists like Emily Day, Laura White, Jane Thompson, and Kate Quinn, who work on still life type works similar to me, although our styles are all so different. I love that! I think it is so interesting how different artists represent objects on a canvas in such different ways; it's always fascinated me. In terms of what I collect, I am thrilled to have a few special pieces in my own home, all by Australian artists. My first significant artwork purchase was a limited-edition print from Martine Emdur, which I cherish! I also have works by Sarah Bishop, Jai Vasicek, and Lisa Lapointe. I am currently saving up for a special piece by Leila Jeffreys.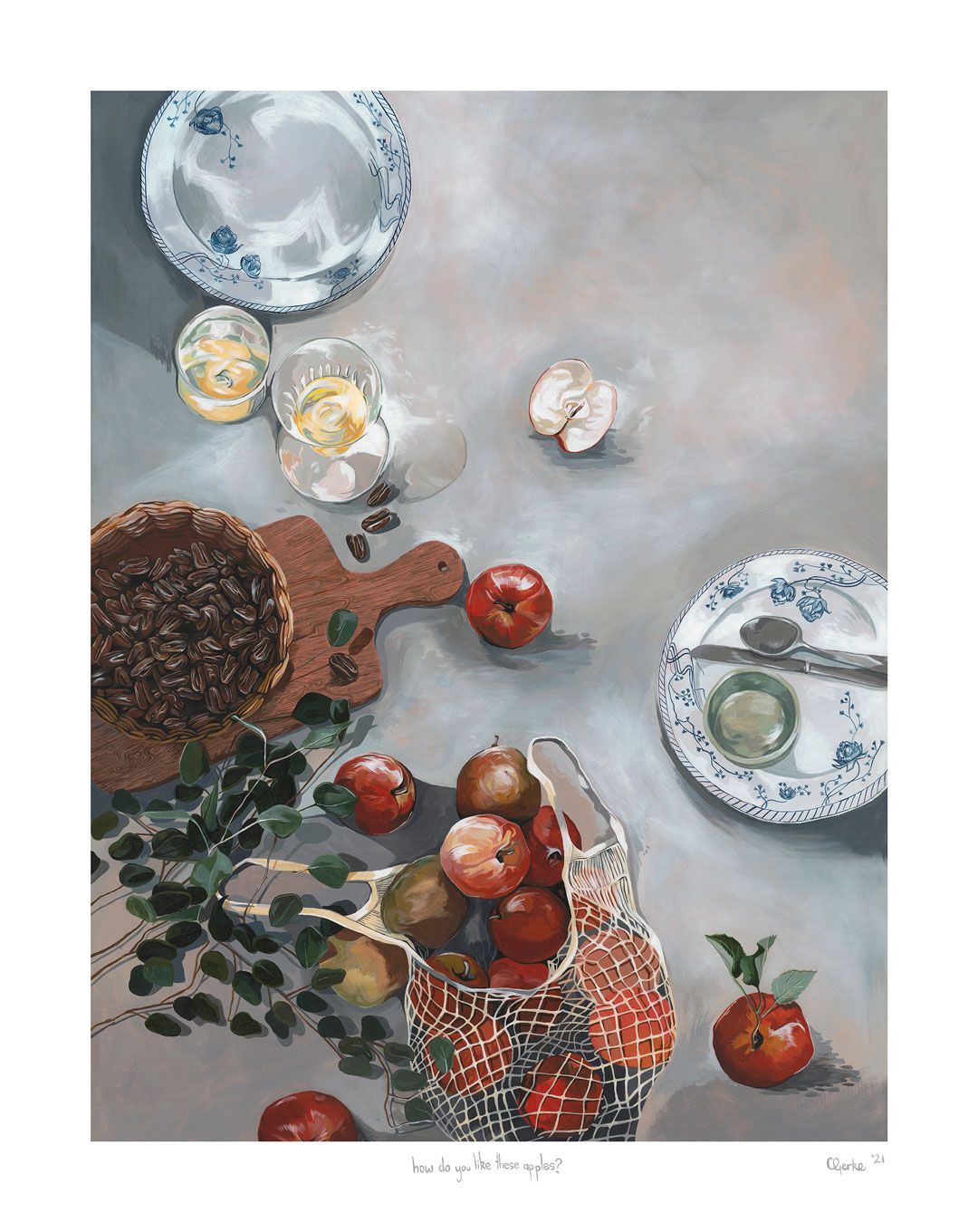 What is your best bit of advice?
Stay in your lane! Social media can be so detrimental to artist practice as it forces you to compare yourself, your work, and your notoriety to others. I always try to come at social media as community-building. I look for fellow artists who inspire me, but I try not to aspire to be like them—I have my own race to run!
---
Cat's work can be seen on Instagram, her website, the Tawoomba Gallery, and Habitat Byron Bay, as well as purchased in her shop.