Creativity spurred from solitude. We had the opportunity to chat with brand designer and illustrator, Sargam Gupta. From India to the US, she has conquered the creative Industry and her work speaks for itself. We got the inside scoop on what it's been like working in multiple countries, staying positive during a pandemic and where the digital art industry is going.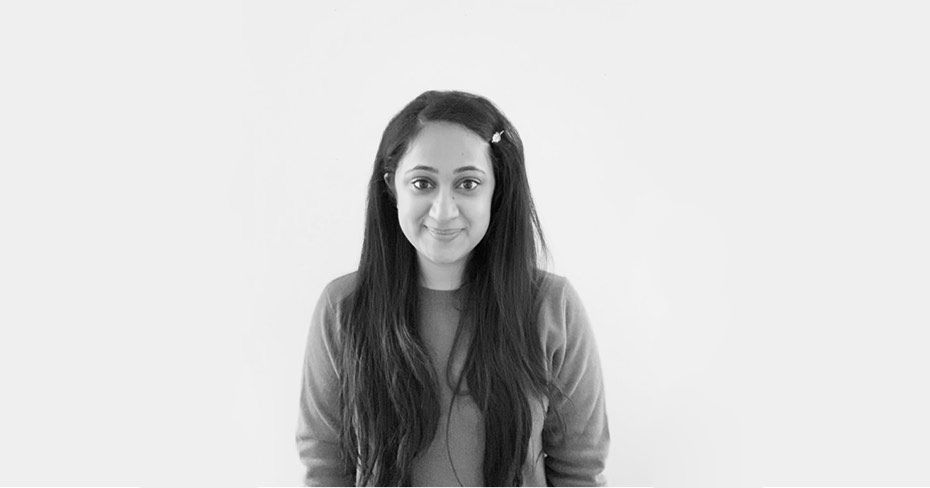 Interview with Sargam Gupta, former Uber designer and freelance illustrator.
Q: Tell us a little about your story
I joined Uber in 2015, when there were less than 6,000 employees globally and the India head office had fewer than 15 employees. I was the first creative hire in Asia and took care of all the creative marketing efforts for India, Sri Lanka and Bangladesh. I was the only creative for almost two years, so you can imagine how challenging it was. Things moved at a very, very fast pace and decisions needed to be made really quickly. At the time I was reporting directly into the Brand Team in the San Francisco office. My manager then gave me the freedom to tackle problems in my own way and I feel that it really helped shape who I am today.
I was in Delhi for three years before moving to San Francisco in 2018. I had reached a point where I felt that I needed to reinvent myself. It was like a new job in a way – new products, new team, new city and it was almost like starting again from scratch. It was really nice to be working in a culturally diverse team. And just genuinely, I think that experience was great. Of course, the move itself was challenging on a personal level. I think the older you get, the harder it gets to meet new people. I was thirty at the time and I didn't know many people in San Francisco other than a few folks from the office. But that's what made it so exciting. I like to step out of my comfort zone once in a while and this was definitely something that gave me a 360 perspective on things.

Q: How did you survive that lonely time?
I spent my first month in an Airbnb and I was sharing the house with two more people. I became really good friends with one of the flatmates, who had recently moved from Luxembourg. We explored San Francisco together and I met more people through him. And of course, I had my Uber family. There were a few people back then who'd also moved from India and I had the support of my original team from 2015. It slowly got to a stage where I was comfortable and SF felt like home. But yeah, it took about four or five months to really sync in with my new life.

Q: Was there any shocking moment? Like, why, what?!
I'd been to San Francisco a fair few times before for work, so I guess that didn't happen. I did find the city awfully quiet compared to Delhi. But generally speaking, the way things are structured in India is different from the States and that took me a little bit of time to get used to.
In India things moved at an incredible speed. When I was the only creative in India, I was handling just about everything – project management, design, illustration, art direction and sometimes even copy. The creative team was much larger in the US, and it took some realignment on my part to be okay with just focussing on my core specialties and let other things be.

Q: That's such a great story. It seems like your work relates a lot to your mental state at the time. What would you say inspires you and how was your mental state through all of that?
I've always had a soft spot for illustration, it's just that life always got in the way and I never really had the time to focus on it. Earlier this year I was traveling to Kathmandu in Nepal for work and I think it all started from there. It was a five day trip but I got stuck there for over two months because of the Coronavirus. I was staying at a hotel when a lockdown was declared. The entire working staff was sent home. It was just me and two other people from the kitchen. There was nobody at the reception, it felt like a ghost town. I later found out from a security guard that I was the only occupant in the entire hotel. I was also the only woman on the premises. To save costs, they had to shut down most services, including the kitchen and housekeeping. They would prepare my breakfast and for the rest of the day I would eat whatever the staff prepared for themselves. There was no transport and I couldn't really venture out. I would spend my days outside in the garden and occasionally play ping pong or chat with the hotel staff in the evenings. It sort of started there. I had all this time and my thoughts and feelings kicked off a lot of my illustrations.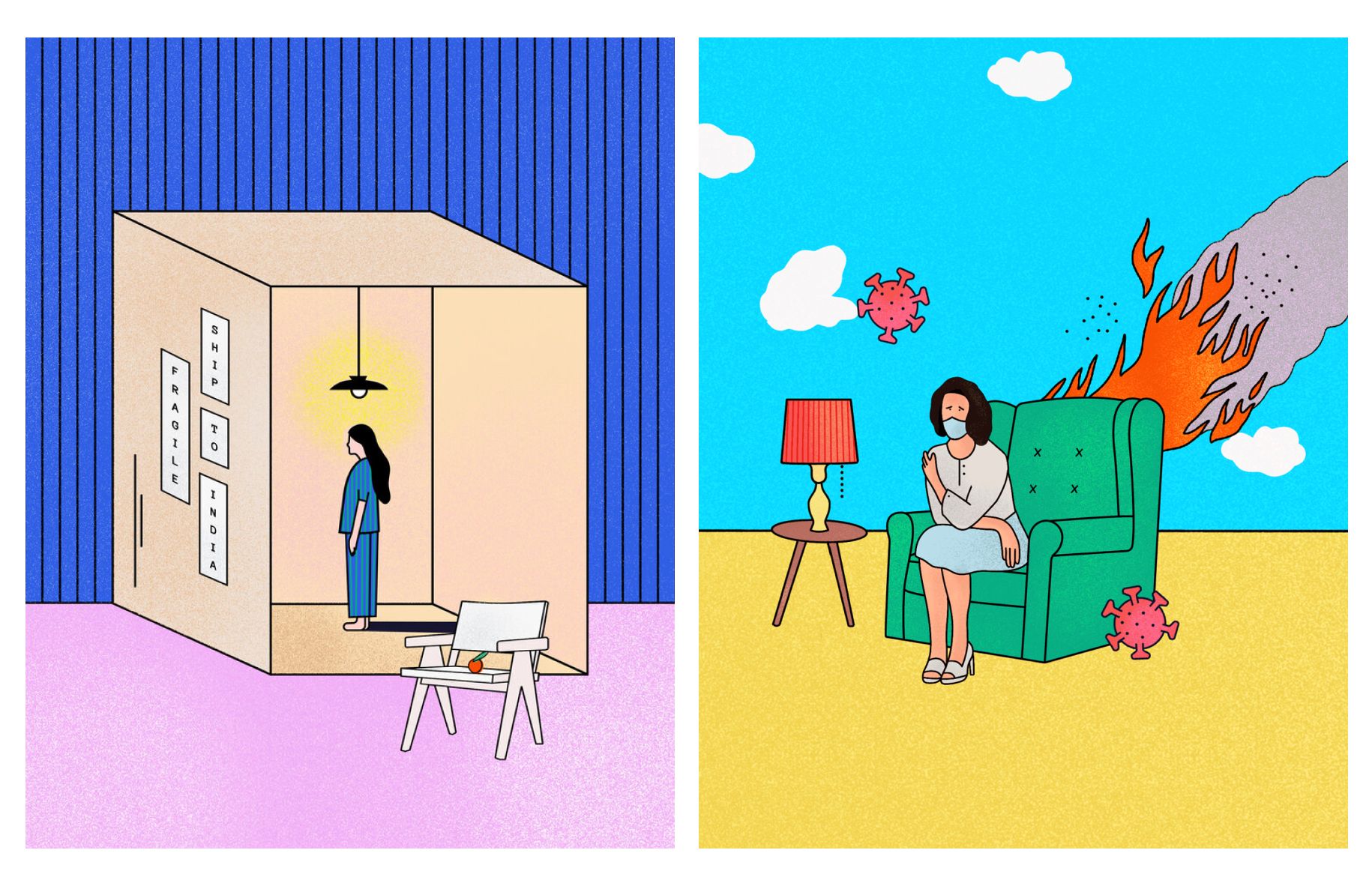 Q: What would you title this series of art?
Initially, when I started illustrating some of my thoughts, I was under the impression that only I felt this way. But now I think that everyone's going through a similar phase and is in the same boat. We all may be in different situations but everyone is going through something. Sometimes it's loneliness, sometimes happiness, sometimes frustration and sometimes you just need to be patient with things. I know it's not really a title but that's what I would call it: Being in the Same Boat.
Q: Can you explain the process of your art? How long does it usually take to create an illustration?
Yeah, sure. I think I'm a little nervous when drawing on paper because I never studied fine arts in high school, I just went straight to design school. I keep a note of whatever ideas that come to my mind and start experimenting on a blank slate when it feels right. I do a little bit of this back and forth dance where I work on a version and then take a break from it. I find it very helpful because it maintains a fresh perspective when I revisit the artwork and I can be more intuitive that way.
It takes me between 1-5 days to create an illustration. Mostly, I end up with two to three versions that experiment with different colour combinations and background elements. Since it's my personal work, I really take time with each of my pieces and enjoy the slowness of it all. When you're working on deadlines, you don't always have the time to think.
It's interesting to see the kind of reactions I get once I post my art. For me, this is just a personal outlet and I am open to experimenting right now. I don't expect anything out of it, but it's an amazing feeling when I see people reacting and relating to my art.
Q: Do you get nervous when you post work?
I did get nervous the first time, yes! I was most nervous about how my friends would react, especially my friends from design school since we started our creative journey together.
Q: Do you have a vision that you're going after or do you just go with the flow?
I just want to go with the flow since I am still exploring right now. But I am interested in editorial illustrations and I want to keep improving my work to make it better, or see how I can be a little more seamless with the colors.
Q: Where do you get inspiration for colors?
Recently, I've been more mindful of colors and visuals that usually catch my eye. This helps me understand what I am drawn to. I like unusual yet bold colors and line drawings. I've been experimenting with colors a lot and with time it has led me to a more defined palette that I use as a base for all my illustrations.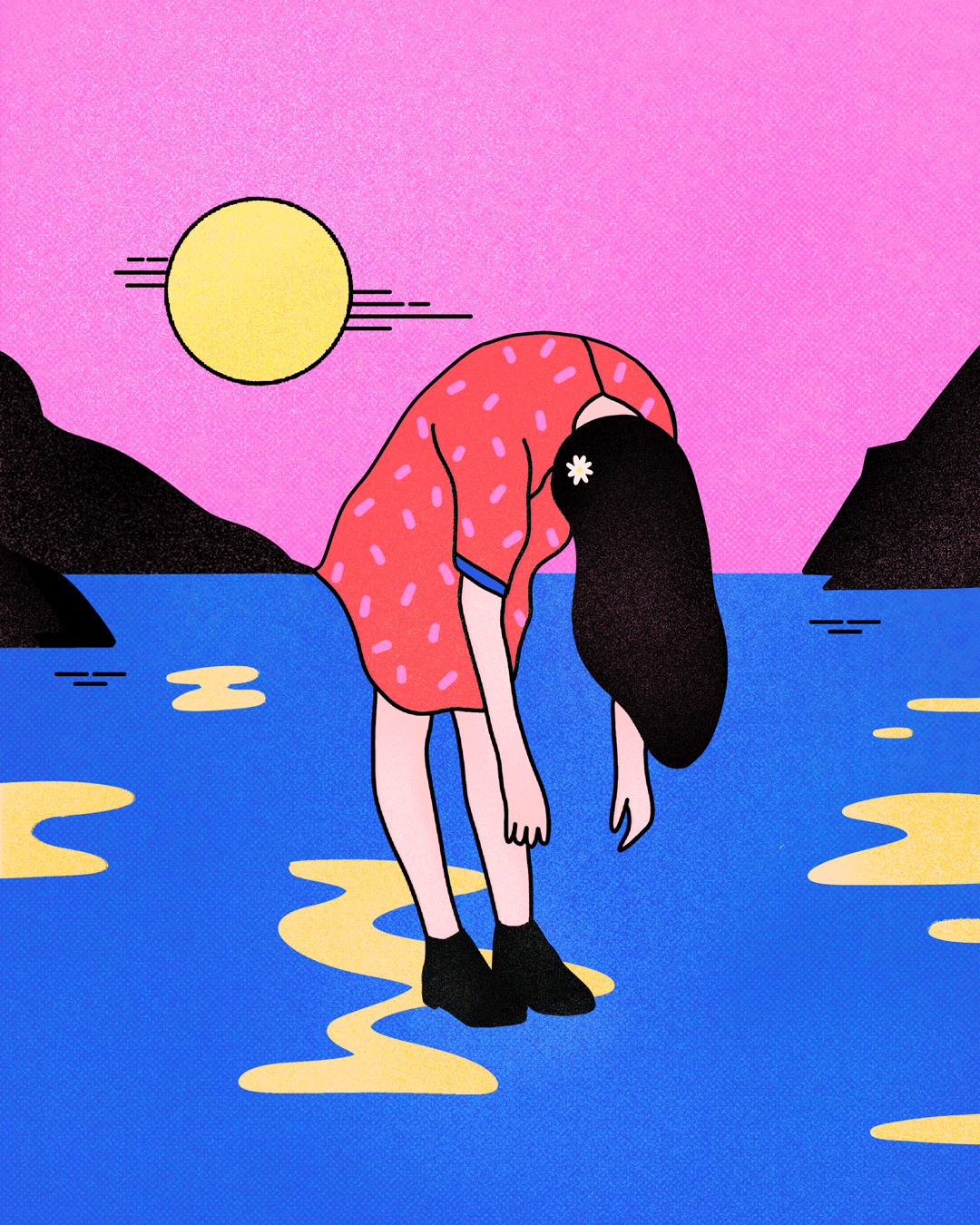 Q: What tools do you use to create?
I use Illustrator, Photoshop and Procreate. I find that Procreate is better for more organic forms, whereas Illustrator is great for more structured and geometric forms. I usually start off with a rough sketch on Procreate, move to Illustrator, and then use Photoshop and Procreate to add texture and the final touches to a composition. When I'm animating, I use After Effects or Premiere Pro. I don't know animation softwares very well but I keep learning things through tutorials.
Q: Where do you see the digital art industry trend heading? And what's the difference between the US and Indian markets?
I think the trend is moving towards using Procreate because it's almost like drawing on paper, but with a lot more tools at your disposal. For example, it's much faster to draw on, create textures and use multiple brushes without spending hours on Illustrator and photoshop.
In terms of the difference between the US and the Indian market, art in India has a lot of cultural influences which can be seen through the use of vibrant colors and elements inspired from the Indian landscape and our history. I feel that Indian artists are doing a lot of detailed and exploratory work right now, which is sure to redefine the way Indian art is perceived. With the US, there are a lot of different styles out there, a lot of which lean towards flat, modern and minimal design with underlying influences from popular culture and the tech world.
Q: Do you see the two markets merging?
To be honest, I don't see that happening in the near future. The needs of each market are so different. Digital artists often use their daily environment as a source of inspiration and both countries are unique in their own way. I feel that this is prevalent in my style as well, which seems to be a mix of both markets. The US is also dominated by contextual illustrations and one sees a lot of art inspired by current events. While one does see that happening in India as well, it's on a much smaller scale. The only overlap I see currently is in the tech industry where visual trends function at a global scale.
. . .
Sargam is currently a consultant for Bumble and working for clients including Shado Mag and Paul Matter. Check out more of her work on her site or follow along on Instagram.