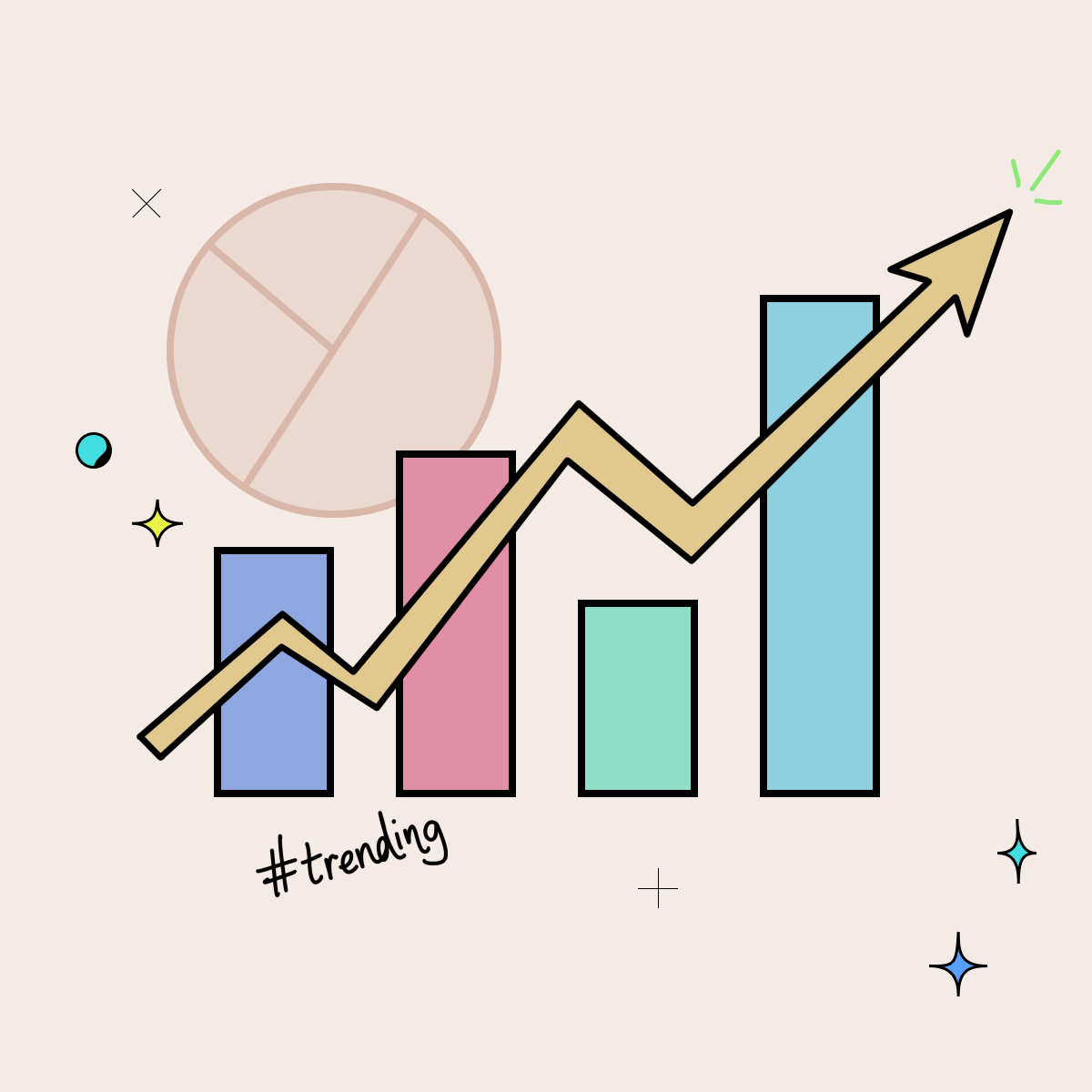 The last two years have reshaped the creative industry. Design studios emerged from lockdown with a new appreciation for collaboration, and a deeper feeling of personal responsibility.
As a result, many creatives reconsidered their process and explored more sustainable, responsible ways of working. Brands re-examined their place in society, and the role design plays in creating experiences.
More than that, the world remembered how much we rely on creativity - to make our lives easier, and put a smile on our faces.
All of that has given rise to a wave of new design trends.
Some of these are driven by new ways of working. Others are the natural waxing and waning of popularity - after all, corporate Memphis and geometric sans serifs couldn't dominate forever. And some are directly related to changing habits, for example newly flat logos adapted for digital interactions.
Why should designers stay on top of the trend cycle?
New design trends are a barometer for the wider world of business. They reflect the changing priorities of brands and the people they serve. Understanding them can help designers tap into the cultural zeitgeist, keep their clients happy and plan for what's ahead.
So what's coming up in 2022? Well, there's the metaverse to consider. A new willingness to embrace nostalgia, playfulness, and wit. And a growing awareness of design's role in tackling climate change and representation. Here are seven design trends to keep an eye on for 2022.
Let's play
Minimalism never goes out of style, but playfulness is snapping at its heels.
After a difficult 24 months, designers everywhere are embracing the power of optimism. That means bright colors, quirky design elements, and witty visual repartee.
We already saw hints of this in 2021, through McDonald's mischievous packaging redesign or Yeye Weller's exuberantly optimistic posters. Many brands are now swapping standard sans serifs for livelier, often retro-inflected typefaces. We can expect more of the same in 2022, as designers embrace the lighter side.
In some ways, this is a return to the influential 1996 book A Smile In The Mind – which advocated for witty design solutions. Brands have remembered the power of putting a smile on someone's face, and designers are happy to help.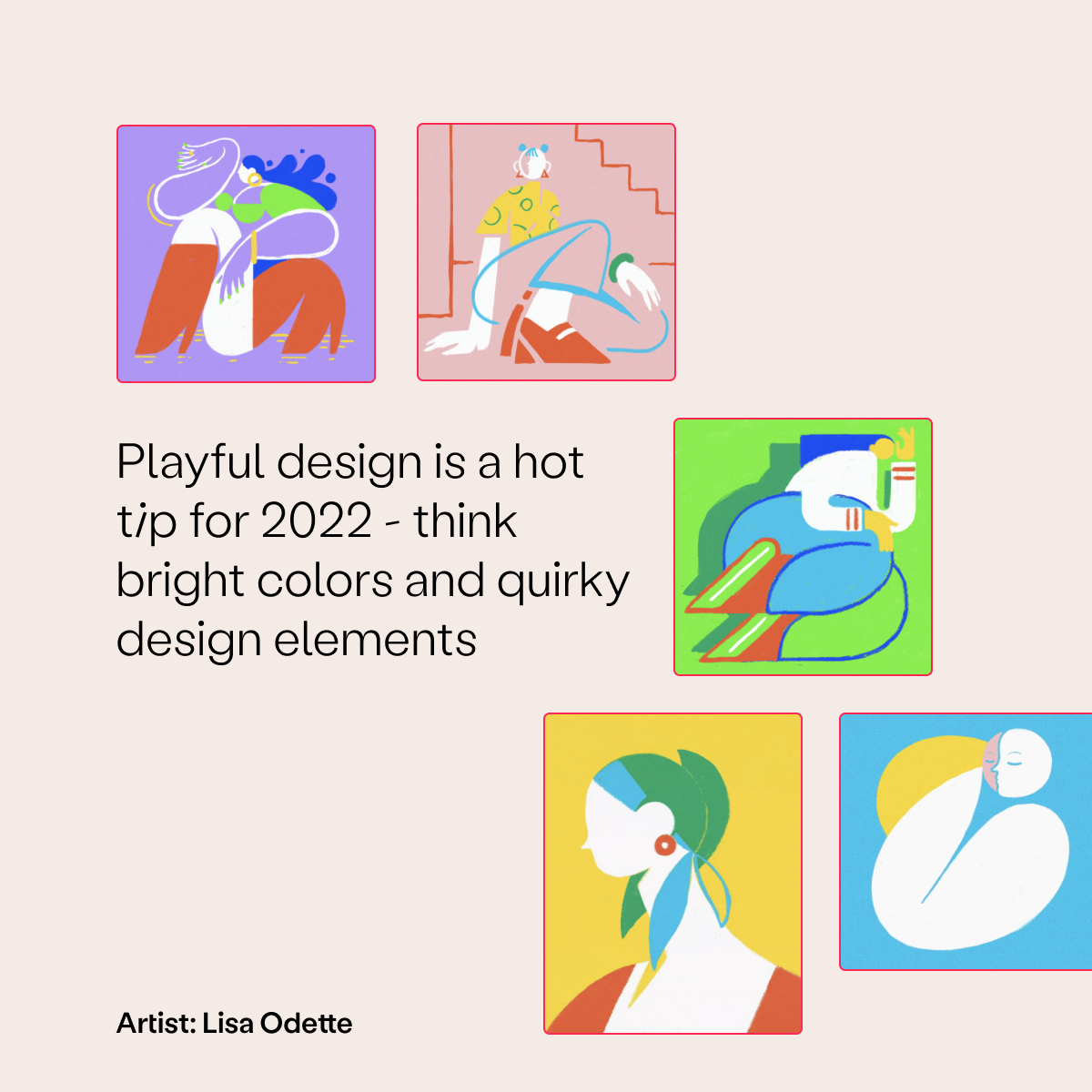 Time after time
Few of us can resist the chance to reminisce, and design is equally susceptible to nostalgia. Several recent major rebrands have traded on this, tapping into consumers' longing for a time gone by.
And it's not just branding that's dipping into history. Looking backwards is a top trend for digital design, with a wave of new websites that celebrate unironic 90s nostalgia.
In some ways, this is an antidote to slick UX design. Consumers naturally want an easy experience, but there's a certain charm in building 'friction' back into things. What better way to do so than by remembering the digital experiences of days gone by?
A more diverse outlook
Questions around the diversity of the creative industry have been growing for some time.
Designers have acknowledged that their sector needs more people, from a range of different backgrounds, in order to make truly engaging work. These conversations only became more urgent in the wake of the 2020 Black Lives Matter protests.
The conversation around inclusion extends to the work being made. Creatives are more aware than ever that design must reflect the experience of underrepresented people. That means understanding and combating the biases of technology, and designing solutions that work for all.
From a purely visual perspective, it means moving away from limiting stock imagery, and reflecting the diversity of the world.
There's plenty of work left to do, but this is a big conversation for the year ahead.
It's getting pretty meta
The M-word looks set to dominate 2022, as brands and designers figure out what the metaverse is, and how to exist inside it.
New digital realities will require fresh thinking and design skills. Creatives will be called on to answer questions about how flat logos function in 3D, or what branded virtual environments might look like.
This really is the bleeding edge of design. And with major companies banking on a connected digital world, there's plenty of room for designers to shape what it might look like.
Creatives have spent years talking about the possibilities of virtual reality, but in 2022, the time might have come to start building that digital dream world.
The new calm
The world can be an overwhelming place, and some designers are fighting back with a new kind of minimalism. Think stripped-back websites, dark mode apps, and lights-out social media.
With so many buttons and drop-down menus, this 2022 trend makes perfect sense. Creatives are exploring how to help people slow down and relax. Instead of bombarding users, this trend makes a single, clear statement.
For some designers, that means a return to nature by embracing muted or earthy colour palettes. For others, it's about adopting strong, single shades that induce a calm state of mind.
Expect this trend to appear across digital platforms in 2022, particularly as users continue to question the mental impact of social media, and digital experiences as a whole.
Putting it all to rights
Sustainability is a leading ambition for brands of all sizes. Businesses are changing everything from supply chains and manufacturing, to their communications strategy, to become more eco-friendly.
Designers have also recognized their personal responsibility. Studios are keen to work with ethical brands that are making a real commitment to change and embracing green values.
As the climate emergency looms, it's more urgent than ever to use creativity to solve some of the environment's problems.
In 2022, we can expect designers to pioneer greener materials, encourage eco-friendly behavioural change, and generally reassess their ethical approach. Studios will spend less time chasing the big money-spinners, and more working with businesses helping to regenerate the world.
Let's work together
After weeks spent working in isolation, many designers craved collaboration. Luckily, a raft of tools is available to support remote teams.
These range from collaborative creation tools Figma and Editor X, through to something like InVision, which turns designs into prototypes that clients can comment on.
The day-to-day business of the studio will also continue to be supported by platforms such as Slack, Asana, and Trello.
And we couldn't forget Playbook, which helps to organize files and facilitate collaboration, all in one creative center.
The future is undoubtedly hybrid for many design studios, and as more creatives switch to a mix of in-person and remote, tools will improve to support this. 2022 will bring a renewed focus on how creatives work together, and the platforms that can nurture that all-important shared creative spark.
To wrap up
Minimalism, the metaverse, playful design, and a renewed emphasis on ethics will be key design trends for 2022.
Whichever one of those you're tackling, use Playbook to organize, share, and collaborate on creative files.