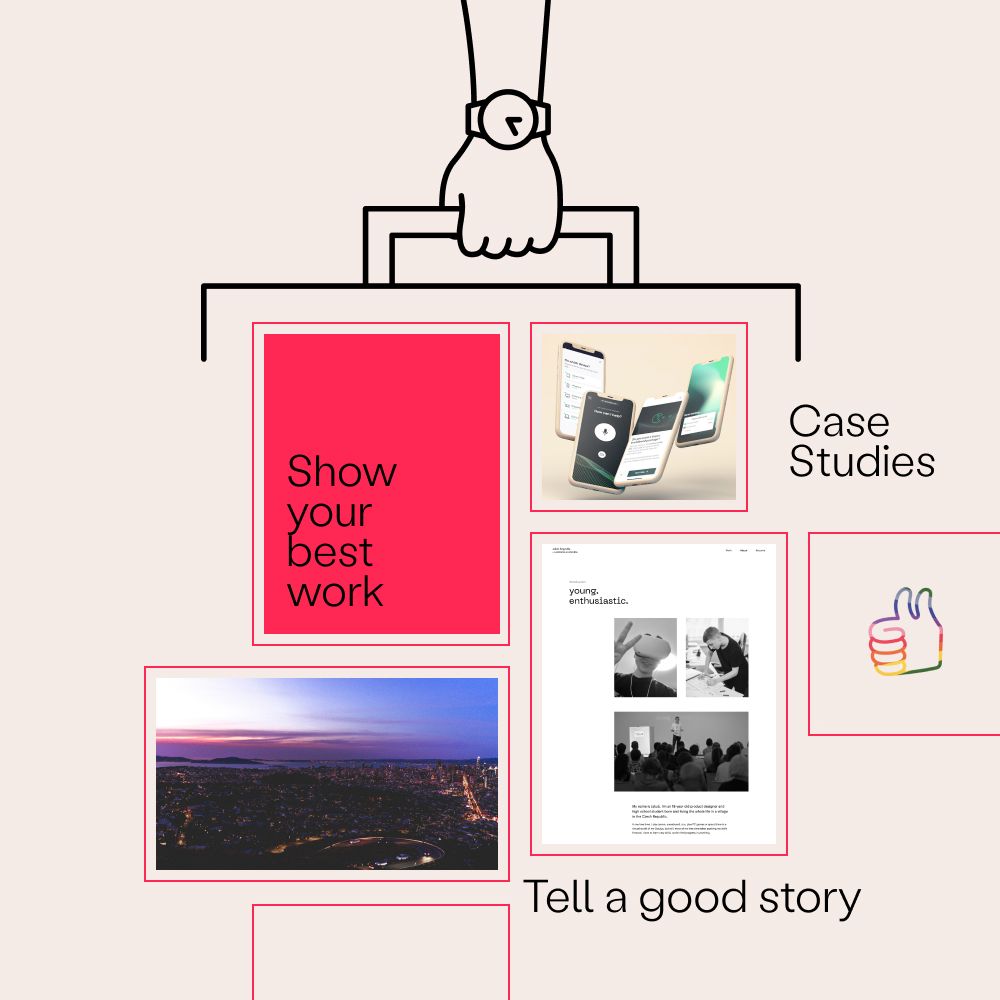 Where would a designer be without their portfolio?
Your digital design portfolio is your shopfront. It's the space to impress clients, win new business, and share your work with the world. As well as landing your next project, the best portfolios become an archive that can boost your confidence for years to come.
Creating your portfolio is one of the most challenging jobs a designer faces. Between obsessing over which geometric sans serif typeface you like best or which hex code gives you the perfect shade of green, you have to remember the all-important client.
Portfolios need to be slick enough to grab their attention and strategic enough to persuade them that you're the person for the job.
We're going to look at some bits of portfolio best practice that will keep a steady stream of clients coming back for more.
💡 Determine your client
The first step to creating a brilliant digital design portfolio is understanding who it's for. This is where we peep into the psychology of major corporations, branding agencies and startup companies.
Corporate clients
Well-established businesses want designers that can hit the ground running. That doesn't necessarily mean a decade of work, just proof that you know what you're doing.
Major corporations respond particularly well to portfolios that look as if they have around four to five years of experience, even if you're a fresh grad.
18-year-old designer Jacob Zekzulka's portfolio is a masterclass in this. If you're relatively new to the game, like him, select your projects carefully. These businesses want work that's both aesthetically and functionally brilliant.
Startups
New businesses want designers who can confidently turn their hand to everything – whether knocking up a quick bit of signage, redesigning a newsletter, or even dipping into product design.
Winning over these burgeoning companies requires a portfolio demonstrating several disciplines – just as designer Lu Yu has done with hers.
Branding agencies
When it comes to branding agencies, it's a slightly different story. These businesses thrive on a compelling narrative and want designers that are as comfortable spinning a good yarn as they are tweaking the final logo lockup.
Branding studios want to know the story behind your work – the hows and whys of what you've done and who you've done it for. Aris Acoba's portfolio is an excellent place to start for inspiration.
In summary, any great design portfolio will show your breadth of ability, demonstrate different disciplines, and share a brilliant story about your work.
🎨 Showcase your best work
It's tempting to stuff your design portfolio with every project you've done, but this can sell you short. Will your dream client be impressed by that speculative rebrand you made in your very first year of college?
Building a portfolio means doing some serious Marie Kondo-ing of your work. Every project should spark joy with a potential client, which means throwing out any filler that you've snuck in. Josh Lucas is one example of how to whittle things down.
This might mean your portfolio changes regularly. As you build skills or expand into new disciplines, update them to reflect this. Maybe your best work was something you finished three years ago, or perhaps it's the visual identity hot off the press.
✨ Showcase enough work
Established designers should sift through their best projects and fill the page without creating an endless scroll. Instead, you want enough work to show off a range of different clients and skills – just as Dennis Gecaj does with his portfolio.
If you're at an early stage of your career, you might not have as much to choose from, but you can still convey your ability by presenting projects cleverly. Present concepts as if they're completed projects, complete with context, and make sure everything's displayed consistently.
📖 Tell a good story
Humans are suckers for a good story, and that's still true when it comes to design. Big, beautiful visuals are essential for winning clients over, but without a backstory, they can lack meaning.
That means telling clients about the design process – the thinking behind a color palette or the decision to rebrand a business and the role you played in that. Let them know what inspired an illustration or why you decided to focus on a specific part of a brand's history.
This reminds clients of how they could benefit from your design process, or how your work could show them a new perspective on their business.
The portfolio itself can also be an exercise in visual or written storytelling, as per Nicolas Solerieu's biography.
🖌️ Customize your portfolio
Portfolios aren't one-size-fits-all, and the best designers know the value of customization.
Brands need to see that you understand their world and, preferably, have done some work in a similar sector – as product designer Michael McKeever shows with his UX-focused portfolio. Focusing on hand-painted signage or food packaging design probably won't help you bag a big tech client, for example.
But it doesn't have to be a completed project either. It might be a self-initiated concept you made for a competitor brand that proves you're familiar with the challenges and opportunities of that particular industry and have an opinion on what it needs.
Whatever it is, it should demonstrate that you're interested in their day-to-day business and come armed with ideas. Craft is important, but reassuring clients that you can solve their problems is the real winner here.
💡 Think about UX
The content of your portfolio needs to be as easy to navigate as it is easy on the eye. You want high-res images that show design details in all their glory, but you also want a straightforward user experience.
Ensure clients can move quickly from project to project, find relevant information and, most crucially, quickly contact you.
This doesn't mean sacrificing creativity altogether, but it's crucial to find a balance between something that grabs browsers while still creating a good experience. Lindsay Grizzard's supremely slick portfolio could be a good place to start.
✨ Remember the rules
Creating a portfolio is one of the most critical briefs a designer can take on. Bring your best work, keep it relevant, share the story, and make it easy for users to navigate, and that's half the battle won.
Join Playbook to declutter your past projects folder, and create your own Playbook portfolio ready to share with clients and the wider Playbook community.