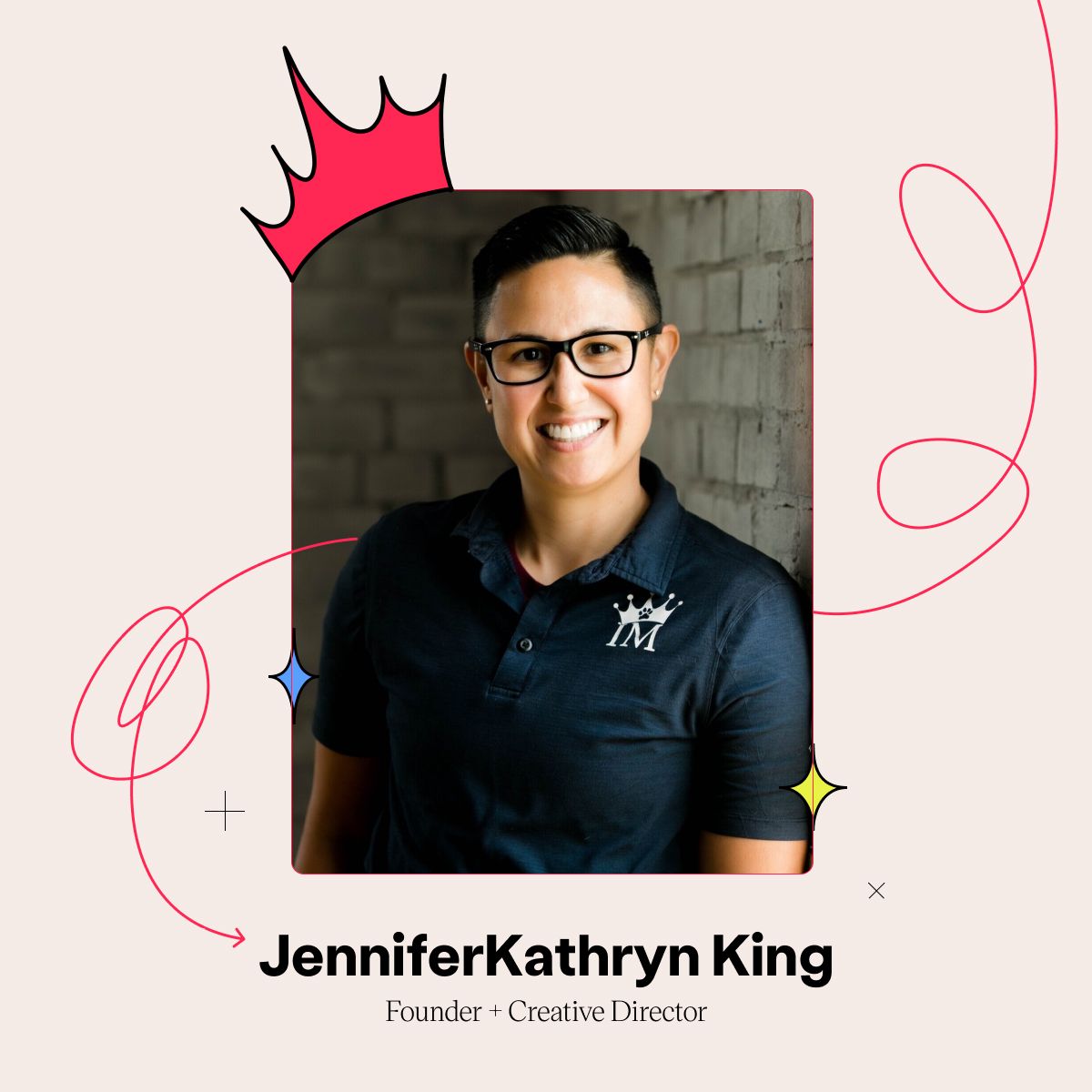 JenniferKathryn King is the CEO of Invictus Media, a visual production agency located in Des Moines, Iowa. For the last 4 years, her company has been "rockin' and rollin'" it in storytelling spaces, establishing a presence on social media, television, and anything else that requires creativity and innovation. That said, innovation needs proper planning and organization in order to thrive — and Invictus Media wasn't quite satisfied with Dropbox, their default cloud storage platform. That's how JenniferKathryn and the team found value in Playbook. Here's a sneak peek into her work, her life, and what she appreciates about us!
How I founded Invictus Media
I grew up as a military kid, lived all over the place, and went to school in California. Once I graduated, I worked for various sports brand companies. What brought me to Des Moines was a job opportunity. I worked for a meal prep company; part of my job was advertising and marketing. I had to grow that chain to 40 stores, and I did that for a year.
Eventually, I just got tired of working for other people. I was toiling 18 hours a day and seven days a week. So I told myself, "if I'm going to do this, I want to do this on my own." Invictus Media is the brainchild of everything I learned from creating internal video departments. I implemented those lessons on my own and on my own terms, starting the company literally nine days before my 40th birthday. I like to call it my midlife crisis (chuckles).
We're a Visual Production agency because 90% of the work we do involves some sort of video, whether it's social media, television, or anything that requires creative storytelling. The other 10% is creating assets to bring those videos and commercials to life. That involves animation, motion design, and graphic design — and we do it all in-house. Our ultimate goal is to create on a national and global scale.
How I started using Playbook
A friend of mine, who's also a creative director, forwarded me the TechCrunch article that talked about Playbook. He knew we were on Dropbox. As a small business, you know that every nickel and dime counts, and we were already paying for Dropbox. So I thought, why not give it a try.
Dropbox was our go-to storage platform at that time. I was paying for 5 TB of storage. All of our clients' files — their logos, their scripts, their music — were all stored in Dropbox so we could give them access when they needed it. When I read this article on TechCrunch, I wasn't sure how reliable the product was since it was so new. I thought to give it a go but keep using Dropbox just in case it didn't work out.
My worries were all soon put to ease. We created boards for the next few weeks and started dropping files into Playbook. Over a period of time, we moved things out of Dropbox and started using Playbook on a daily basis. Now, Playbook is one of the 3 tabs I have open at all times (apart from Gmail and Asana).
Why we love Playbook
In Dropbox, you have to dig through a mountain of folders, subfolders, and more subfolders, hoping that you find what you're looking for. With Playbook, we love that the files are right in front of you, and you see everything transparently. All you need to do is scroll through, and everything pops up, even files tucked away in tiny subfolders.
As of today, Invictus has switched completely from Dropbox to Playbook.
30 days of trying it out were enough to make up my mind. I now invite my clients directly into a Playbook board. All the boards and the sub-boards are easy to navigate and so natural to look at. With Dropbox, we had to go down one rabbit hole after another. One folder opened another folder, and if what we wanted was not in this folder, I had to back out and go into another folder. I love that Playbook is very open and transparent, and people can quickly find what they're looking for.
Also, it's effortless to drag and drop files in Playbook. This makes sending files to my clients so much more seamless. The product has streamlined many of our hand-off processes and relationships with our clients. When I give them access to the board, they see everything that they need. They don't have to ask me, "Hey, do you know where this is?" I just hand them the board, and Playbook takes care of the rest.
What is the one thing you love about Playbook?
Playbook makes our videos look awesome.