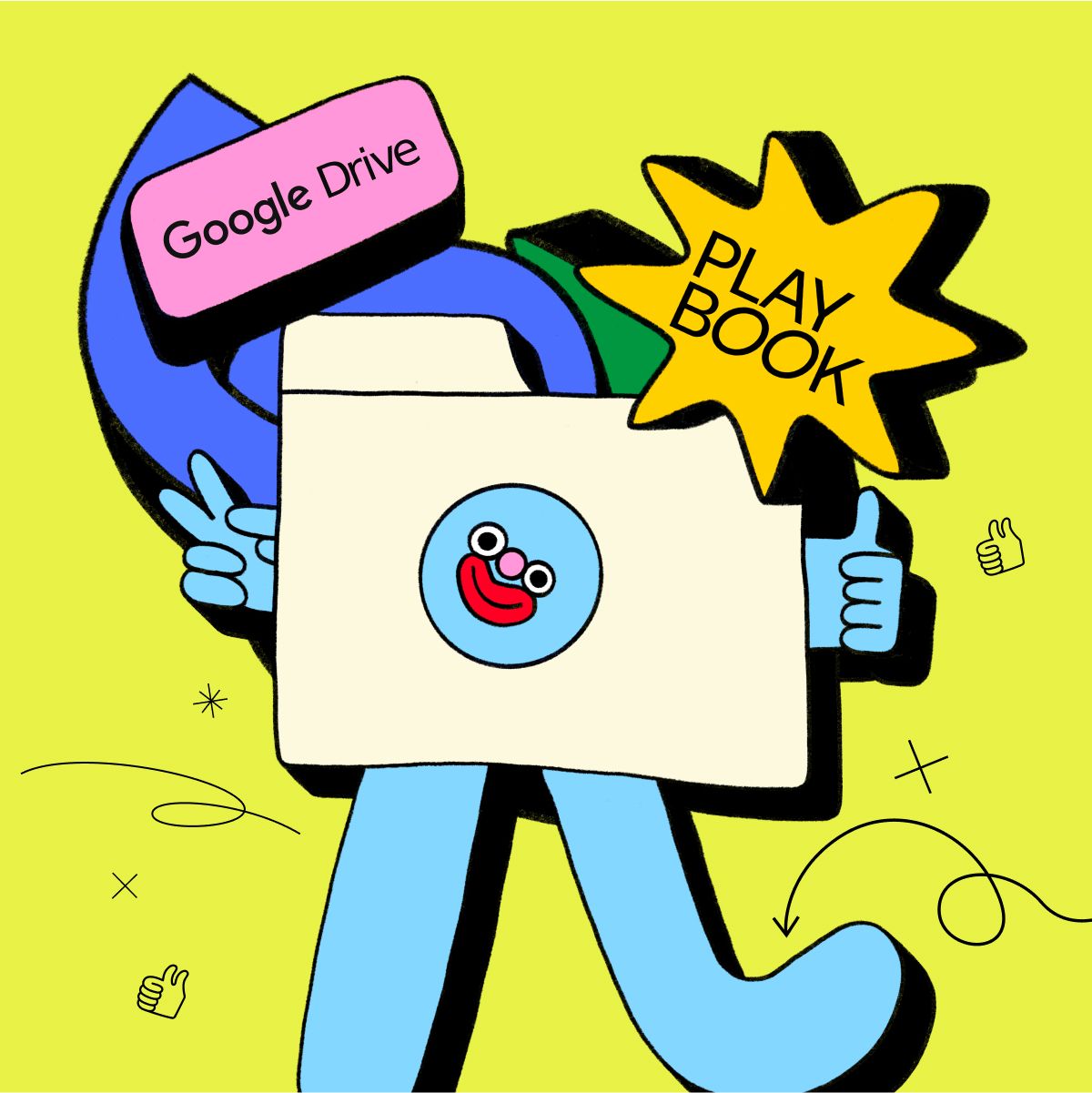 Working as a designer shouldn't mean wasting hours every week digging through endless folders to find the file you're looking for — but the reality is that it often does.
A chaotic digital file storage system can lead to errors and cost your design business money. If you're a freelance designer or head of a design team, chances are you've run into this problem and are looking for a new storage solution that meets the needs of professional designers.
You may already be using Google Drive. It's one of the most popular digital storage services around, but it's not specifically created for designers — and with so many other options to choose from, it's easy to feel overwhelmed.
Unlike G-Drive, Playbook is designed with designers, artists, and creatives of all types in mind.
But which creative asset management system is most intuitive for a designer or design team? Let's break down the features of both platforms to find out.
Customizable visual file organizing
With its storage and file-sharing capabilities, Google Drive is a decent cloud-based asset management solution that works just fine for anyone looking for basic storage and sharing solutions.
However, it may not be the best platform for creatives who work with visual files, as it lacks a visual browsing system. Google Drive folders follow the traditional folder and subfolder structure that was originally created for use on individual computers back in the days when you had to copy a file onto a floppy disk and physically transfer it if you wanted to share it with someone.
Therefore, the Google Drive system isn't really adapted for today's digital reality, when designers are constantly sharing and collaborating with partners and clients all over the world.
Google Workspace storage can work well if you establish naming conventions that everyone in the team adheres to, but it can quickly descend into chaos and make it difficult to find the creative assets you're looking for — especially when there are multiple versions of the same file.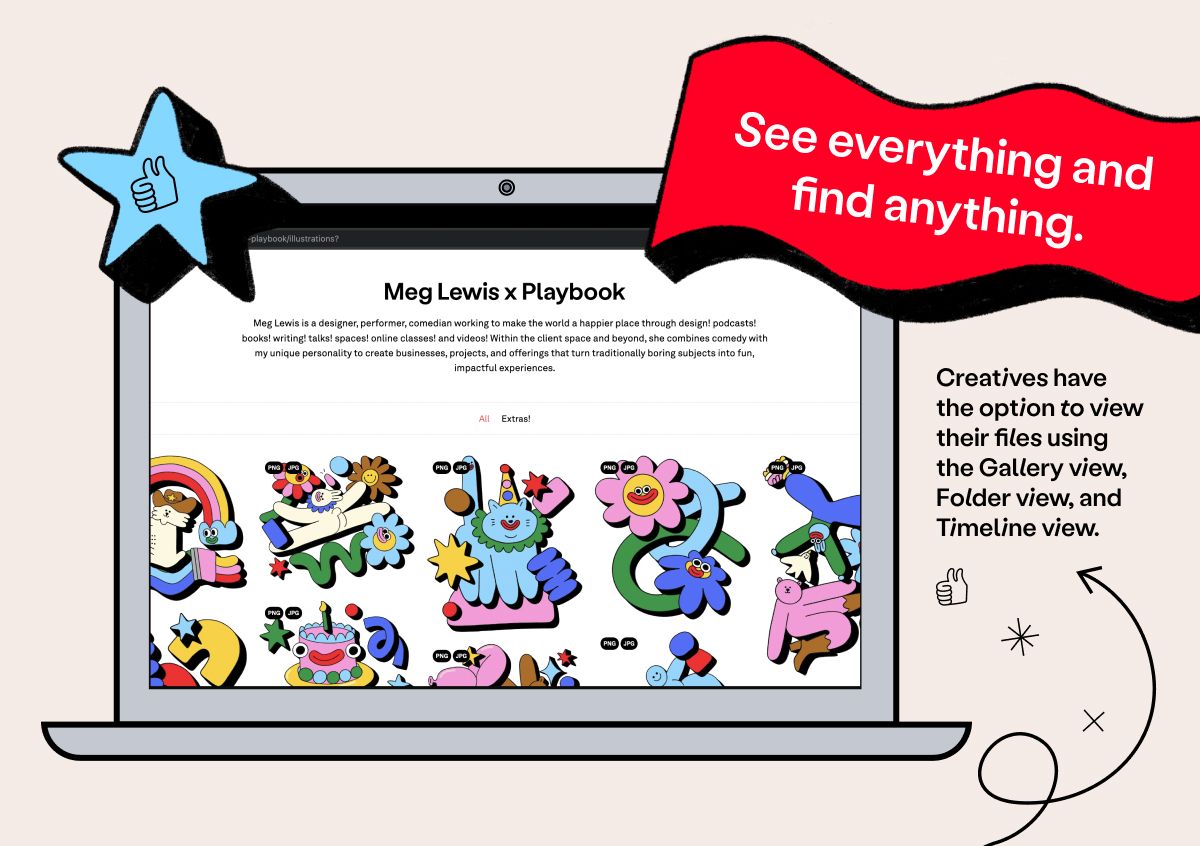 Playbook, on the other hand, is a SaaS storage platform designed for visual browsing. Its intuitive, user-friendly interface makes it easy to browse through visual files and facilitates the process by automatically tagging, organizing, and deduplicating files.
With Playbook, creatives can view their assets in the way that makes the most sense to them — whether that's using the Gallery View, Timeline View, or Folder View. Plus, a new Filtered View will be released soon.
Playbook also makes it easier to find assets thanks to its automatic image-to-text tagging, related assets, and deep-level folder browsing features, saving you a ton of time on searching for assets. As Playbook user and artist Madison puts it, Playbook makes it easy to "see everything and find anything."
Creative project management
Managing and collaborating on creative projects often means toggling between endless windows and apps — from cloud storage to Slack, email, and all the design tools you use.
A storage solution for creatives should streamline these processes and make project management more efficient by centralizing creative projects and collaboration all in one place.
Playbook boasts several features that may make it the more intuitive project management solution for creatives. For example, a significant part of creative project management is getting rid of any duplicate files to avoid complications.
Playbook's advanced auto-deduplication feature saves designers a ton of time they would normally spend on manually deleting duplicates. By contrast, Google Drive doesn't offer any way to search for duplicates, meaning creatives have to go through files one at a time and delete any duplicates manually.
When it comes to sharing and collaborating, Google Drive's sharing options include sharing links, sending files by email, and inviting collaborators. Collaboration between different organizations can get complicated because each team member must be granted access individually — leading to a lot of share requests and time delays, especially when working asynchronously.
On the other hand, Playbook offers several more intuitive ways to share files. For example, you can: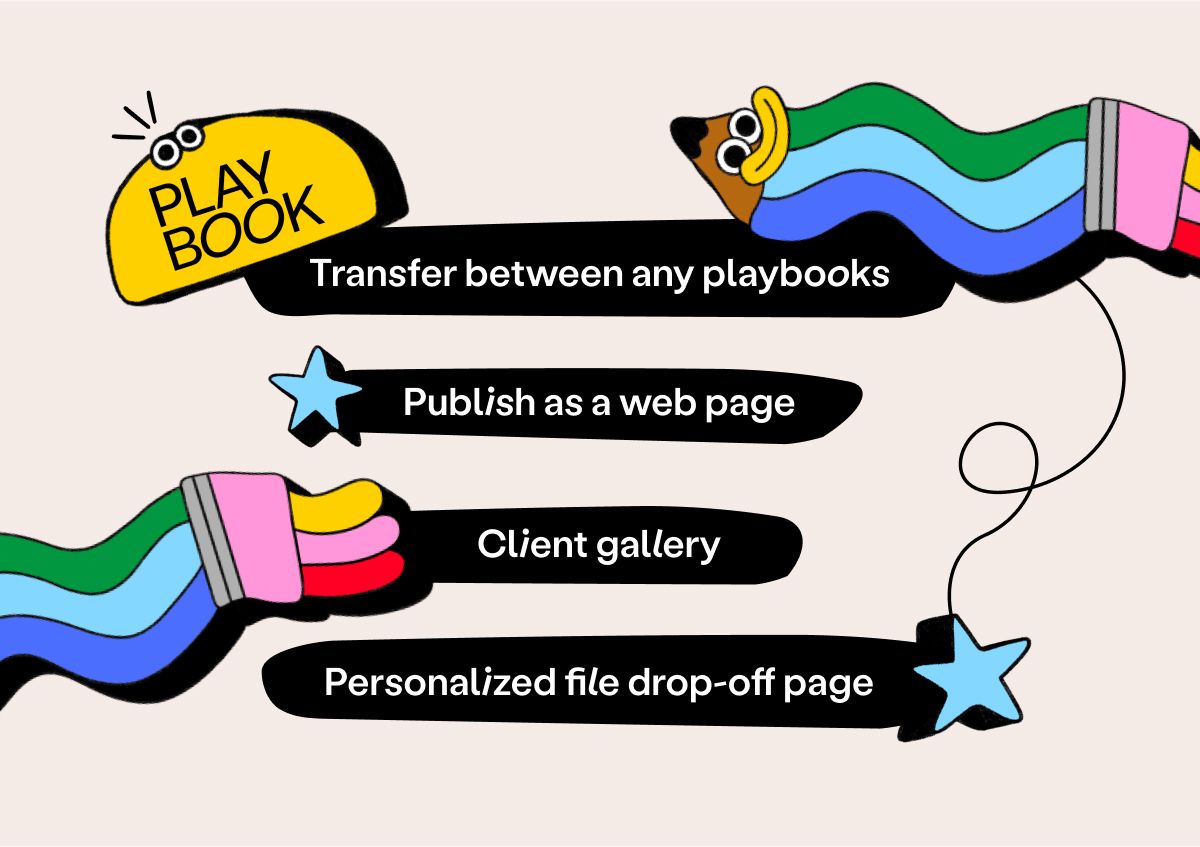 Transfer files from one Playbook to another.
Use the Publish feature to share a board as a web page.
Create a client gallery where they view your work.
Personalize your file drop-off page.
Storage space
Creative files can be heavy, especially if you're working with high-res images or videos that will rapidly fill Google Drive's 15GB of free storage, forcing you to take a paid upgrade.
By contrast, Playbook offers designers 4TB of free lifetime storage — which should be more than enough for most creative professionals.

Creative asset display options
Unlike Google Drive, Playbook offers customization options for presenting your assets, which can be particularly handy for creatives who need to present their work in a visually appealing manner.
Whereas whoever you share your work with on Google Drive will just see folders and files, creatives can choose from the range of available Playbook templates that make it easy to present work in a beautiful and professional way.
Streamlined communication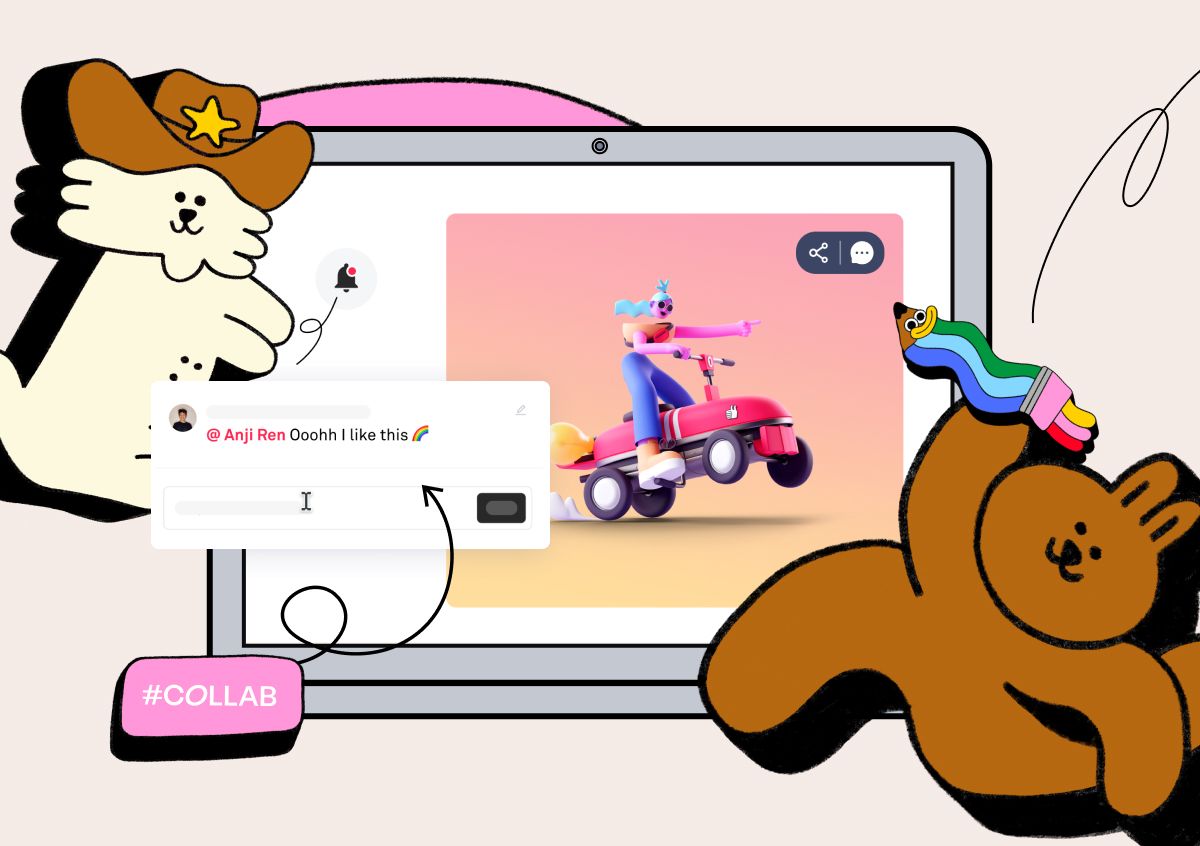 Features like file sharing, commenting, and real-time collaboration can make it easier for teams to work together and streamline the creative process.
Playbook and Google Drive allow you to keep conversations with teammates and clients in one place and make sure everyone is on the same page. Both platforms allow you to add comments to files, tag team members, react with emojis, and collaborate in real-time, making it easy to give and receive feedback with clients and project collaborators.
That said, Playbook takes collaboration to the next level. For example, while Google Drive allows you to add comments to videos, Playbook makes it possible to attach comments to timestamps on video assets. Additionally, Playbook is working on a feature that will require no sign-in when collaborating with external stakeholders.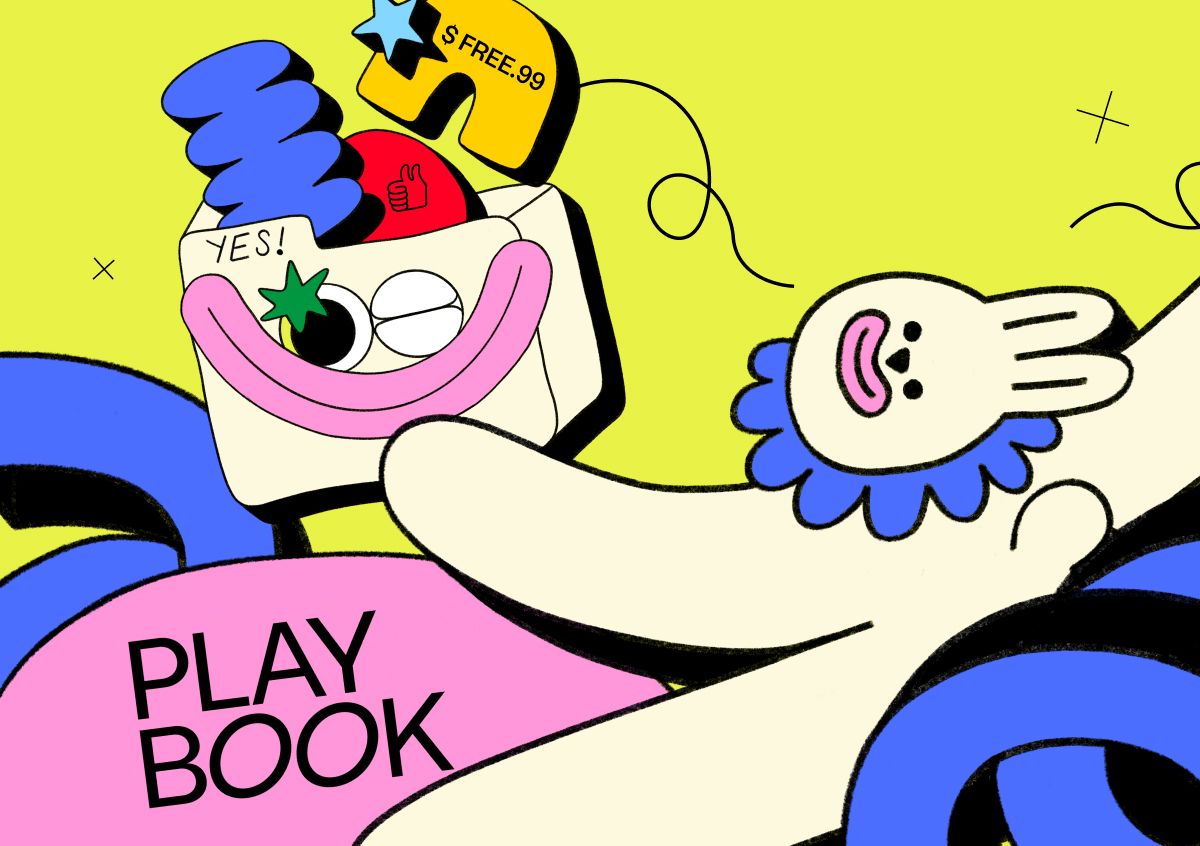 Google Drive isn't going anywhere and it definitely has its uses for those who want to store, share, and collaborate on files.
But for creatives who need features that are more tailored to their needs, like visual browsing, searching by tags and keywords, or presenting work to clients, Playbook has greater functionality. Plus, Playbook's generous storage space is vastly superior to Google Drive's free offerings.
So what are you waiting for? Sign up for your free Playbook account and start managing your creative assets more intuitively.