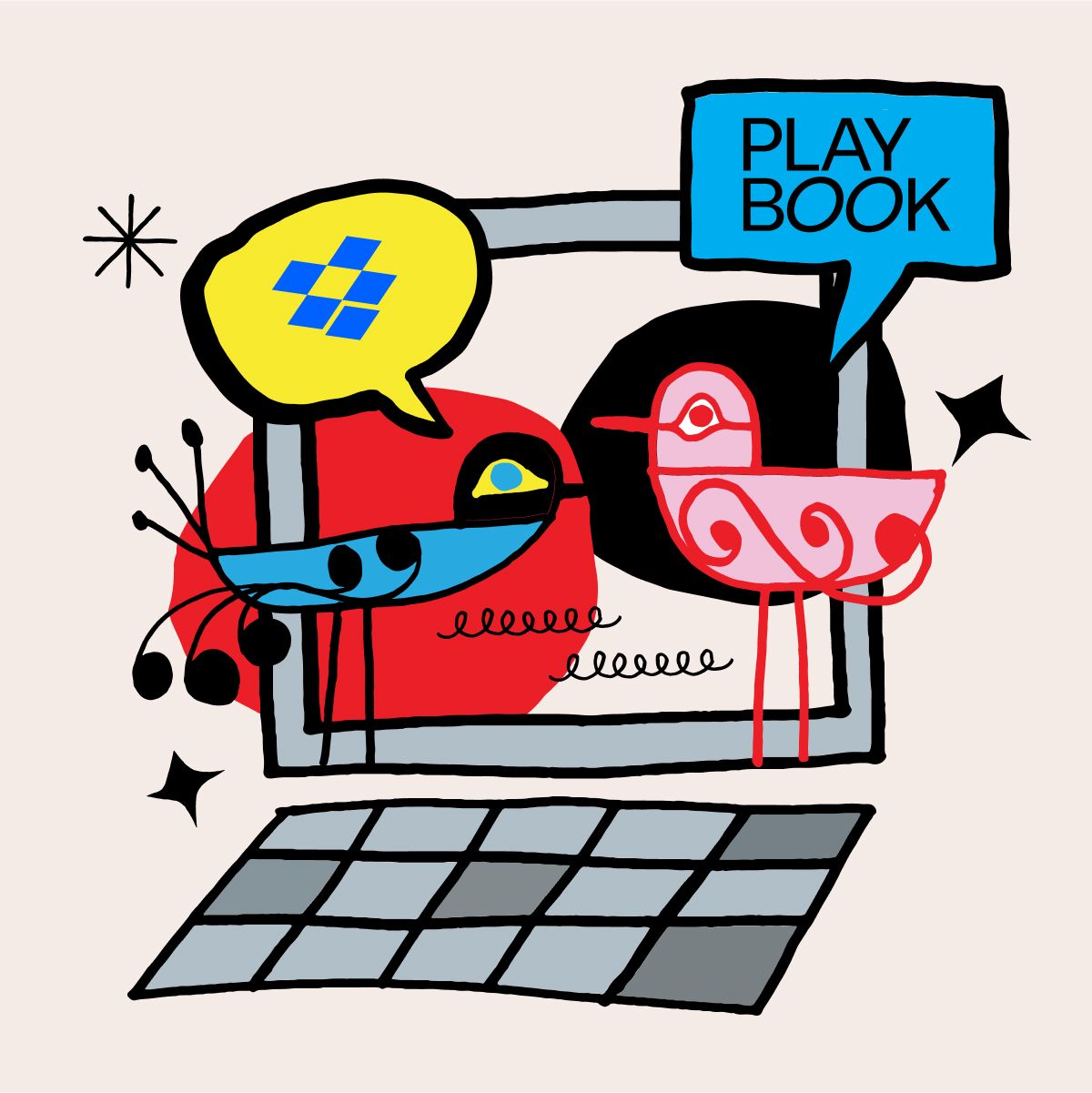 When Playbook's cofounder Jessica Ko was head of design at Google,  she realized her teams spent about 90% of their time digging around Dropbox looking for assets. Some team members were even quitting due to the stress and frustration the chaotic storage system caused them, and constant errors led to financial losses.
Google Drive wasn't a viable solution for designers, either, so Jessica decided to solve the problem herself — and Playbook was born. Built out of Jessica's extensive experience managing design teams in some of the world's largest tech companies, Playbook is the storage system for designers by designers.
If you're a professional designer, you might be looking for a more effective alternative to Dropbox. This article will break down the differences between Dropbox and Playbook to show you why the latter makes a great alternative for designers.
File organization
With Dropbox, files are nestled in folders and subfolders, whereas Playbook intelligently organizes creative work. For example, Playbook automatically deduplicates any duplicate files to minimize clutter and avoid confusion, groups related assets together, and has automatic image-to-text tagging — all of which make it easier to organize and locate your files.
Additionally, Playbook offers visual browsing using different views — including the gallery, folder, and timeline views. Your Playbook boards look like a ready-made portfolio, making it easier to seamlessly browse your projects, find files quickly, and stay organized.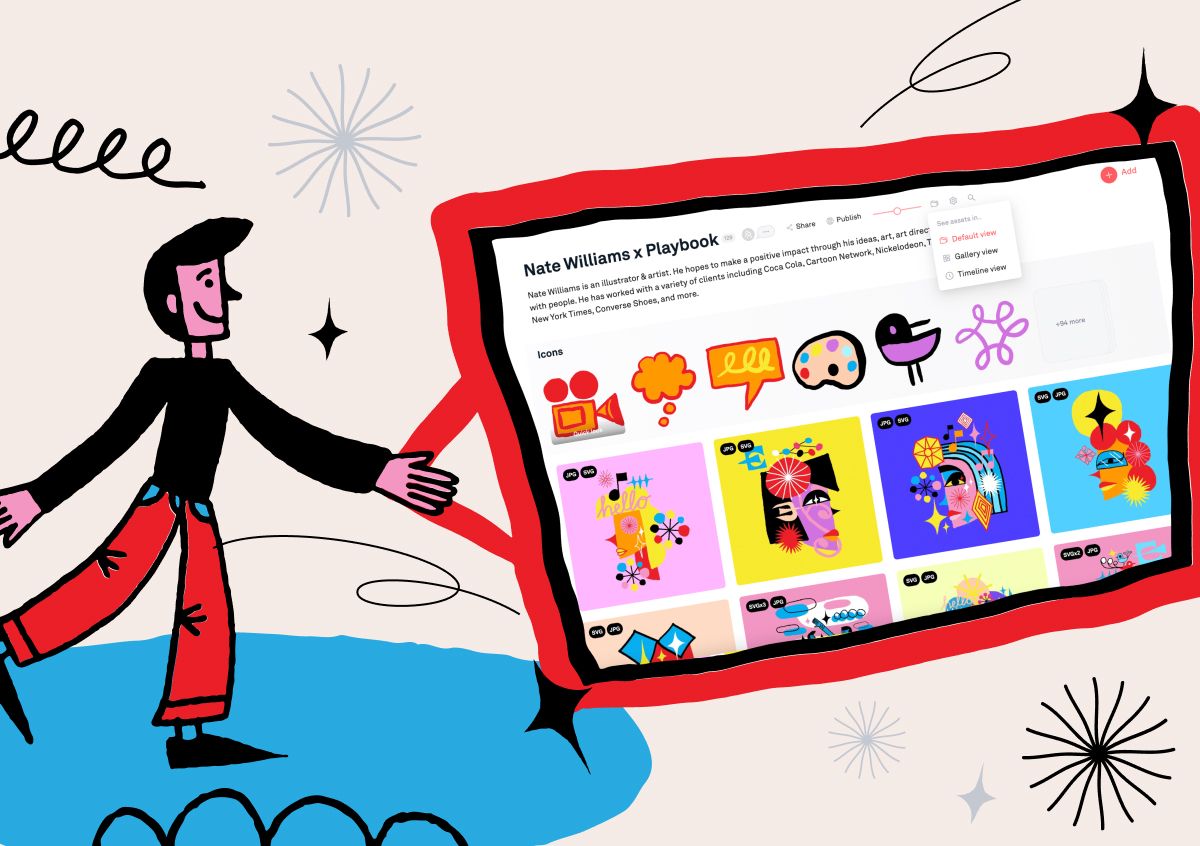 As creative director and Playbook user JenniferKathryn King puts it, "In Dropbox, you have to dig through a mountain of folders, subfolders, and more subfolders, hoping that you find what you're looking for. With Playbook, we love that the files are right in front of you, and you see everything transparently. All you need to do is scroll through, and everything pops up — even files tucked away in tiny subfolders."
Sharing and publishing
When it comes to sharing and publishing your work, the options with AWS Dropbox are fairly limited — either you can create a sharing link to your file or folder, or you can send an email invitation to view or edit it from your Dropbox account.
Playbook, on the other hand, offers multiple sharing options depending on what you're sharing, who you're sharing it with, and what you want them to do. With Playbook, you can:
Transfer files between any playbooks.
Send files via email.
Publish files as a web page.
Create a client gallery to present your work.
Invite collaborators to access their files.
Create a personalized file drop-off page.
Best of all, Playbook has a handy Publish feature that makes sharing creative assets easier and faster than ever before. Graphic designer and Playbook community member Sheila Streetman says, "I love the Publish feature! With one little click, I can choose a template (I have one that I like best), then select "publish to web," and there's all your fancy stuff ready to go."

Another obstacle designers often run into is when they want to share large files, but the platforms they use have a limit to the size of the files they can share. While Dropbox allows large file sharing, it's limited to files of up to 100 GB with Dropbox Transfer.
On the other hand, Playbook allows users to share bulk and large files easily and without limits — whether it's a two-hour high-res video, 8000 RAW files, or 200 hours of TikTok video, you can share these files almost instantly.
Collaboration
Dropbox has several collaboration features, including:
Users can share files via a link instead of sending large files.
Collaborators can add comments directly on a file to share their feedback.
Users can watermark their work, making it easier to share intellectual work across teams and throughout approvals without fearing for its protection.

Not bad — but Playbook has all the same features and more. For example, in addition to watermarks, you can also password-protect your work. Playbook also has built-in feedback and collaboration features that allow for real-time collaboration and make the creative process more efficient. For example:
You can chat with collaborators, guests, and clients.
Stakeholders can provide quick feedback with emojis.
Supported file types
While traditional cloud storage platforms like AWS Dropbox have limits when it comes to the file types they support, Playbook gives users a lot of creative freedom.
As Madison, an artist, designer, and Playbook community member, points out, "Playbook has a feature that allows you to upload design files. This is huge for us designers, as some platforms won't support design assets."
From PSDs to INDDs, Playbook is a powerful platform that supports a wide variety of file types. Plus, on the Pro and Team Playbook plans, all file types are supported.
Smart storage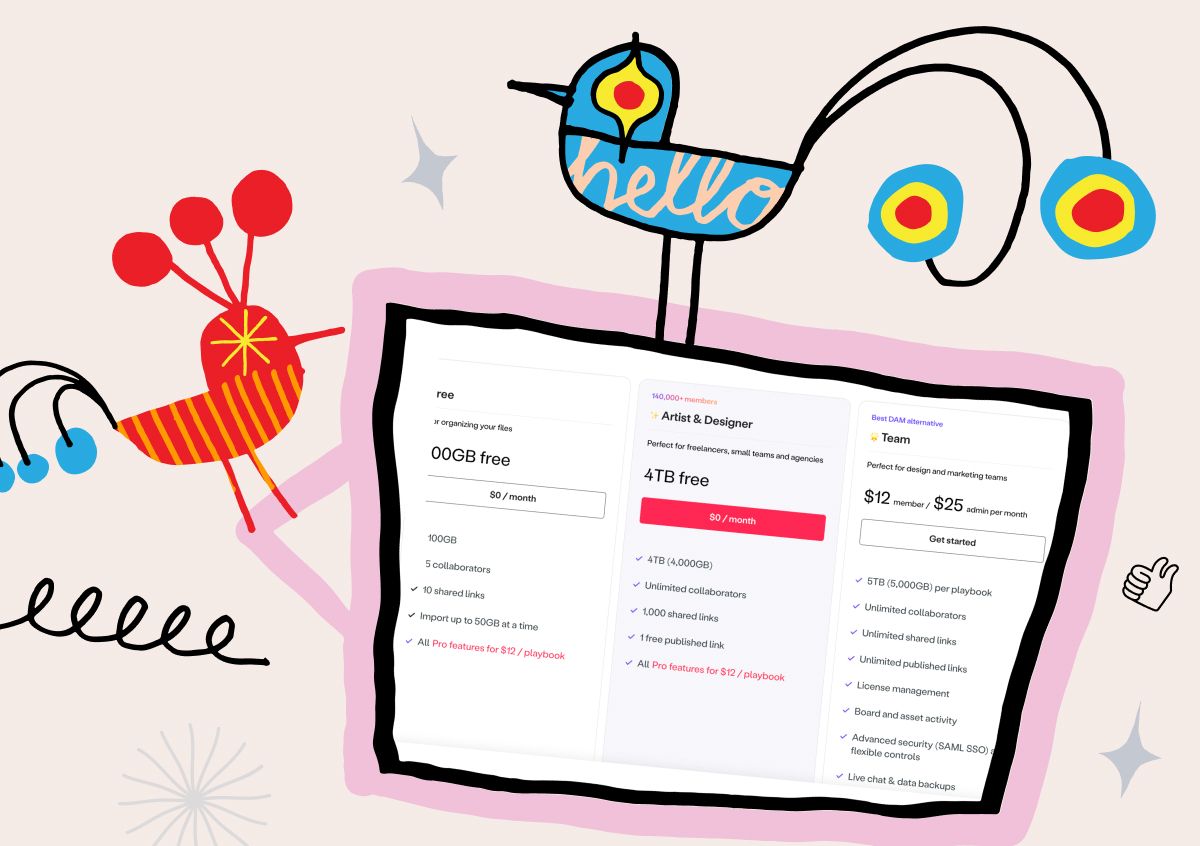 Playbook comes with several features that make it a more powerful and efficient platform compared to Dropbox — for example, the automatic deduplication feature that detects and removes duplicate files. With Dropbox, the most effective way to find and delete duplicates is to use third-party software designed for the job.
Plus, Playbook's free storage plan for designers and artists is more generous than Dropbox's basic plan — Playbook gives you 4TB of lifetime storage, whereas Dropbox only offers half of that.
Efficient project management

Playbook isn't just a storage platform — it's a one-stop shop for managing all your creative projects from start to finish. Playbook automatically tags and organizes your visual assets so that you'll always know where to find them.

Playbook also enables you to see related assets in your folders and its deep-level folder browsing features are seamless — finding files, even those tucked away in tiny subfolders, is intuitive.
With Dropbox, project management options are more limited. You can apply tags to files within a specific folder, but not all users have access to this feature.
Reporting
For people who work in teams, both Playbook and Dropbox have reporting capabilities that allow users to see what's happening across their entire organization and how their assets are doing.

Like Dropbox, Playbook:
Shows asset activity
Tracks shared assets
Enables collaborator management in one place

In addition, Playbook also allows users to track board activity — boards are Playbook's version of the dynamic folders you know and use on your desktop.
Playbook vs. AWS Dropbox: the verdict
With its intuitive file organization features, effortless and varied sharing and publishing options, generous storage, and project management features, Playbook is the clear winner for designers who need quick and efficient ways to store, share, and collaborate on creative files.
With 4TB of free lifetime storage, you've got nothing to lose — sign up for your Playbook account today and join the Playbook revolution.