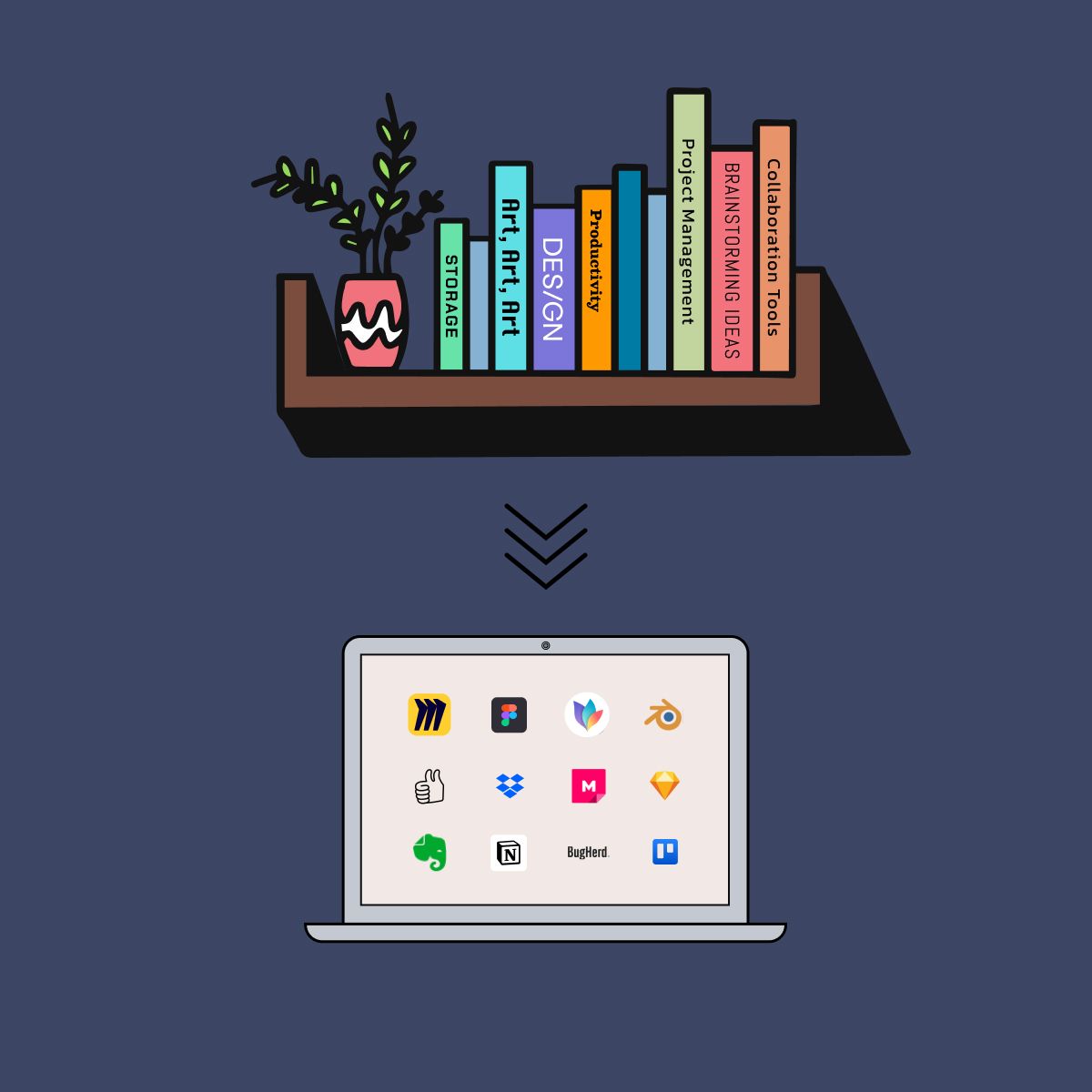 As a designer, you probably already know that the tools you use can make all the difference to the design process.
Whether it's organizing your tasks, remote collaboration, receiving feedback, or doing the actual design work, the right tech can streamline your whole workflow and save you a lot of headaches.
You may have already tried some of the solutions available, but perhaps you're wondering what the best technology stack is for your evolving needs.
We can't answer that question for you, but to help you decide, we've rounded up the best tools for designers in 2022.
In this article, we've listed our favorite tools for:
Design
Collaboration and brainstorming
Visual feedback
Project management
Productivity
Storage
Let's dive in.
🎨 Design
Adobe continues to be the go-to design platform for many creatives, but there are plenty of other programs out there that give Adobe a run for its money.
Although Adobe's design abilities are still some of the best around, other options offer more functionality for sharing, collaboration, and feedback.
Let's take a look at three of the most popular: Figma, Sketch, and Blender.
Figma
Figma is a web-based app for user interface design and prototyping that works on both Microsoft and iOS operating systems. It's become popular with designers thanks to its real-time collaboration features.
Some of the uses of Figma include:
Front-end development
Backend development
Product design
UI design
UX design
Wireframing
Fonts
Figma's free plan gives you space for three active projects at a time, plus the Figma community is an excellent resource for templates, widgets, and plugins.
Sketch
If you're a UX or UI designer, you've probably heard of Sketch, a Mac-only UX and UI design tool for desktop apps, web apps, mobile apps, and wearables.
Sketch's simple and intuitive interface offers a great user experience and uses vector-based illustration technology, making your designs easily scalable.
Some of Sketch's features include:
Prototyping
User flows
UI libraries for design systems
App icon design
Graphic design
Ad banners
Social media images
Blender
Blender is an open-source animation tool that runs on Linux, Windows, and Mac that's great for making animations and animated graphics. Plus, full-stack designers or those familiar with programming languages can use its API for Python to create custom tools.
Some of the capabilities of Blender include:
3D rendering
Animations
Modelling
Rigging
Simulation
Compositing
Motion tracking
Game creation
🧠 Collaboration and brainstorming
Collaboration is the name of the game as we emerge into the post-pandemic world. One thing's for sure: remote work is here to stay, making collaboration software an essential tool for most designers.
Brainstorming and ideation are the starting point for any design project. Thankfully, there are tech solutions that make this possible, even if your client or team is on the other side of the world.
Here are four of our top collaboration and brainstorming tools.
Mural and Miro
Mural and Miro are both virtual collaborative whiteboards that facilitate brainstorming and strategy definition among remote teams. Both apps allow you to use virtual sticky notes, group them together, and vote on the best ideas, just like you would during an in-person brainstorming session.
Mural has a minimalistic interface, while Miro's interface offers quick and easy access to tools. The reality is that Mural and Miro are very similar (which is why we put them together). The most significant difference between them lies in their integrations — Miro's are much more extensive, making it a more versatile tool.
Ultimately, the best choice for you depends on personal taste as both tools have a similar price point.
MindNode
MindNode is a mind mapping app. It's great for ideation as it allows you to set out your ideas in a non-linear way and make connections that you might not have seen otherwise.
FigJam
FigJam is Figma's answer to Miro and Mural, and designers love it. It's a free virtual whiteboard with features for brainstorming and ideation. It also has a diagram feature that you can use to map out user or product flows.
👀 Visual feedback
Getting useful client feedback is often a challenge for designers. Either clients don't give enough detail, or they give too much — often in the form of a cryptic Excel spreadsheet.
The good news for designers everywhere is that visual feedback tools are revolutionizing the design feedback cycle, making it easier to get relevant, actionable feedback in context. Two of the most popular platforms are BugHerd and Filestage.
BugHerd
With BugHerd, you can kiss goodbye to indecipherable feedback spreadsheets. It's a feedback and bug tracking tool that allows you to add visual context to your client feedback cycles.
It's popular in web design and web development as clients can report bugs on the webpage where they appear, kind of like a virtual sticky note. Bugs are then sent to the designer on a Kanban-style task board for easy visualization, prioritization, and resolution.
Filestage
Filestage is a review and approval platform that allows you to share an unlimited number of files and get visual feedback in context. You and your clients can view version histories of your files and get approval with just one click.
✅ Project management
Project management tools help you visualize, organize, and manage your work while allowing multiple participants to view the workflow and project progress. This is essential for designers, who often work with various clients and juggle numerous projects at once.
Three of our top project management apps are Trello, Asana, and Notion.
Trello
Trello is a much-loved and straightforward task and workflow management tool that allows you to visualize your projects and tasks on Kanban boards. This makes it easy to view, track, and assign your tasks.
Asana
Asana is similar to Trello but with greater functionality and more options for visualizing your projects. This includes timeline views, Gantt charts, progress trackers, reporting, and team management.
Both Trello and Asana are easy to use and give you a visual overview of your workflows. Asana's additional features may make it more suitable for a team of designers working together, whereas freelancers might prefer Trello. But ultimately, it's a personal choice.
Notion
Notion calls itself "the all-in-one workspace," and you can use it for everything from managing your client work to logging your workouts.
This makes it a great tool for freelancers, who often blur the lines between work and personal life — with Notion, you can manage it all in one place.
For example, you can use it to sketch out wireframes and frameworks, draw up a roadmap, or set up and manage an entire workflow — Notion is super flexible, so the possibilities are endless.
👩‍💻 Productivity
Productivity tools help you organize your mind. For personal notes, meeting notes, planning, goal tracking, and to-do lists, we recommend Things and Evernote.
Things
Things is a productivity app based on the book Getting Things Done by David Allen, and it's designed to help you organize your life.
It provides space to brain dump your tasks into to-do lists for areas of life such as "Work," "Friends and Family," "Health," or "Money," then organize them according to when they need to be done. You can prioritize tasks using categories such as "Today," "Upcoming," "Anytime," or "Someday."
Evernote
Evernote has long ruled the roost as a powerful note-taking app. It allows you to capture anything as a digital note, whether that's a website, photo, or YouTube video.
You can then organize your notes with keywords and tags and group related notes together in different spaces.
📣 Communication
In a remote world, using the right communication tools is essential for avoiding crossed wires with your team members and clients. Zoom, Google Meet, and Slack continue to be three of the most popular.
Zoom and Google Meet
Zoom and Google Meet have both been having a moment since the pandemic forced the whole world to take up remote working in early 2020.
Both are videoconferencing apps designed to facilitate face-to-face communication and collaboration among remote teams, and many users use them interchangeably.
One of the main differences is that Zoom calls are limited to 40 minutes on the free plan, while Google Meet gives you an hour.
Google Meet is also part of the broader Google Workspace suite, which offers more functionality and collaboration options, whereas Zoom is for video calls only. Ultimately, which you choose may depend on your needs, or you might end up using both!
Source: https://www.statista.com/statistics/1253972/zoom-daily-meeting-participants-global/]
Slack
Slack has also become wildly popular as the world's go-to instant messaging app. It enables you to collaborate in real-time through instant private chats, plus it gives you the ability to create groups, so you know you're always talking to the right people. Slack can help unclog your inbox and prevent long, unnecessary email chains.
🗂 Storage
Every designer needs a storage system that allows you to easily organize, find, and share your work for feedback. Dropbox and Google Drive have been dominating this area for a few years now, but Playbook is the new contender on the block.
Let's see how the three stack up.
Dropbox
Dropbox's free plan offers just 2GB of storage, which is not a lot. You can earn additional storage up to a total of 2TB by referring friends, but if you want more than 2TB, the paid plans kick in, with additional charges for additional users.
In terms of organization, Dropbox allows you to create folders and subfolders similarly to how you would on a PC or Mac, and the interface is visual, if somewhat confusing.
Google Drive
Google Drive offers free storage of up to 15GB, making the free plan better value than Dropbox. It also provides a variety of premium plans of up to 30TB.
In terms of functionality, finding files can sometimes be a challenge. Although it's also based on a folder/sub-folder system, Google Drive often requires you to use the search functions to locate your files.
Playbook
Playbook is a file storage system designed with creatives in mind. It offers a free plan for designers and artists that gives you 4TB of storage and supports a variety of file types and an unlimited number of users.
Playbook's collaboration features allow you and your clients to comment and collaborate on your work in real-time. It even has integrations with Google Drive and Dropbox.
Best of all, Playbook's visual layout makes it easy to locate your files without searching for file names like "image6398.png". In fact, it's so visually appealing that you can even use it to present your portfolio.
🚀 Take your design work to the next level with the right tech stack
So, there you have it — a veritable pick 'n' mix of tech options to choose from in 2022. The right ones for your personal tech stack will depend on many factors, including what kind of design work you do, whether you work alone or as part of a team, and whether you're a freelancer or an employee.
However, we think there's one solution that all designers will love in 2022, and that's Playbook (if we do say so ourselves). It brings all your work into one searchable, scannable, and super-organized place and can save you hours of time spent searching for files or version histories.
If you're a designer or artist, why not sign up to become one of our Early Innovators? You'll gain immediate access to 4TB of storage absolutely free and be able to start organizing your files right away.