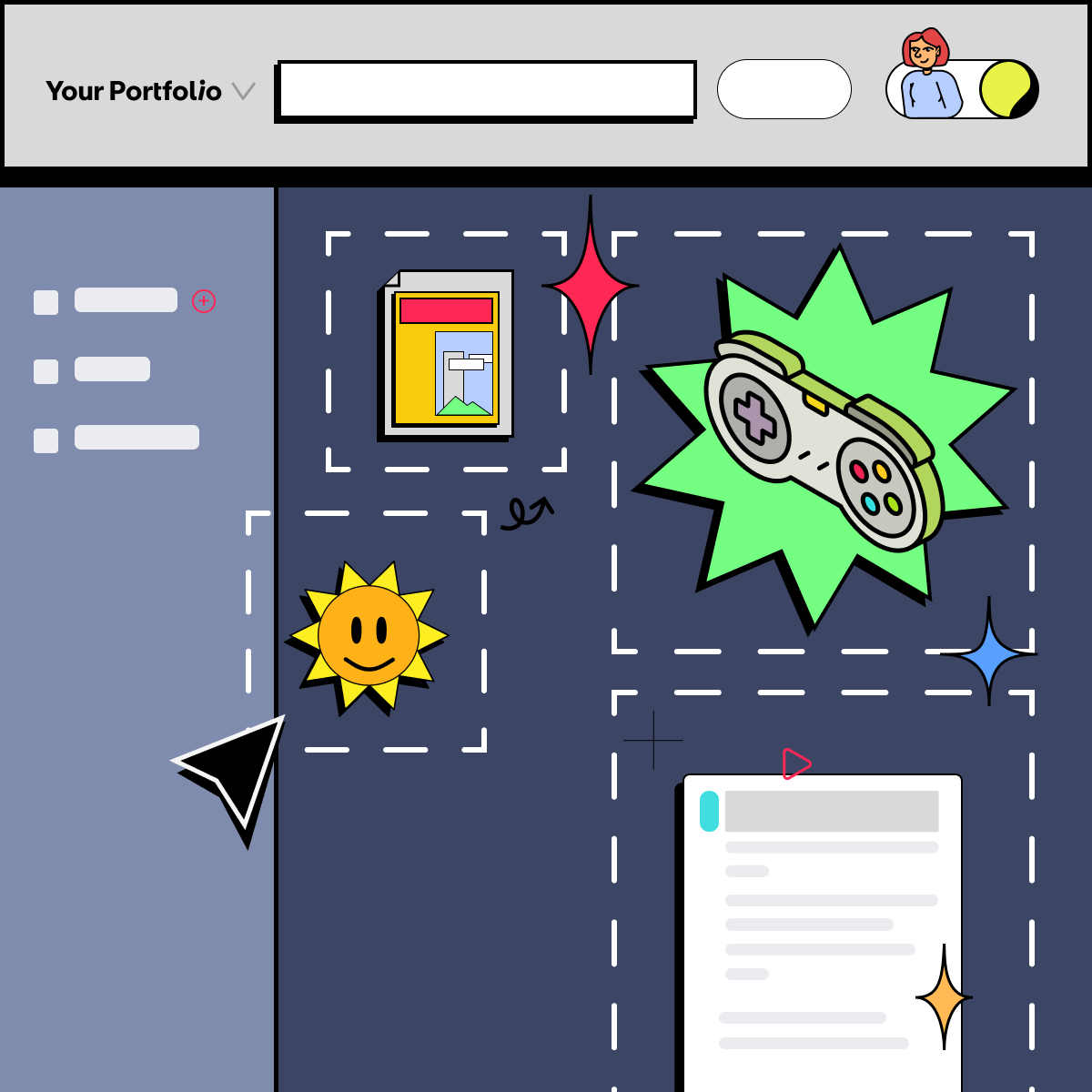 Ever looked at the portfolio website of a successful, award-winning graphic designer and got that sinking feeling?
They've worked with some of the industry's biggest names, have an extensive portfolio of groundbreaking design work, and their copy is pitch-perfect.
How can an aspiring freelance graphic designer like you possibly compete?
Well, fear not because businesses are always looking for graphic designers to hire, so there are plenty of opportunities — even for a new graphic designer with little to no experience.
The only thing standing between you and landing that dream graphic design job is your portfolio website.
But if you've never created a portfolio website, it can seem like a daunting task. Don't worry — this article has got you covered.
We'll go over the main components of a successful design portfolio and share three tips to help you create a portfolio that will have clients banging down your door.
The components of a graphic design portfolio website
Your online portfolio site should be as unique as you are — it's an online showcase of your creative talents and the home of your personal brand. Think of it as your online calling card and the first place prospective employers or clients will go to get familiar with you and your work.
But if you're new to graphic design and have never created a portfolio site before — or even if you have one but are looking to improve it — there are a few key components that every graphic design portfolio should contain.
An industry best practice that you should apply to your own portfolio is to create a 'master' version of it, then tailor and tweak each section to suit each client or job you apply for.
Here are the six main sections your portfolio website should include.
1. A welcoming Homepage
The Homepage is where you establish your brand identity — but you don't need to go into too much detail here, as most potential clients will jump straight to your about or portfolio pages.
Since you only have an average of 62 seconds to make a good impression, keep your Homepage succinct and minimalist, and use it to guide visitors to the most relevant content — whether that's the 'About' page, the portfolio page, or a call-to-action.

2. A compelling 'About' section
This is similar to the 'Profile' section in your CV — but much less dry and with way more personality.
This section should be a statement of skill and intent, highlighting what you've learned, what you plan to do with it, and what your ultimate goal is with graphic design.
While it's important to come across as committed and professional, it's also a place to show off your unique personality and share some of your quirkier traits — this can make the right clients warm to you while scaring the wrong ones away.
The 'About' section is also particularly useful if you don't have a lot of experience under your belt just yet, as it gives you a chance to express your strengths and areas of interest.
3. A portfolio of your best (and most relevant) design work
This page is what people are really interested in when they visit your portfolio website, and it's the section any prospective client or employer will spend the most time looking at.
Therefore, it's essential to curate a selection of your most high-quality designs that are likely to be attractive and relevant to your clients. This should be work that aligns most closely with not only what you think the employer is looking for but also your strengths as a graphic designer.
You want to pick projects that show you know what you're good at — don't be afraid of doubling down on your positives! Also, if you have quantifiable results from these projects, this is the place to show them off.

Perhaps your packaging design helped a brand improve its image and boost sales, or maybe a poster you designed helped a brand gain greater awareness. Include these facts alongside the images of your projects.

What if you're just starting out? Feel free to include mockups, class assignments, and student projects — as long as they align with your core competencies and what the prospective employer or client is looking for.
4. Evidence of design skills in different formats
Generally speaking, the more varied you can make your portfolio, the better your chances of getting noticed as a graphic designer.
Having said that, you don't have to be an expert in everything. Once you know your broader competencies, you can look into the various skills that competency brings you and list those as evidence of your versatility.
For example, if you're proficient in Photoshop, it might be a good idea to include image retouches and manipulations. If Illustrator is your forte, try incorporating your fluency in logo, icon, and background design.

The viewers of your portfolio won't necessarily have the expertise to know what a particular skill set includes. Make their job easy for them — and simultaneously market yourself as a juggler of many skills.
Some of the graphic design skills potential employers and clients may be looking for include:
Typography and lettering
Logo design
Web design
Product design
UX design
UI design
Packaging design
Print design
Editorial design
5. Captivating case studies
Another place you need to put your writing cap back on is the case studies section. This is where you walk the reader through a set of key projects, highlighting the problem, requirements, process, challenges, and end results.
Case studies provide an in-depth look at how you took a design project from start to finish. You can include any works-in-progress, such as sketches, prototypes, or other designs that you considered along the way.
You can also explain in writing how you reached certain design decisions, what challenges you encountered, and how you overcame these challenges.
Finally, add any testimonials from clients or managers that describe what it was like to work with you on that project. Typically, three to five case studies is a good number to go with and can provide some much-needed substance to a promising portfolio.
6. Contact information
Finally, if a prospective client or employer likes your portfolio, you need to make it easy for them to reach you.
Create a professional email address and include it, along with your social media links, so people can get a more well-rounded understanding of who you are. Keep it simple and concise, maybe with an icon representing each platform.
You can also add a contact form so people can submit their queries without having to leave the page.
3 tips for building an awesome graphic design portfolio
Ready to start creating your portfolio? Follow these three tips, and you can't go wrong.
1. Explain your work in writing (concisely)
Don't just show prospective clients your work — explain the what, why, and how of your design process. However, it's important to strike a balance and avoid going into too much detail.
Make sure your text clearly explains how each project is relevant to your design experience while keeping it crisp and concise — if in doubt, cut it out!
2. Make your portfolio user-friendly
User experience is everything in a successful graphic design portfolio site. This sometimes means making choices that you wouldn't have made were you the sole viewer of your portfolio.
Consider replacing that eye-catching series of conceptual images with something more polished, and turn that complex navigation system into a standard top or sidebar navigation panel. Your website visitors need to be able to jump quickly and easily to the information they're looking for.
3. Express your personality
Your graphic design portfolio is a reflection of your professional personality. Potential clients and employers want to see your work, but they also want to get a sense of who you are.
Allow your personality to shine through in your site, whether it's in the design of your portfolio or the words you use to describe yourself and your work.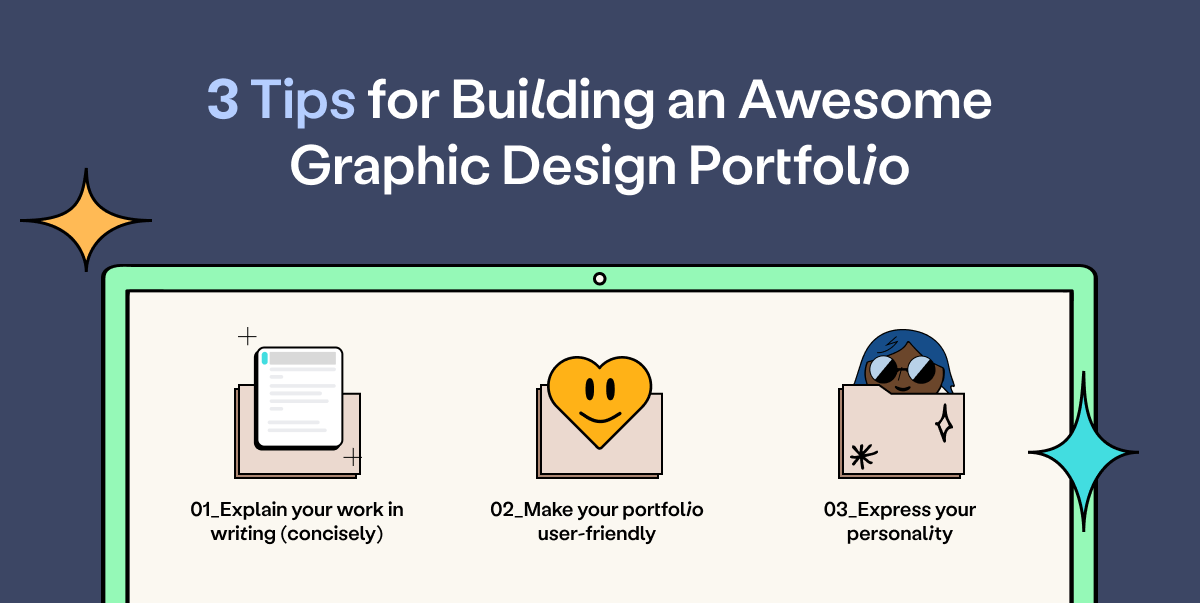 Ready to create your graphic design portfolio?
By now, you should be feeling more confident about which elements to include in your graphic design portfolio.
But you may be wondering where in the world wide web you should host your portfolio. While there are lots of website builders out there, few of them are built with designers specifically in mind.
Except Playbook.
Playbook is a visual digital storage system created by designers for designers. With Playbook, you can store, share, search, and collaborate on your designs with ease.
Best of all, you can host your portfolio on your Playbook account to share directly with your potential clients or employers. Don't worry — you can manage permissions to retain full control of your work.
So what are you waiting for? Sign up for a free Playbook account and start building your winning portfolio today.