Our mission is to organize and nurture the world's creative work to its greatest potential.
It's been a whirlwind year. Since this time last year we closed a seed round led by Founders' Fund, brought on a dozen teams as pilot users, launched an artist series featuring creative people of all stripes, and built a waitlist of hundreds of people as we start to open up Playbook to the world.
We're looking for a senior backend engineer (4+ years experience, Ruby on Rails is a plus) to join our Founding Team. There's so much to do: projects like visual search, image similarity/tagging, and large-scale data pipelines. We're looking for someone who can take these ambitious ideas from 0 to 1, while setting up our architecture to scale as Playbook grows.
We're looking for folks who are pragmatic, open-minded, creative, and curious. You'll be joining a small team (6 of us total; 4 engineers). Post-covid, we'll be half in SF and half remote (we're open to either).
Apply by emailing [email protected].
---
What is Playbook?
The tools for keeping track of creative work haven't gotten an update since Dropbox launched. You wouldn't expect the creative process to involve hours of digging through folders and files, but it does, and we're here to change that.
What if you could:
Search your team's reference material as easily as Google Photos?
Find inspiration from past work as easily as skimming through Pinterest?
Never see a file named Doc_v4_final_FINAL.pdf again?
The same creative processes apply to a huge range of roles. Playbook is for designers, marketers, photographers, artists, and anybody working with visual media. Just glance at our community page to see the breadth of work: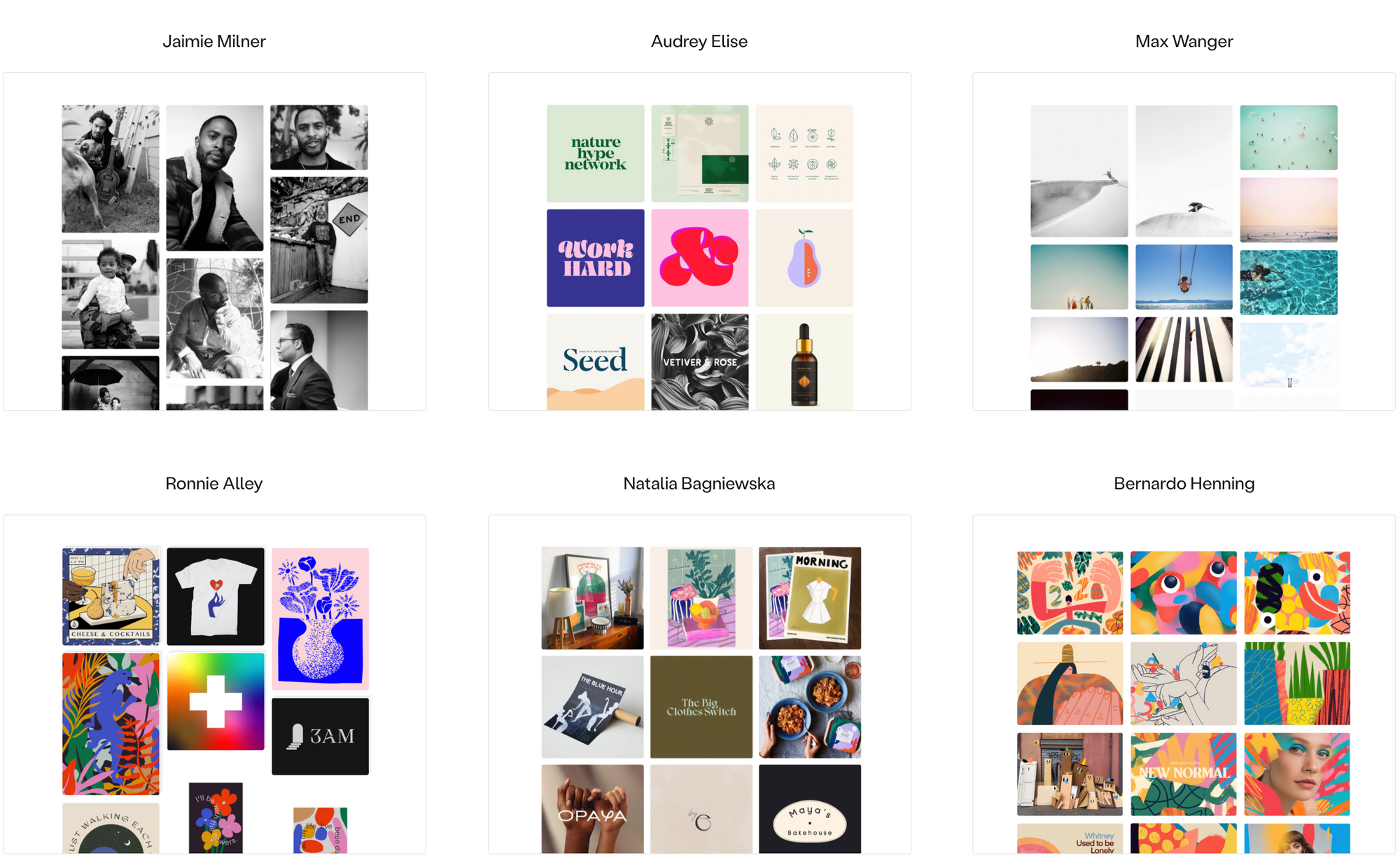 Modern editing tools have come a long way. Figma, Adobe, Framer, and many others are changing the game when it comes to creative work. But what we're still missing is the backbone: a place where that work goes to thrive instead of getting buried and immediately lost to time.
We're well on the way to building it. Come join us.
---
Playbook culture
Less cult building, more product building. We don't want a company mission that sounds like propaganda, nor do we want company values the founders don't actually live by. We're all about maker culture. We experiment and share results quickly, embrace failures and imperfection and enjoy the process of building something extraordinary.
We care deeply about the personal growth of every team member. We've seen too many people end up trapped moving through the ranks, or losing their sense of purpose once they stopped feeling challenged in their jobs. Instead, we will make it our mission to help you become the best in the world at what you do. We will support you in new roles (even if you're trying something you weren't hired for), and we will be your strongest allies for the rest of your career.
We love freedom and we believe it's necessary for creativity. After we left our jobs, we tried various routines to find a more productive and healthier version of ourselves. Most people don't have the luxury to take time off work to find theirs. So while our company is small, we want to cultivate an exploratory environment. Working from home, fewer days per week, or at unusual hours are all on the table.
We aim to build a profitable and sustainable business that will last many years. We're serious about delivering a great experience to our customers, staying competitive, and becoming a leader in our industry. With the right people, we believe we can both build a successful business and enjoy this journey together for many years to come.
---
Love brand, design, game art, or photography?
Then you'll love our users.