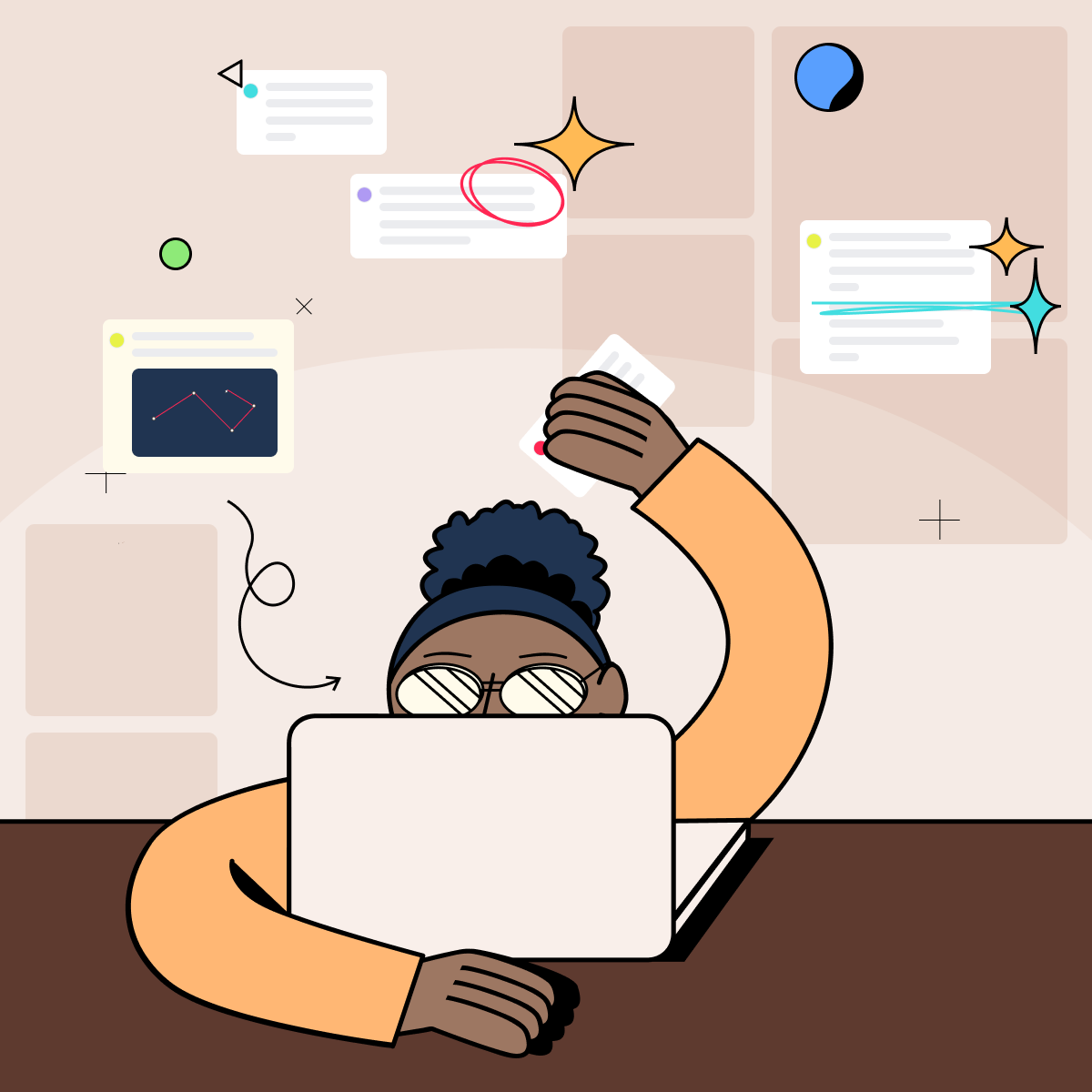 You've mastered the basics of product design and are now ready to launch your career in the world of digital products. You know the ins and outs of web design, software design, and creating apps that users will love, and you can handle both user experience (UX design) and user interface (UI design).
You know you've got what it takes to be a successful product designer — but how are you going to convince potential employers or clients? There's now only one thing standing between you and landing your dream product designer job: a portfolio.
Creating a product design portfolio can seem like a daunting task if you don't know what recruiters are looking for. What do you need to include to make a good impression — and what should you leave out?
Fortunately, there are plenty of jobs out there for product designers, who are in demand in startups, software companies, and large product-based corporations (like Meta or Google). But to land one of these opportunities, you'll need a product design portfolio that makes you stand out from the crowd.
This article will share our top five tips to create an exceptional product designer portfolio website that will launch your career as a successful product designer.
1. Know your audience
There are many directions you can take as a product designer, so the first thing you need to be clear on is who your ideal client or employer is. Think about who you're designing your portfolio for and who is most likely to evaluate it. Is it the head of product design at a large company or the marketing manager at a startup?
Whether you plan to build your name for yourself as a freelancer or land a product designer role at a company, your portfolio is likely to be viewed by multiple people with different roles. Each person who views your portfolio will be looking for different things, so you'll need to make sure you include them all.
For example, a marketing designer might be interested in your visual design skills, while a product manager will want to know whether you understand product analytics metrics.
Think of your portfolio as a product, and build it around your target audience. This step may require some research into the types of product design jobs available. It's worth taking the time to get to know who you're talking to, so you can provide them with the information they need.

2. Pick your projects carefully
You've probably created a vast number of products as part of your product designer training. Now it's time to choose the ones that best represent your work and align with the needs of your potential clients or employers.
This step is crucial, so think carefully about what you want to showcase on your portfolio page. The projects you include should highlight what type of design you specialize in, your strengths as a designer, and the unique value that only you can contribute to their business.
Consider using storytelling to create a compelling narrative about your journey as a product designer, your design process, and what makes you the right person for the job.
Once you're clear on the story you want to tell, use the following criteria to select which projects to include:
Competent — your projects should make the viewer sit up and take notice of you.
Recent — don't use any projects that are more than five years old.
Relevant — the products should be relevant to the industry and position you're applying for. If your goal is to become a freelance product designer, your portfolio should be relevant to your ideal clients.
Skill level — make sure the projects you include adequately reflect your skills.
Complexity — the more complex the project, the better it reflects your capacity to take on ambitious projects.
Shipped projects — if you're a recent design student graduate, you may not have any shipped projects to share (yet). But if any of your designs were actually built, make sure to include them as they can give you more clout.
Use a blend of projects to exemplify the breadth and depth of your skills.
3. Choose the right format
Design portfolios can be built in a variety of formats, but when you're starting out, the easiest and quickest way to create one is by using a content management system (CMS) with done-for-you templates and drag-and-drop options. Some of the most popular ones include WordPress, Wix, Behance, or Dribbble.
Make your domain public, and make sure that any files you use — such as PDFs — are publicly accessible. Avoid password-protecting your pages, as this will prevent unknown visitors from viewing your work. From a technical point of view, your portfolio should be as accessible as possible — and don't forget to optimize it for both desktop and mobile apps.
4. Think of a portfolio as a project — because it is!
A product design portfolio is a blank canvas for you to express your unique personality as a product designer without the restrictions of client requirements. This is a chance for you to be yourself and adhere to the design principles that are important to you. It's okay if some of your design examples are a little "out there" — just make sure they're consistent with the rest of your work.
Your portfolio should be scannable, easy to navigate, and have an information architecture that makes sense. Additionally, use a beautiful UI, include relevant images to support your projects, avoid jargon and acronyms, and pay attention to details — like typos and broken URLs. Carefully choose the typography and fonts for ease of reading.

5. Anatomy of a product design portfolio
There are a few crucial sections that you must include in your product design portfolio if you want to grab the attention of potential employers and clients. Let's take a look at some of the essential information to include.
About you
This is the section where you're going to introduce yourself and create a context around who you are and what you do. Create a compelling story around your past projects and journey as a product designer. Include the following details:
Your Name
Date of your portfolio
Your story — a short description of who you are, your strengths, and any relevant skills for the role you're applying for
Phone number
Location
E-mail
Professional social media
Your projects
Once you've introduced yourself, you'll need to present your work. Display each of your past projects as a case study, focusing on the problem and how your product became the solution. For each project, include a sentence or two on each of the following components:
Context
Summary
Problem statement
Team
Role
Platform
Process— Show that you have a rich understanding of the problem and employed a diverse range of methods tailored to solving it.
Outputs— What were the deliverables?
Outcomes— What difference did you make to your client?
Quantitative results
Qualitative results
Build a beautiful product design portfolio with Playbook
Getting your product design portfolio right is the first step to building a successful career as a product designer. As you create your portfolio, it's a good idea to get input and constructive feedback from your product designer friends, as another pair of eyes can pick up on any glaring omissions or irrelevant information.

One of the easiest ways to build a strong product design portfolio is with Playbook. Playbook is a visual online storage system for artists and designers — think Dropbox meets Pinterest.
With Playbook, you can store, organize, and share your projects in order to showcase your best work. Share your portfolio with friends for feedback, then when it's ready, send it over to your potential client or employer.
Artists and designers receive 4TB of lifetime storage absolutely free. So what are you waiting for? Sign up now and start building your product design portfolio today.