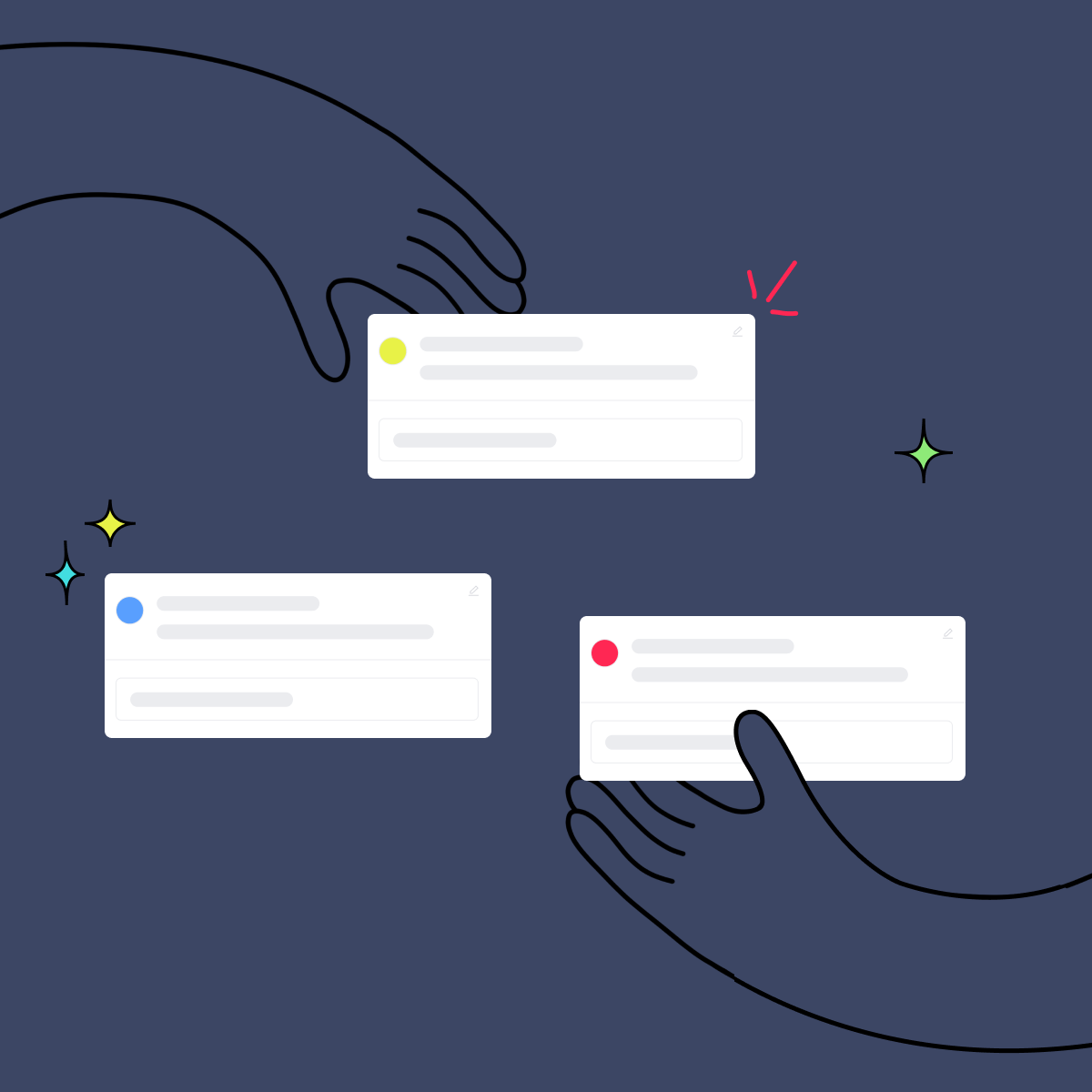 Introduction
There is an ongoing conversation about what "good feedback" looks like - meaning feedback that a designer finds valuable in improving creative work for the client.
Feedback has always been crucial for understanding how to cultivate new ideas. It is the backbone of how organizations adapt to industry changes and other competitive pressures. Consequently, there is a real need for identifying how to give "good" and constructive feedback requires an understanding of creativity.
Receiving criticism is not easy, especially with something as iterative and innately subjective as design. As a designer, feedback can be a frustrating part of a project, particularly if it's not given properly.
Because of this, learning how to give constructive design feedback is vital to improving work, innovation, and collaboration. Keep reading and we'll explain how you can master the art of giving design feedback like a pro.
Earn trust.
Remember, giving design feedback is a two-way street that starts with mutual respect for the creative process. Both parties should be able to welcome a constructive conversation with open arms. All design pros understand that feedback is an essential part of the process; regardless, it can be challenging not to take offense to critique after spending hours on a project. Knowing this, you should try building trust first to avert defensive conversations.
Empower your team: Give your designers ownership of the project. Instead of prescribing exact solutions, outline a scope that allows them the space to experiment, fail and learn from their experiences. In the meantime, you should focus on clearing obstacles, setting expectations, and being a champion for new ideas.

Acknowledge your own biases: In a study that analyzed nearly 2,000 pieces of feedback, researchers found that people who recognized the subjectivity of design critiques better leveraged the feedback they received to enhance the creativity of their designs. Instead of tainting the process with personal preferences, start by showing that your goal for the feedback is for the best design outcome of the project - a mutual goal that you have together.
Create a culture of feedback.
When voices are valued and heard, it fosters the growth of individuals, teams, and the organization. By incorporating feedback into day-to-day operations, you can create a sense of normalcy that makes having challenging conversations easier.  
Foster communication: In our new, hybrid world, you may not see the person to whom you're giving design feedback face-to-face all the time. Regardless, everyone you work with should understand that giving and receiving feedback is an important goal in any project. To promote healthy conversation, embed feedback into the fabric of the culture. For instance, meetings that open with a thought-provoking question can create space for people to be open to new ideas and experiments.
Ask for feedback from your team first: Leap into asking for feedback first, but don't wait for a special occasion to do it. Feedback doesn't have to be a complex and circumvented process. It can be a quick spark during a conversation - just a few minutes can make a difference and show vulnerability.
Focus on solvable problems and strategic goals.
Design can be subjective. Keeping the conversation focused on aligned goals is a great way to keep feedback discussions productive and move projects in the right direction.
Keep the problems first: Try to stay as objective as possible when giving design feedback. For example, if you don't like the placement of a newsletter call-to-action, suggest moving it to another page by communicating to a designer why users might be more inclined to sign up for the newsletter through another content type (news updates vs. insights, for example).
Doing this will give the designer more insight into their audience and help them propose better solutions. By describing the problem, you're equipping the designer with more knowledge to explore other options, rather than feeding an opinion-based solution.
Emphasize strategic goals: The most important thing about design feedback is that it must always remain framed by your project goals and metrics for success. The team must clearly understand and agree on the goals of the brief before the project begins. When giving design feedback, align your underlying motivation to the brief. If not,  it may fall into the category of personal aesthetic preference.
Be descriptive.
Phrases like, "I'm not feeling it," or "It doesn't pop" offer no real direction. Instead, design feedback needs to be a discussion that is descriptive, inclusive, and informed by both the brief and the process the designer has gone through to get where they are.
Start small: By zeroing in on one problem, you give the designer a chance to reflect and ask thoughtful questions that establish ownership and autonomy of the project. To do this, frame your feedback to the application. For instance, do you want to focus on color, layout, content design, usability, etc.? Try aligning on one focus together so that you're not dumping a heap of criticism at once.
Be clear and concise: Don Draper may be a fictional character from Mad Men, but the adage "make it simple, but significant" still rings true in the real world. Keep conversations connected to the context you set earlier in the conversation. For instance, saying, "The data collected from our customers shows us they respond best with this [key element]. Can we increase the hierarchy of this [key element] so that our customers can find this [key element] easier?" is far clearer than "Make it pop." Trust us, designers don't like hearing that one.
Invest in collaboration.
One of the biggest roadblocks to close collaboration and feedback today is distance. Because our workspace has become an extension of our home life, investing in the right collaborative tools can give organizations a strong competitive advantage that sets them apart in a hybrid world.
Establish a clear process for feedback: Aside from the communication cost savings, there's an overall increase in employee satisfaction when setting clear expectations and boundaries. Doing so is critical to the success of a project, even more so when many stakeholders are involved. Try investing in tools where you and your team can share, organize, display, and swap feedback on all kinds of ideas, all in one place.
Create efficient access to knowledge sharing: With tools like Playbook, you can find files 10x faster, collaborate with anyone, and centralize essentials while mitigating the day-to-day confusion of giving design feedback. When you don't have to spend ten minutes finding a file, work feels more efficient.
Conclusion:
Opening your work up to feedback is a vulnerable process, even for professionals. That being said, designers are used to receiving feedback as long as it's direct and honest. Both of you should feel comfortable sharing positive and negative design feedback.
By implementing these tips, you can foster a culture of collaboration, roles are clearly defined, strategic goals are brought to the forefront of decision-making, and projects can run effectively.  
It's crucial to be thoughtful about the way you frame your design feedback. Playbook brings your work and everything you're working on – from PSDs to JPGs and INDD files – into one scannable, searchable, and super-organized place. With Playbook, you give your feedback and your work a creative center, and never go looking for it again.