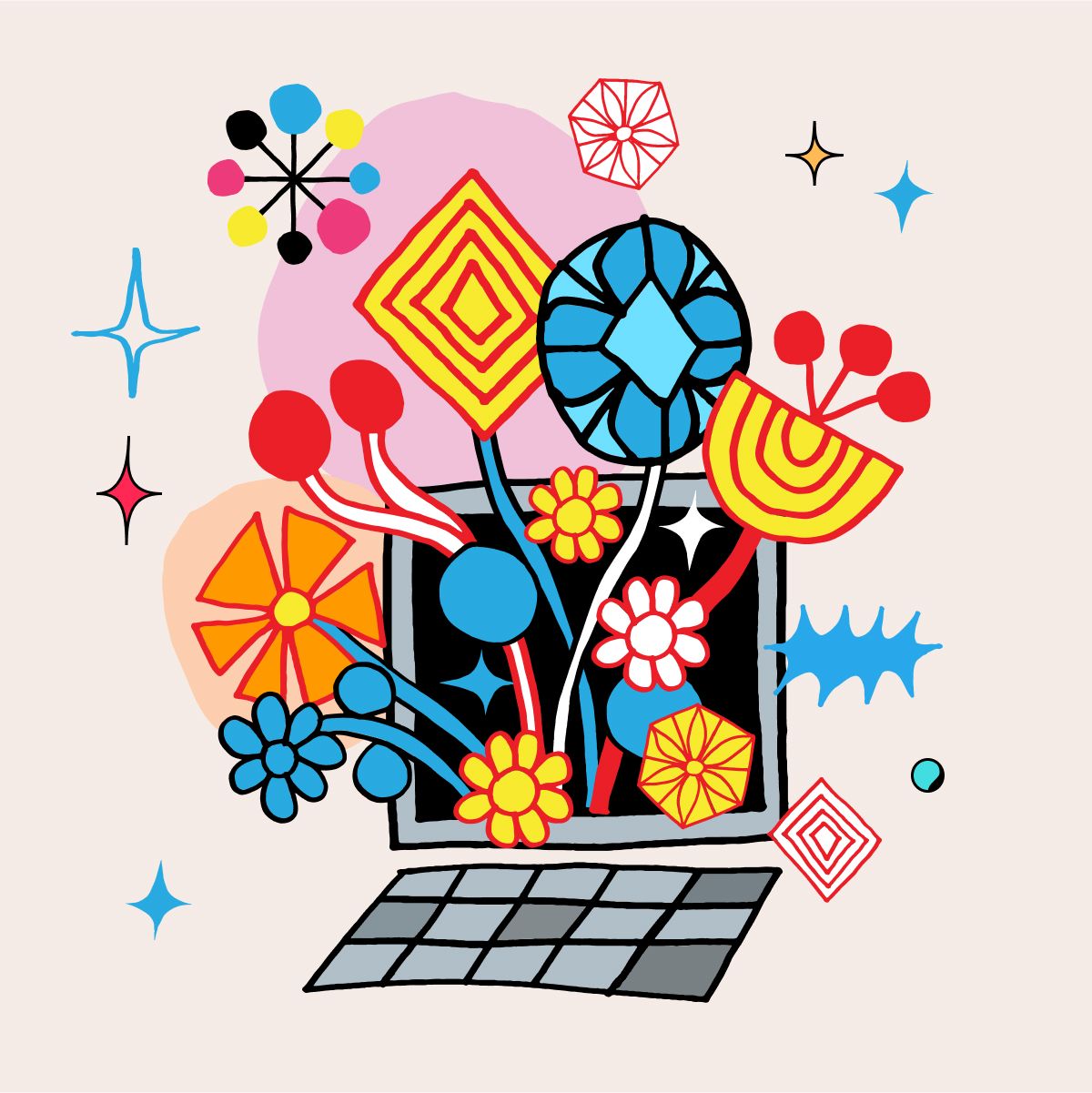 Anyone can design. But not all design is good.
If you want to be noticed in a world that's chock full of design elements, you need good design. Let's have a look at some numbers; numbers don't lie, after all.
While there are plenty of statistics, the biggest takeaway is that good design matters. There's a reason why big brands like Amazon, Netflix, and Coca-Cola spend billions of dollars on branding each year.
Good graphic design is not only aesthetically pleasing, but it will also help you communicate your message well and get your business noticed. However, it's not something you accidentally stumble upon. It takes a talented designer to create designs that are worthy of people's attention.
This brings us to the next important part — hiring a designer. It's easy to find a graphic designer, but finding a talented graphic designer requires going through several steps.
Not sure where to start? Don't worry, we've got you covered. Here's everything you need to know to hire a great graphic designer for your business.
Clarify your needs
Before you start looking for a designer, you need to know what you're looking for. Clarifying your needs will help you set the right expectations.
For example, a graphic designer may help you design your logo and website, but web development will likely be out of their scope. Similarly, a designer may help you create a terrific logo, but they may not be able to create great illustrations.
You'll also have to determine if you need an in-house or freelance graphic designer. A freelance designer may be ideal if you have infrequent design needs. On the other hand, a full-time or in-house designer will probably be worthwhile if you require frequent graphic design services. Your choice will depend on your business needs.
Finally, you'll need to ensure that you have your brand identity in order. You don't necessarily need an extensive brand guide, but you should have the basics such as the color palette, fonts, as well as the general look and feel you're going for. This way, the designer will know what they have to work with.
Doing all this will make it easier to hire a designer who can meet your expectations. Once you know what you want from a graphic designer, it's time to determine the skills they must  have.
Understand the skills you need in a graphic designer
Although a graphic designer's specific skillset will depend on your needs, the ideal choice will generally have the following:
Technical know-how. Since most design will be done through software, the designer you hire should have experience using tools such as Adobe Creative Cloud, Canva, or Figma. As the hiring manager, you need to know what tools you expect your designer to be proficient in.
Robust communication skills. A good designer must know how to collaborate effectively with the rest of the team, which will almost certainly include non-designers. As such, they must be able to translate their visual style of thinking into communications (both verbal and non-verbal) that others can understand.
Attention to detail. Sometimes, the difference between design successes and fails is hard to spot. You need a designer with an attentive eye; someone who can catch minute details and errors, make meaningful changes, and help you stay on brand.
Time management. A competent graphic designer has excellent time management skills. They stick to deadlines (for the most part), attend client meetings, and generally know how to prioritize their tasks effectively to make the most of their time.
Problem solving. As Fast Company once said, "Design's fundamental role is problem solver." Problem solving is a part of every design process, so your designer should be able to create solutions and make decisions.
Skills understood, it's now time to search for a designer. The search starts with creating a great job description and sharing it on the platforms graphic designers use when searching for work. This brings us to the next part of the hiring process.
Create an awesome job description
A good job description will help you find a graphic designer who aligns with your company's needs and values. When you specify the particular skills and abilities you're looking for, applicants know what the position requires. This, in turn, improves the quality of applications you get.
If you create an accurate and detailed job description, you will likely be able to attract and retain a designer who will enjoy their work and help grow your brand. Let's have a look at some graphic designer job description templates you can use to inspire your own.
Upwork
LinkedIn
Both templates show the essentials of any good job description: the job overview, responsibilities, and required skills and qualifications.
Beam Jobs
This example highlights how you can add some character to your job description to give potential candidates an idea of your brand personality. Plus, the template includes the position's salary and benefits. The transparency means there are no surprises — you'll move forward in the hiring process with candidates who are happy with the compensation on offer.
At this point, you know what you need and you have created your job description. You're now ready to begin your search for the right designer.
Where to find graphic designers
Hiring a designer is much easier today than it was before. What follows are some of the top platforms you can use to find graphic designers.
Dribbble's Freelance Project Board. This job board lets you discover some top design creatives. You can post one project a month for free on the platform.
99designs. With this platform, you have the option to create contests. After sharing your creative brief, designers will submit their ideas, and you'll be able to pick your favorite.
If you're specifically looking to hire a full-time designer, you can also have a look at:
When you've found your top candidates, the next step is conducting interviews. Here are some important things to keep in mind during this part of the hiring process.
Things to keep in mind while hiring a graphic designer
Think of the following as a checklist to help you hire the best graphic designer for your brand.
Experience
This is one of the key parts of a candidate's profile.
Experienced designers are not only great at the actual design process, but they understand fundamental design principles and are familiar with various visual styles. Experience is also a common justification for higher pay, so you must know how experienced a candidate is.
To assess a candidate's experience, ask for a portfolio, and quiz them about the diversity of the projects they have previously worked on. When reviewing a portfolio, ask yourself if:
The quality of the designs is good
The designer's style and general aesthetic match what you're looking for
The designer has produced work similar to what you need
Each design project looks cohesive and on-brand
Design process
A good designer should, ideally, have a design process.  Although this will vary by each person, the process will typically involve:
Research;
Design creation;
Client feedback and design revision; and
Delivering the final version of the creative assets.
Understanding how a designer tackles their work will help you understand their work style.
Budget
Money issues are crucial, of course. If you have a budget of your own, it's best to let the designer know upfront. Either they will agree with it, or they won't — ultimately, being transparent saves a lot of time and ensures you come across as respectable in the hiring process.
Testimonials
Going over a candidate's testimonials from past clients can tell you a lot about their skillset, work ethic, and general attitude. Designers usually maintain a review page on their website for you to check. Also, sites like Fiverr and Upwork allow clients to leave their reviews.
Availability
If you decide to hire a freelancer, you want to set some expectations around availability. Make sure you agree with the candidate about when, and for how many hours, they will work. You want to arrive at a mutually agreeable schedule that is beneficial to everyone involved.
By following this process, you should be able to find the right graphic designer for your business. However, keep in mind that your job postings can receive hundreds of applications. It's important to have a system in place to separate qualified candidates from those without the necessary skills.
Ready to hire a graphic designer?
Finding a good graphic designer can be hard, but it's worth the effort. A talented designer can give you an edge in today's highly competitive business environment.
That said, your designer won't be able to create their best work (and push their creative boundaries) without the right tools. It's easy to get caught up on graphic design software, but tools for storing and sharing digital assets are equally important — at the end of the day, what good are great designs if they end up getting lost in the cloud?
Enter Playbook, a cloud storage platform that allows creatives to share, organize, and share their creative files, all in one place. No more headache-inducing clutter. All your files are centralized and easy to find, plus collaboration is seamless.