Anna Rupprecht is a Berlin-based freelance illustrator whose work has graced murals, vinyl covers, podcasts, and dating apps, as well as the likes of Netflix, the New York Times, and the New Yorker. Funny, friendly, and fiercely feminist, she spoke with us about finding joy, confidence, and purpose through art.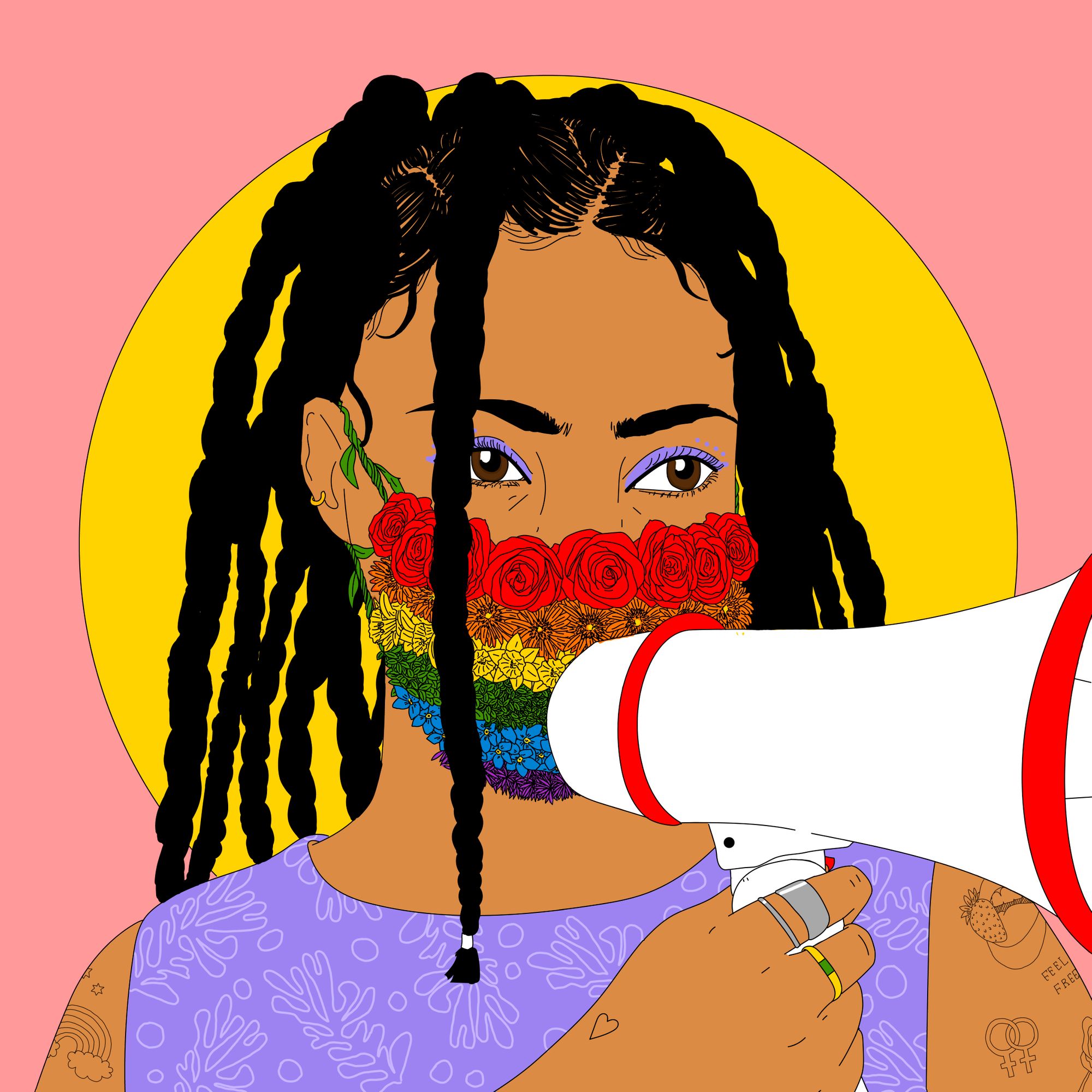 What was your experience like getting into freelancing?
I've been in Berlin for nine years now, and I started freelancing with local magazines a bit when I was studying graphic design at the University of Applied Science. I think my first job was for a hip hop magazine called Juice Magazine, eight years ago. Then during my studies, I had more and more jobs, including illustrating for the New Yorker, which was always one of my goals. So I had a really good professional start in the illustrating field.
So have you always been interested in art?
Yes, totally. When I was back in kindergarten, I always did illustrations for the other children to fill in with color. I wasn't the best kid in school—my teachers always told me my working folders looked like a sketchbook, because I always had to draw, and I was dreaming a lot, especially during maths and science. It was always the only thing I was really good at or felt comfortable with, and self confident, so it was my only choice in life to choose a creative path. It's in my blood.
What is the art scene like in Berlin? Has your location had an impact on the type of work you do?
It was very clear to me when I was a teenager that I would go to Berlin. My hometown, Dresden, is not that small, but it's just 200 kilometers to the capital. When I dreamed of Berlin, it was this dream of freedom. You can be who you want to be there, you don't have to hide; it's very anonymous, and you have the freedom to do what you want. But sometimes there's also this kind of pressure because every second person is working in the creative industry. So, I think back then I was a bit afraid that there was no space for me left because everyone was doing such great stuff, but I think now I would say it was more like a push and inspiration to be more and more creative and self confident.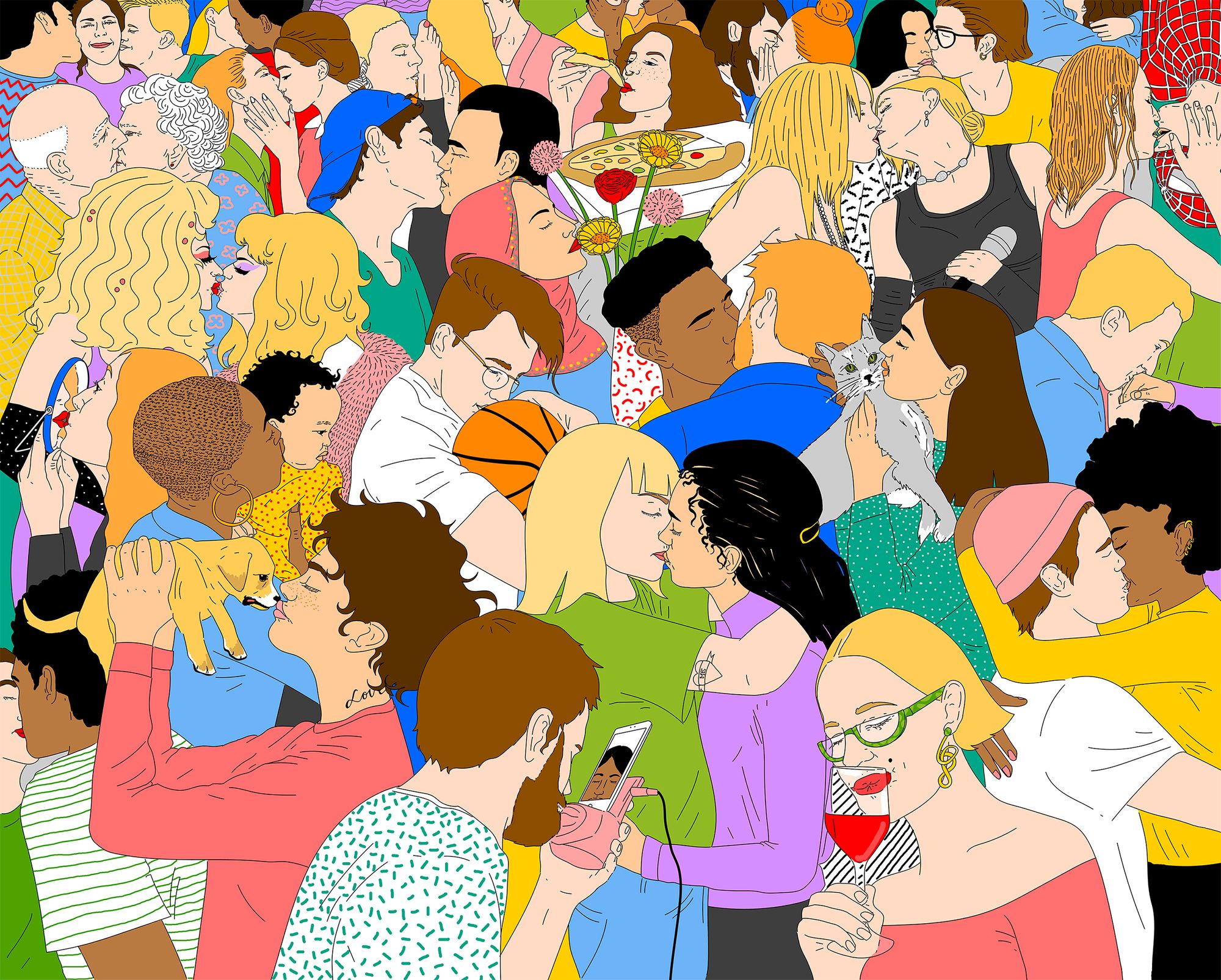 When I went to Berlin, I worked in a shoe store, and my parents always asked me, What are you going to do? and I was like, I don't care, I just want to go there and find my way. I think it was good to experience shitty jobs and work my ass off, so that now, when I can really make a living with illustration, it fills me with a lot of pride because I could show my family that it's actually a job, and I can pay my rent, and it's the path that I really had to go down.
Your Closer & Closer portfolio is chock-full of people celebrating themselves and others in everyday life—my favorite is the collaboration you did with Scusini die Storung for International Women's Day. What is your favorite project you've done, personally or professionally?
I think it's more the smaller projects, not the ones I got the most money for, that are my favorites—when I can have a social impact with my work, and I personally can stand behind it 100%, or they reflect more of my personality or my beliefs. I'm a feminist, and I'm really interested in the future of women all over the world, and I hope that there's a much more diverse world in the future.
For example, the project you mentioned was to collect donations for women in need*. I also did an illustration for a rapper in Austria, KeKe, for some limited merch shirts for her track release "Ladies," of this woman on top of a horse and she shows her nipples.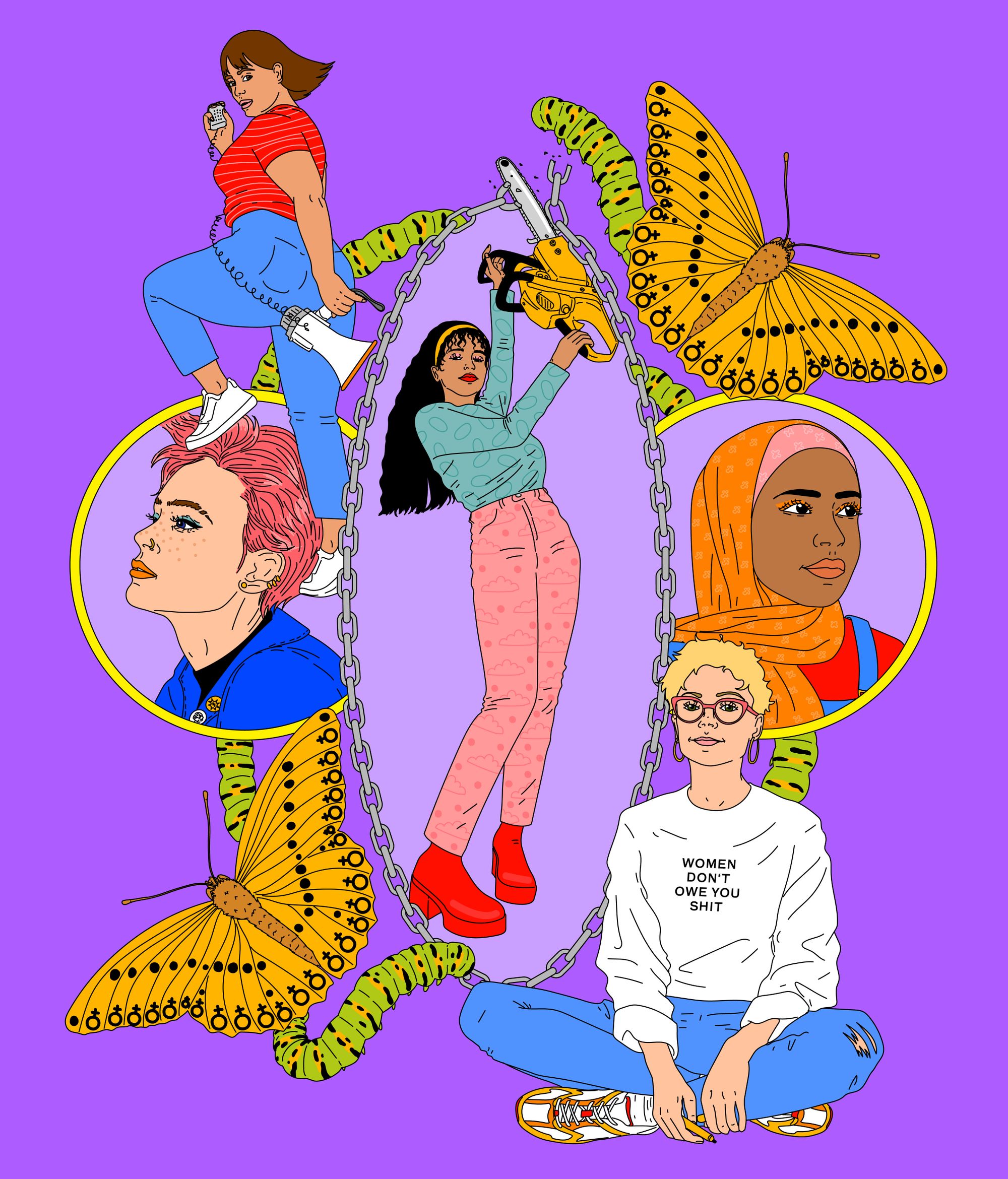 I also like the mural I did for the Access All Arts competition for Bumble. The competition was just for female artists, and the topic was your interpretation of female empowerment, so I was like, bingo, that's me.
It was really, really huge for me to be seen by so many people because the mural was in a very vibrant place in Berlin, and all my friends live there. Just to have my name under the artwork—I was crying when I was standing in front of it.
I think a very positive aspect of art is that you have an opportunity to visualize a thought without saying it. I think this is the highest point of illustration—to send out a message of support for something you believe in. For me, it's a task to put a higher meaning inside of illustration.
*This collaboration raised 1500 CHF, which was split between Helvetiarockt, an organization fighting for gender equality in the Swiss music industry, and the BIF, a Swedish women's counseling center for intimate partner violence (IPV) prevention.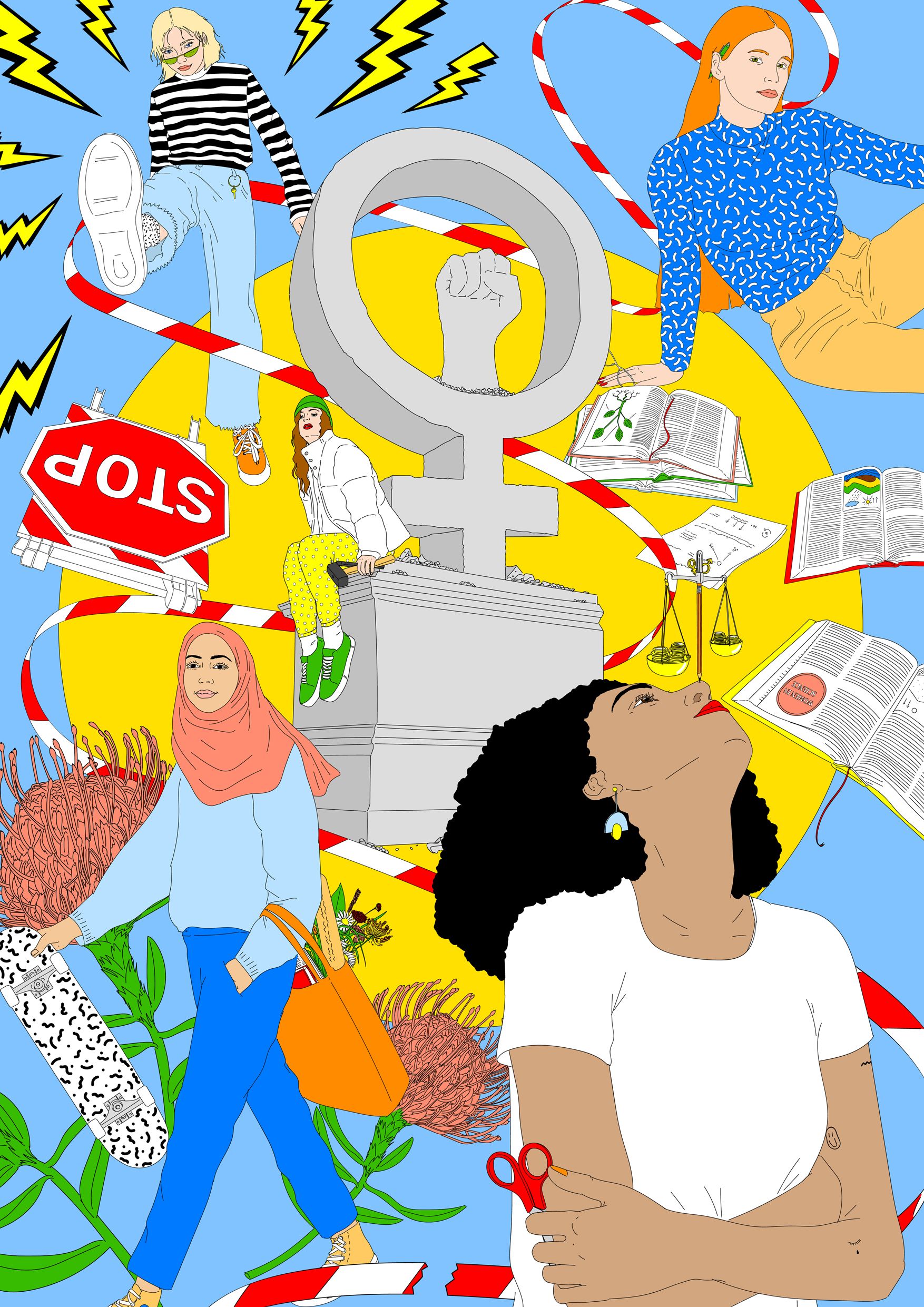 What advice would you give your younger self about your art?
Share your work. I was very afraid at the beginning to share, and I know a lot of people who do such nice stuff but are afraid to share it because it has to be perfect, but you will never reach perfection. But I think it's nice to get a reaction or even criticism about your work, so it's a win-win situation, to share and also to exercise showing off. In school, I had the feeling that you have to be good or you have to fulfill the task and you will get a good mark. So there's another dimension of self reflection and gaining self esteem through creative art. You have to share what you're doing with an audience, even if some things are imperfect, because otherwise you won't be seen.
When I started doing this on a professional level, I was a bit afraid of the months when jobs got down. It's like a roller coaster—sometimes you have so much to work on you're nearly burned out, and then it's like two months where there's nothing, and you're wondering, oh my god, maybe this is the end of my career. But I've realized it's just the process of freelancing—in the winter time, I was always stressed out because there are not so many inquiries usually, and then the summertime is always insane. So, I would also recommend to chill, and just stay focused and produce new stuff, and use the time when it's getting calm for private projects or maybe to support something you believe in. It's something else if you're really struggling on a financial basis, but if it's possible for you to stay calm, stay calm and move on.
Anna can be found on Instagram, Dribbble, and www.annarupprecht.com.