Benjamin Franklin said it best: "By failing to plan, you are planning to fail." So what's the best way to plan for a design project?
By starting with a creative brief.
A design brief — or creative brief for designers — is a roadmap that serves as the starting point for any successful creative project.
An effective creative brief is a single source of truth that the whole creative team can refer to throughout the project cycle.
It contains all the necessary information that a designer will require during the creative process, including the project goals, target audience, and some inspiration to help them understand what you're looking for.
Therefore, learning to write good creative briefs is essential — whether you're a project manager or an in-house graphic designer working with freelancers.
This article will cover everything you need to know about what to include in your creative briefs. But first, let's explore why you need a design brief.
Why make a creative brief for your designer?
Your creative brief is the document that will be the foundation for your whole project, so getting it right from the start is essential for reducing friction and making the creative process run as smoothly as possible.
Setting out with a detailed creative brief helps you:
Make sure the whole design team is on the same page.
Cultivate trust in the designer-client relationship.
Provide insight into the brand and target audience.
Minimize misunderstandings and rounds of revisions.
Align on a reasonable timeline and budget before the project begins.
Set a standard for the quality and types of deliverables needed.
1. Company background
This section is particularly important if you're working with freelance designers. Freelancers tend to juggle a number of projects at a time, so providing details in this section will help them contextualize the work and understand how the project fits into the broader marketing strategy.
If your company is the final client for the project, include information about your company here. If it's for a client, provide information about both companies. For an in-house project for a client, simply include the client's information.
This section should detail the company name and mission statement, the name of the project, and a list of the key stakeholders with their titles and a short description of their roles within the project.
2. Brand overview
The brand overview is one of the most important parts of a creative brief. Any design project needs to seamlessly integrate with the brand image and tone of voice, no matter who the designer is that works on it.
For this reason, you'll need your designer to have an in-depth understanding of the brand they're creating designs for. Make sure you provide them with all the necessary information, such as brand briefs and guidelines for the brand they'll be working with.
Brand guidelines should include as much detail as possible to ensure the designer has access to all the necessary resources, such as:
What colors does the brand use? Can the designer get the hex codes or names of the exact shades?
What typography and fonts should they use for different headings and subheadings across branded creative assets?
What photographs does the brand use, if any? Are these stored in a private online storage system that the designer can access, such as a Playbook board? If they're taken from open-source platforms on the web, should the designer be looking out for a particular type of photograph? For example, perhaps one client prefers photos that show people, while another wants more abstract images that convey an idea. The more specific the guidelines, the better for your designer.
Other aspects of the brand that should be included in the brief include its mission, value statement, products or services, and finally, the goals for the design assets that will be created.
Tip: Use client brand personas and values to humanize the brand and ascribe it qualities that the designer can always keep in mind while creating assets for them.
3. Project overview
Whereas the brand overview provides a broad, general snapshot, the project overview is where you get down to brass tacks with specific information about the project management process.
The project overview should include:
Measurable project goals, including specifics about the creative assets and other creative deliverables the designer is expected to provide. For example, do you need four 1:1 design creatives for a blog post? Or is it a 10-slide pitch deck for the company's investors? The more clearly you spell out the remit, the better.
If the project is part of a marketing campaign, the project overview should include the campaign goals.
The project workflow outlining which steps should be taken, the order in which they should be completed, and the internal team members responsible for each step.
The key messages that the design assets should convey.
Timeline details, such as the final due date and dates for submission of drafts. Be sure to factor in enough time for feedback and revisions.
The budget, so the designer knows what resources they have to work with.
An outline of the competitive landscape and overview of the main competitors.
4. Target audience
In this section, map out the ideal customers for the product or service you'll be marketing. This is a crucial section, as it will help the designer understand who the project is for and adapt their designs for that audience.
As you build your target audience, think about the following attributes of your ideal customer:
Demographics — such as age, marital status, occupation, income, education, and ethnicity.
Behaviors, trends, and personal customer history that show where they are in their buyer journey.
Geographical location — this can help make marketing campaigns more targeted.
Psychographics — how your target audience feels about your brand and their level of brand awareness.
If you want to segment your audience into subsets, it's a good idea to create a few customer personas that represent each segment. Doing this will also help you keep the target audience section more concise.
5. Inspiration
Creativity doesn't happen in a vacuum, and every designer needs some inspirational and reference content to get their creative juices flowing. Getting to know the creative work you admire also helps them get a better understanding of what you want.
Sometimes, showing a designer designs that are similar to what you're looking for can give them a foundational idea that they then branch off from. They know how their designs need to be similar, so they can focus on making them unique to your brand.
However, reference content isn't the only way to spark ideas. One classic way to fire up inspiration is by using a moodboard. Mood boards can contain colors, photos, logos, illustrations, and anything that captures the vibe of your project. Mood boards can be especially helpful when working with teams of designers that require a little extra boost to get going.
Template for a creative design brief
Strapped for time and need a done-for-you creative brief template to streamline the brief process? We've got you covered. Download this free creative brief template and start customizing it right away.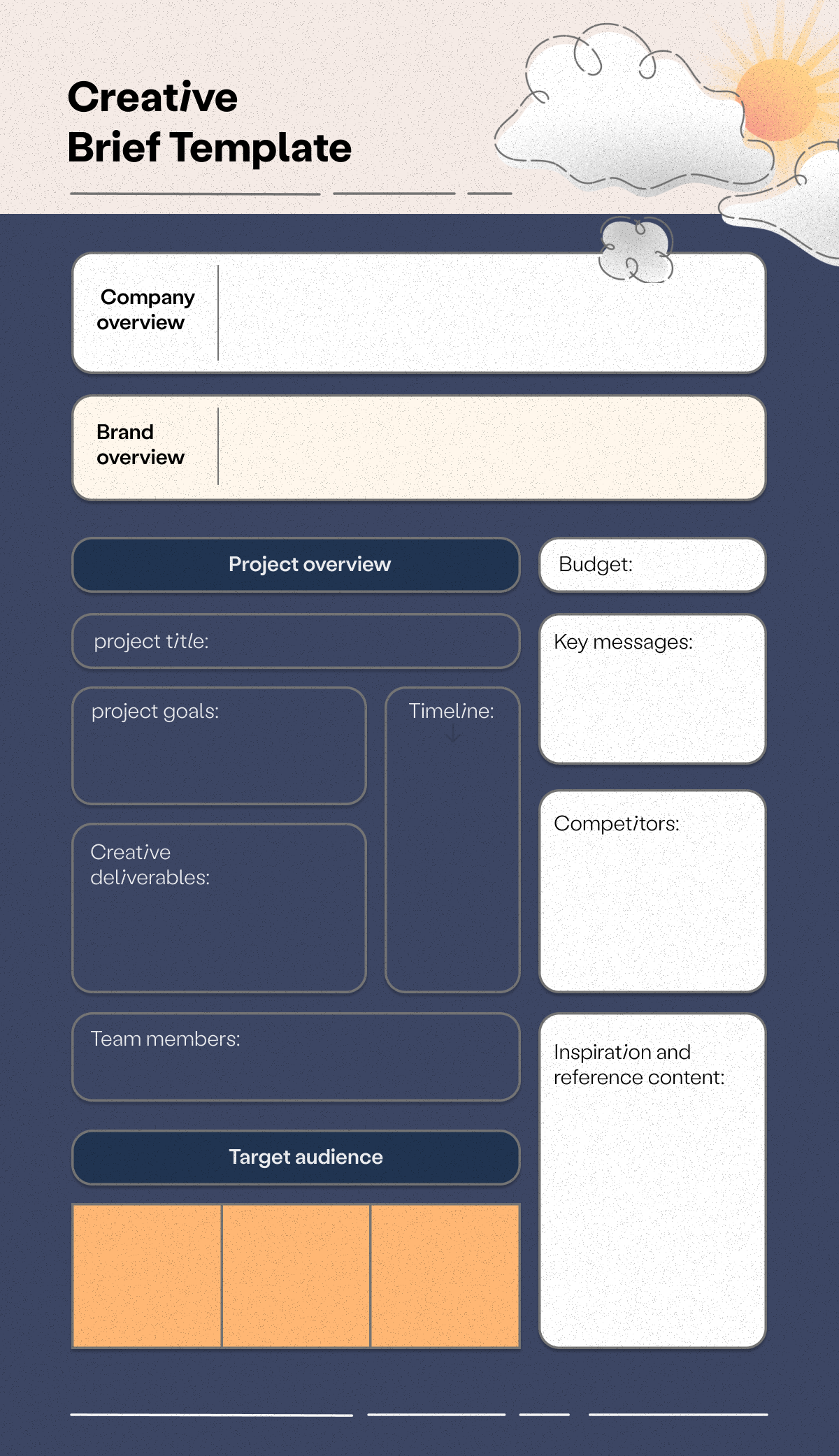 Streamline your next design project with a creative brief
It can be tempting to skip over the brief writing process without giving it too much thought, but the truth is the quality of your creative brief can make or break the success of your project.
Get it right, and things will go smoothly. Feedback cycles will be minimal, and you'll end up with design assets that knock the competition out of the park.
Get it wrong, and you could end up with missed deadlines, budget overspend, and a final product that's a bit…meh.
Use the tips outlined above to get your creative briefs right every time, and download the template below to try it out yourself.
Of course, having the right tech stack also goes a long way to streamlining design project workflows. Playbook allows you to store, share, and collaborate on your digital assets, making it the perfect home for all your creative projects.
Sign up today and start planning your next design project.