Can you believe another year has been and gone? 2022 marked the shift away from minimalism and the more subtle aesthetics that have dominated in recent years and back toward maximalism — as we reported in our article about artist and designer Max Perry.
Additionally, the effects of the global pandemic brought a resurgence of comforting, nostalgic, and cozy imagery.
The trend toward bold shapes, vibrant color palettes, and both vintage and futuristic designs looks set to continue in 2023.
Graphic designers looking to make an impact for their clients next year should get familiar with the latest trends so they can rise above the noise and create eye-catching designs that stick in people's minds.
Let's take a look at ten of the top graphic design trends that will provide you with creative inspiration and fresh design ideas in 2023.
1. Diversity and inclusion
Diversity and inclusion in design are becoming less of a trend and more of a requirement in the graphic design world. Brands are beginning to (finally) understand the importance of representation and the inclusion of diverse voices, bodies, and identities in their visual identity and marketing messages to foster a more human connection with their audiences. Therefore, we expect to continue to see increased demand for inclusive design in 2023.
Representation makes space for voices, ideas, and perspectives that the dominant culture has historically ignored. In line with this shift towards more inclusion and diversity, the world of graphic design will likely put greater emphasis on depicting people of different ethnicities, genders, sexualities, ages, abilities, and body types.
2. Motion graphics and animation
In the past, successful graphic design depended on creating outstanding images that conveyed both the emotions and the message of the brand. But with the rise of augmented and virtual reality, the Metaverse, and a general preference for video content, designers will need to look for new ways to capture audiences' attention.
For this reason, you can expect to see more requests from clients for motion graphics and animations to help them bring their brand identity to life and rise above their competitors.
3. Dark mode
Dark mode is growing in popularity for a few reasons — including because it saves battery on your phone and seems to be easier on the eyes than glaring bright light. It also has a sleek, modern visual appeal and sharpness.
As dark mode becomes the norm, we can expect to see more brands and websites emulating this visual format — with industry giants like Apple and Spotify at the forefront of the trend.
Also, designers who work on UX design or web design will need to take into account the growing number of users navigating in dark mode and consider how their designs will appear in this setting.
4. Serif fonts
Sans serif fonts may have a clean, simple, and highly readable look, but serif fonts have more character — partly because they have a much longer history that evokes a sense of security and tradition.
After years of sans serif dominance during the minimalist era, lately, designers have been all about crafting beautiful and sophisticated serif fonts, a trend that will continue in 2023.
However, designers are approaching serif fonts and typefaces in a new way. While they have traditionally been used to convey formality, reliability, and professionalism, some designers are now using oversized serif fonts to set a different tone, pushing the limits of how serif fonts can be used.
Intertwining different letters and distorting, liquifying, or extending strokes are all ways to use serif fonts that add an element of playfulness and unpredictability.
5. Nostalgia
Nostalgia is a design trend that will probably never go away. That's because, in a world that's changing faster than most of us can keep up with, nostalgic designs transport us back to simpler, more innocent times — giving them a comforting and reassuring feel.
While references to the 70s and 80s pop culture — colorful vintage aesthetics with touches of psychedelia and retro-futurism — will continue to serve as inspiration, graphic design trends will see a bigger shift towards the retro look of the 90s.
6. 3D design elements
Graphic design is all about grabbing people's attention. 3D design elements are dynamic, and their ability to jump off the screen and appear real makes people sit up and take notice.
Although they often focus heavily on bold color schemes and whimsical concepts, 3D design elements in 2023 will bring in a new, minimalist aesthetic — featuring neutral colors, clean lines, and a smooth, airbrushed approach, like this image by Orlin Culture Shop:
Although 3D design elements aren't new, we'll likely see a rise in this visual trend and its application in many areas, including user interfaces and illustrations.
7. Distorted typography
Stretched letters and knotted typography contribute to one of 2023's quirkiest font trends, with traditional font styles being given a literal twist.
The fonts are getting ligatures that knot, melt, or fade into disappearing opacities — tying into the futuristic feel of design this year and alluding to the promise of a Metaverse future.
The outrageous forms grab the audience's attention and leave them intrigued to know more.
8. Nature-inspired design
In the context of growing anxiety around the climate crisis, the cost of living crisis, and the threat of nuclear war, many people are yearning for nature — including nature-inspired design.
It makes sense — nature has a unique ability to instill a sense of peace and bring us back into balance mentally, emotionally, and physically. Nature-inspired design will be the remedy that city dwellers crave, providing a sense of tranquility, inner peace, and harmony.
While recent trends have seen designers pulling us out of reality with overstimulating, eccentric colors and fictional surroundings, this trend will help us get out of our heads in a different way.
Nature-inspired design elements include muted earthy tones and natural materials, textures, and shapes.
9. Surrealism
In contrast to nature-inspired design, surrealism will continue to endure as a popular approach to design, meeting the demand for sensory visuals and journeys through fictional versions of reality.
Surrealism — traditionally marked by vibrant colors, juxtapositions, and negative space — is an enduringly popular design approach thanks to its novelty, endlessly inventive weirdness, and ability to help designers convey complex messages.
Trippy design, which aims to emulate psychedelic experiences and hallucinations, will play into the promise of escaping reality offered by AR and VR experiences. It uses a mish-mash of styles that don't necessarily go together to stimulate the viewer's imagination.
Additionally, in 2023, we can expect to see surrealism being paired with 80s airbrush techniques, with saturated colors and juxtaposition, like this example by designer Evan Collins: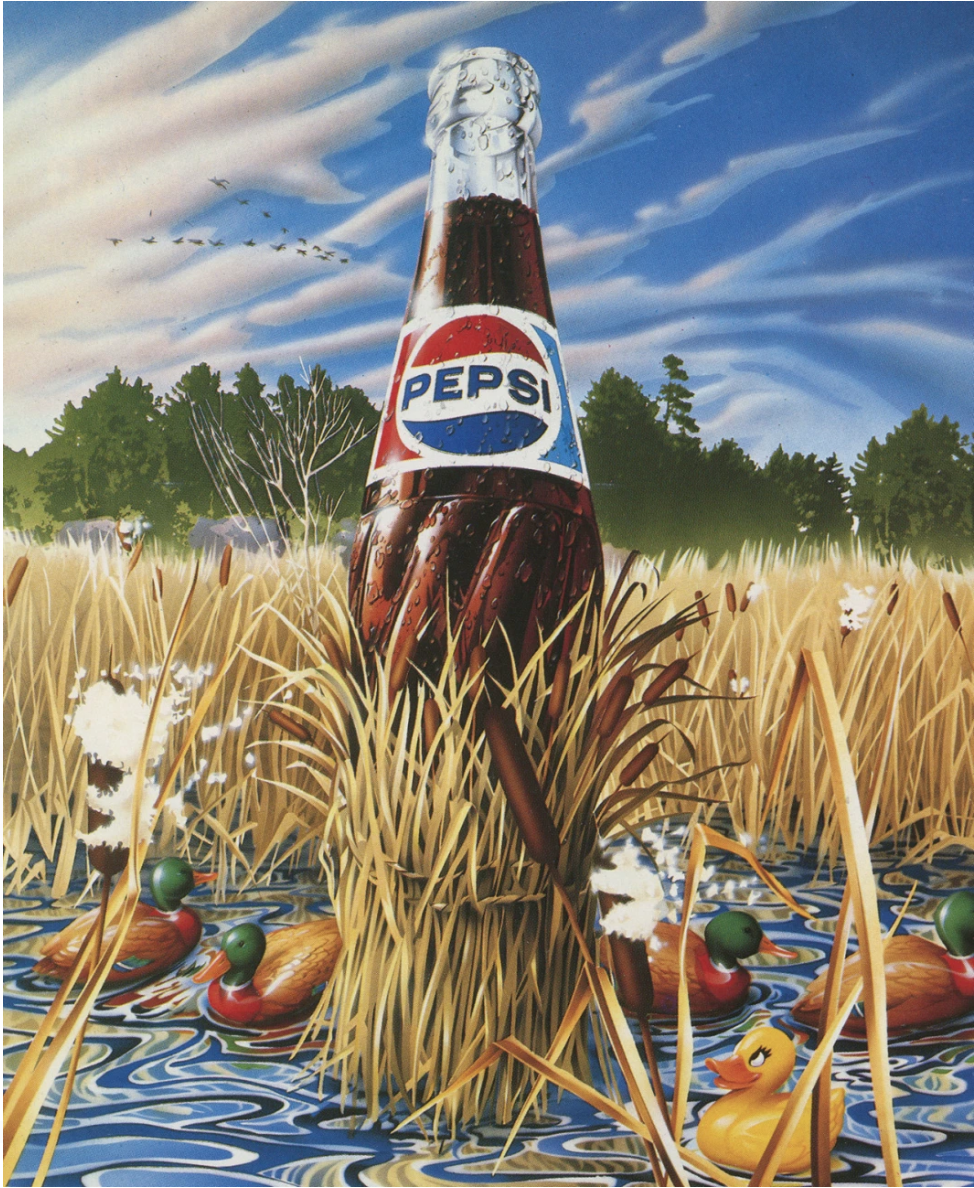 10. Geometric shapes
Geometric shapes offer unlimited possibilities for designers and brands. They can be used to create sleek, minimalist designs that convey approachability, stability, and reliability — which will be particularly important to consumers tightening their purse strings in response to the cost of living crisis. A simple design composed of geometric shapes can also provide an image of transparency.
In testament to their versatility as a design element, geometric shapes can, conversely, also be used to create abstract realities reminiscent of the Memphis design style of the 80s. In 2023, the Memphis style will receive a 3D makeover, combining 3D geometry and bright colors to evoke a sense of the extraordinary in the everyday.
The good news for designers is that geometric shapes are easy to work with — unlike more abstract visuals, their simplicity offers almost limitless ways to combine them.
Stay ahead of the curve with these design trends
Now that you know ten of the most prominent new trends that will dominate in the coming year, it's up to you to find creative ways to incorporate them into your design work. Your clients will love you for it.
A great way to prepare for finding new design clients in 2023 is to create some new designs in the style of these trends and add them to your design portfolio.
If you need some help presenting your on-trend design projects in a way that will have clients falling over each other to hire you, check out these nine portfolio tips for graphic designers.