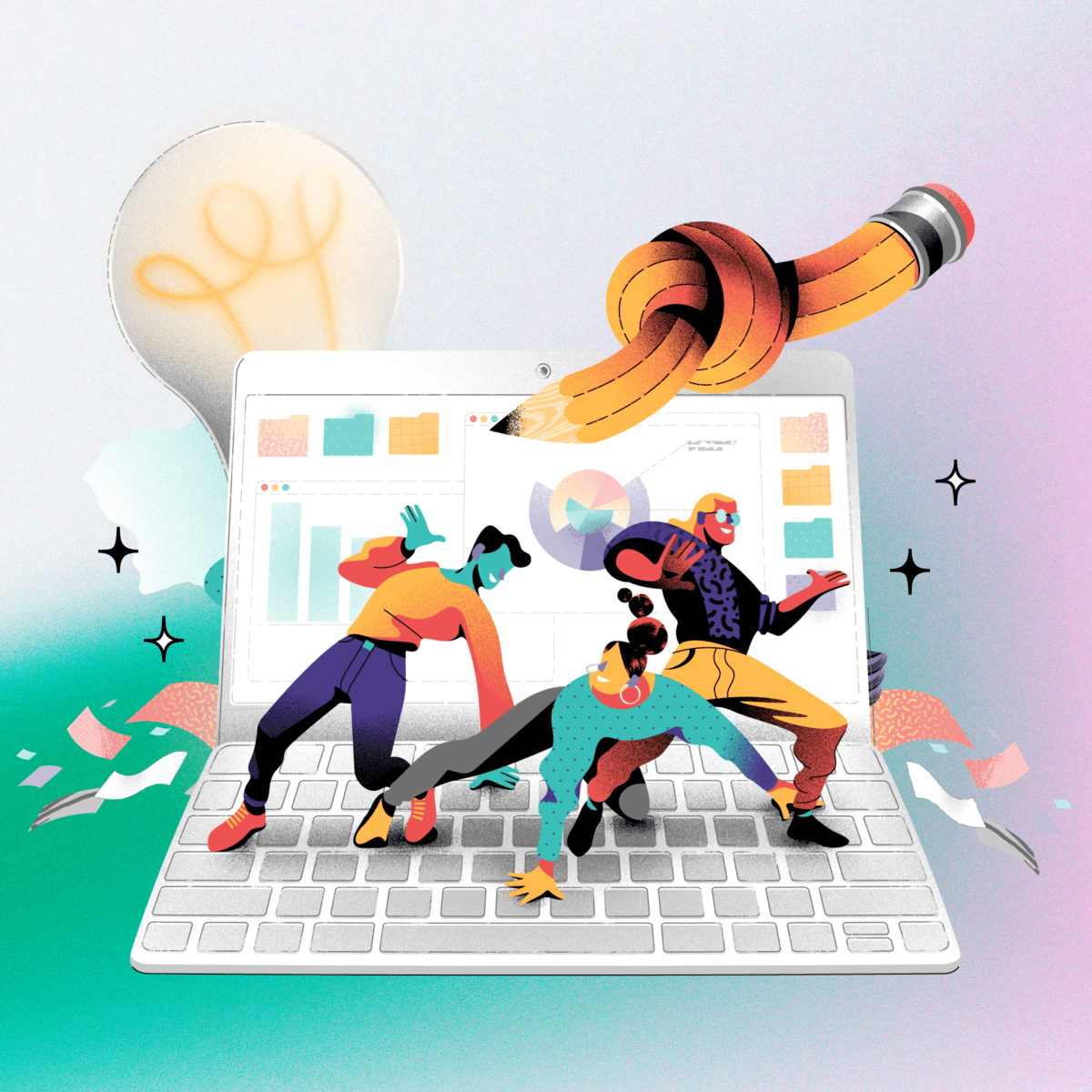 In this era of constant evolution, the role of a lead graphic designer is as dynamic as the designs they create. Lead graphic designers hold a unique position, bridging creativity and management. They are the visionaries, responsible for overseeing the creative process, developing brand identities, and producing eye-catching visuals that captivate audiences.
If you're a seasoned designer eyeing the role of a lead graphic designer, you've likely wondered about the compensation that comes with it. This guide explores lead graphic designer salary prospects, shedding light on the figures and factors that matter most.
The lead graphic designer salary: How much is it?
Lead graphic designer salaries vary depending on several factors, including experience, location, and company size. For example, the average annual base salary for a lead graphic designer in the US is $76,009, according to Zippia. However, the salary range can vary widely, from $44,000 to over $100,000 per year.
Experience level is a significant factor affecting salary, with entry-level lead graphic designers typically earning less than those with more experience. California has the highest income for lead graphic designers in the US, with an average salary of $92,671 per year. Other areas with high salaries for lead graphic designers include New York, Washington, Massachusetts, and Hawaii.
The average lead graphic designer salary in the UK is £43,159 per year (around $52,638), according to Glassdoor — this is slightly lower than the average salary in the US. The salary range for lead graphic designers in the UK can vary from £34,000 (about $41,468) to over £55,000 (around $67,080) per year, and experience level is again a major factor that affects salary.
Lead graphic designer salaries in India average ₹ 7.2 Lakhs per year (around $8,649). Designers with less than two years of experience will usually earn around ₹ 3.0 Lakhs (about $3,604), and this increases with experience to approximately ₹ 16.4 Lakhs (around $ 19,699) for more senior designers with about 13 years of experience.
These salaries are lower than the US and UK averages, and likely due to several factors, including the cost of living, the level of economic development, and the demand for graphic design services in India.
Besides salary differences based on location, lead graphic designer salaries also evolve over time. For instance, US salaries have increased by nearly 14% over the past five years.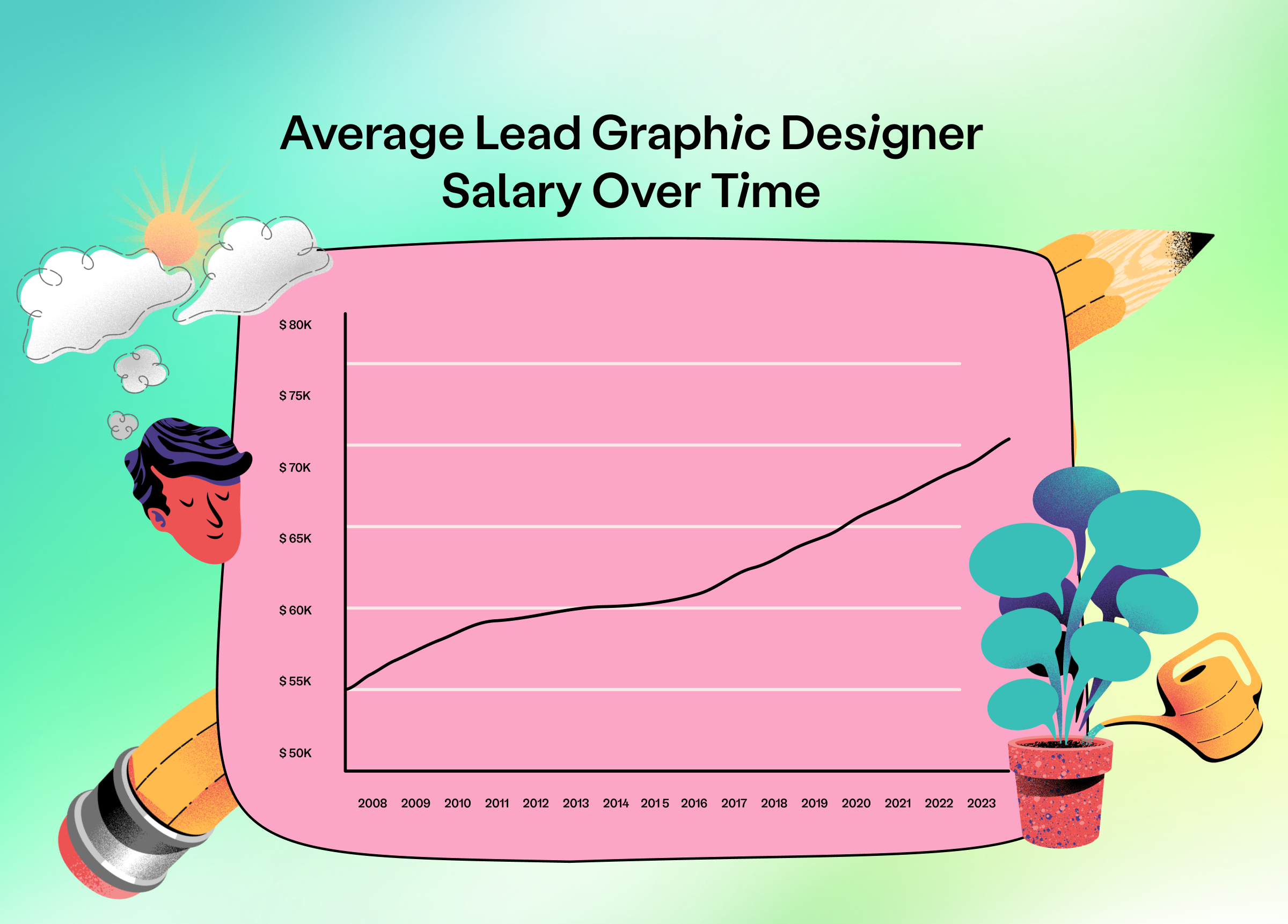 How to earn a competitive salary as a lead graphic designer
As a lead graphic designer, your earnings will typically reflect your experience and expertise. The good news is that there are some things you can do to increase your salary:
Gain more experience
When it comes to a salary increase, experience is your best ally. The more projects you've steered to success, the more recognition you've garnered, and the more intricate design challenges you've conquered, the greater your compensation will generally be. As you accumulate experience and improve your certifications, you'll not just be progressing in your career; you'll also be able to command a higher value for your expertise.
Develop your skills
The design world is dynamic. Staying ahead is not a choice; it's a must. Your skills are an asset, so keep them sharp, honed, and versatile. Embrace the latest design tools, software, and techniques, and keep a finger on the pulse of design trends. As your skills evolve, so will your salary.
Some of the top skills a lead graphic designer needs to earn a competitive salary include:
Robust knowledge of design software and tools: As a lead graphic designer, your tools will affect the quality of your work, so you need a solid tech stack. For instance, mastery of Adobe Creative Suite, including Photoshop, Illustrator, and InDesign, is essential.
Design concepts: You need a deep understanding of design principles and concepts. For example, brand development, visual design, and logo creation are all core responsibilities that will serve as a hallmark of your expertise.
Motion Graphics: Animation and motion design skills are increasingly sought after. Knowing your way around this space is a valuable asset, as is proficiency in motion graphics tools like Adobe After Effects.
Project management: Efficiently managing design projects and timelines is mandatory.
Leadership skills: A lead graphic designer must lead, inspire, and mentor their teams effectively. Ensure you have these skills to excel in this role and be in a good position to command a competitive salary.
Communication: Effective communication is key in conveying design concepts and ideas.
Take on leadership roles
Leadership is a critical factor that draws attention and salary increments. Volunteering to lead projects showcases your confidence, competence, and commitment to taking your team to new heights. Not only does it empower you to shape the creative direction, but it also strengthens your negotiation power when discussing compensation.
Network with other professionals
Networking is not just about shaking hands and exchanging business cards; it's about forging connections that open doors. Attend industry events, rub shoulders with fellow lead graphic designers, and engage in conversations that can unveil new avenues for collaboration, projects, and, yes, salary increases.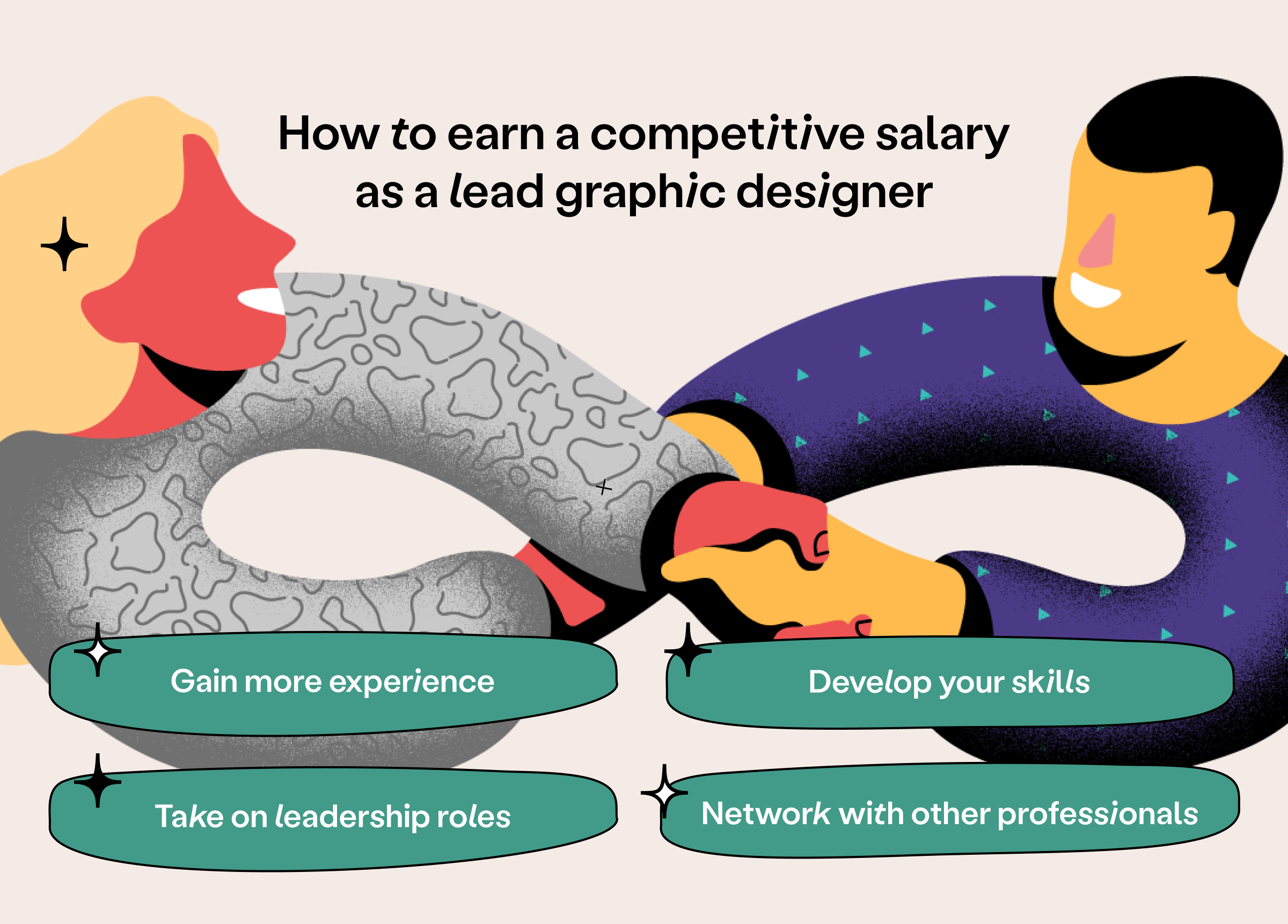 Ready to step into a lead graphic designer role?
Zippia projects 3% growth for lead graphic designer jobs through 2028, plus salary estimates for this senior graphic designer role are on a growth trajectory. So, now is as good a time as any to step into the role and take your career to the next level.
Granted, the career path of a lead graphic designer has its challenges. But with some forethought and planning, you can create a rewarding career for yourself. To get started, here's a guide to help you gain more insights into working with a design team as a lead graphic designer. Happy learning!