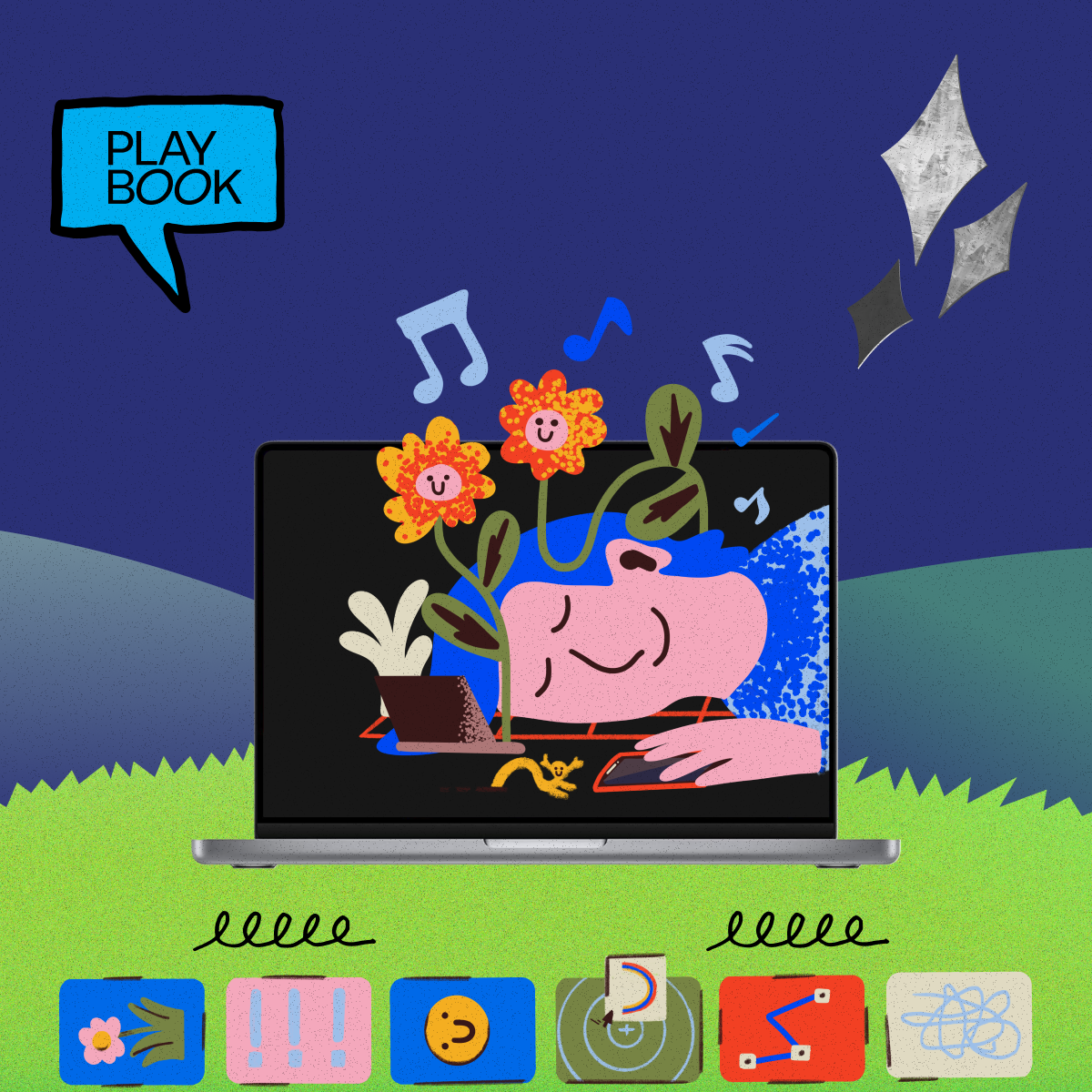 Everyone in the design industry has been in existential angst since generative AI platforms like ChatGPT were unleashed on the world. Not only can the bots write poetry — they can also rustle up some pretty convincing designs (as well as some less convincing ones).
Despite all the doom and gloom surrounding AI technology, it's unlikely that AI is going to steal your job anytime soon. In fact, harnessing the potential of these tools can enhance your creative process by helping you generate new design ideas quickly, automating repetitive tasks, analyzing data, and predicting audience reactions to your designs.
Developing your knowledge of AI tools is one of the best ways to uplevel your design skills and AI-proof your career. So instead of fearing AI, it's time to embrace it — starting with these ten top AI graphic design tools selected for you by Playbook's design team.
Playbook
Playbook — the storage platform by and for designers — is no longer just a powerful file storage platform for creatives. You can now use it to play, create, and store all your AI art.
With Playbook's AI plugins, creatives can:
Create art with DALL-E or Stable Diffusion directly in Playbook.
Remove backgrounds with the RemoveBG plugin.
Save every version of your AI prompts for all imported art.Import and organize your AI art variations with 4TB of storage.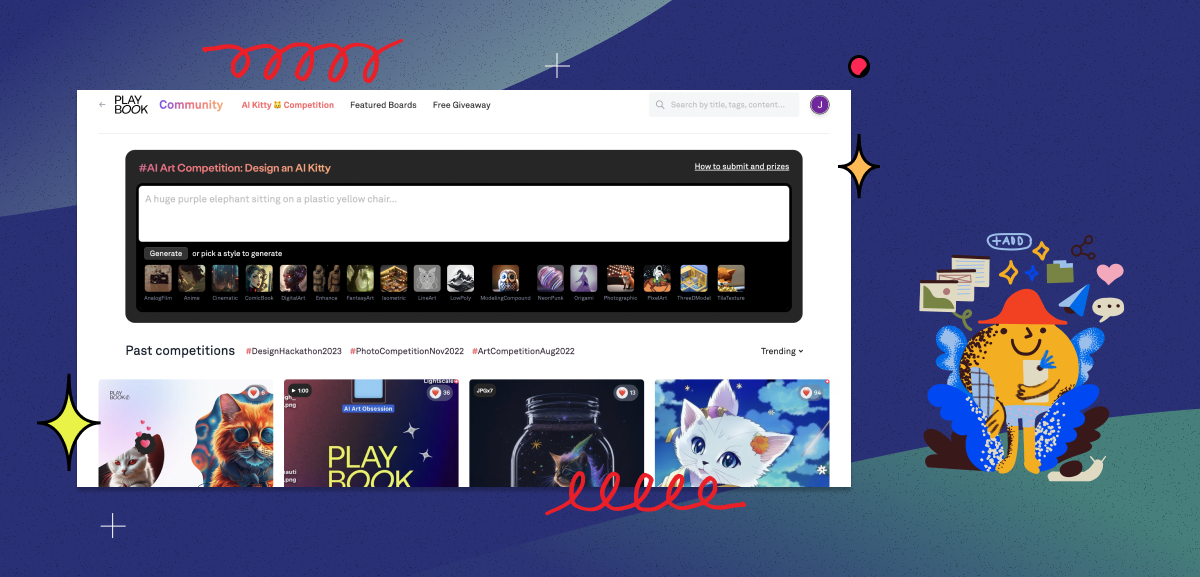 With Playbook, you can centralize content creation in one place — from ideation to iteration — while also leveraging the platform's powerful collaboration features.
Worried about AI models stealing your work? Playbook doesn't sell your data or art to third-party organizations, including AI services, so your designs are safe with us.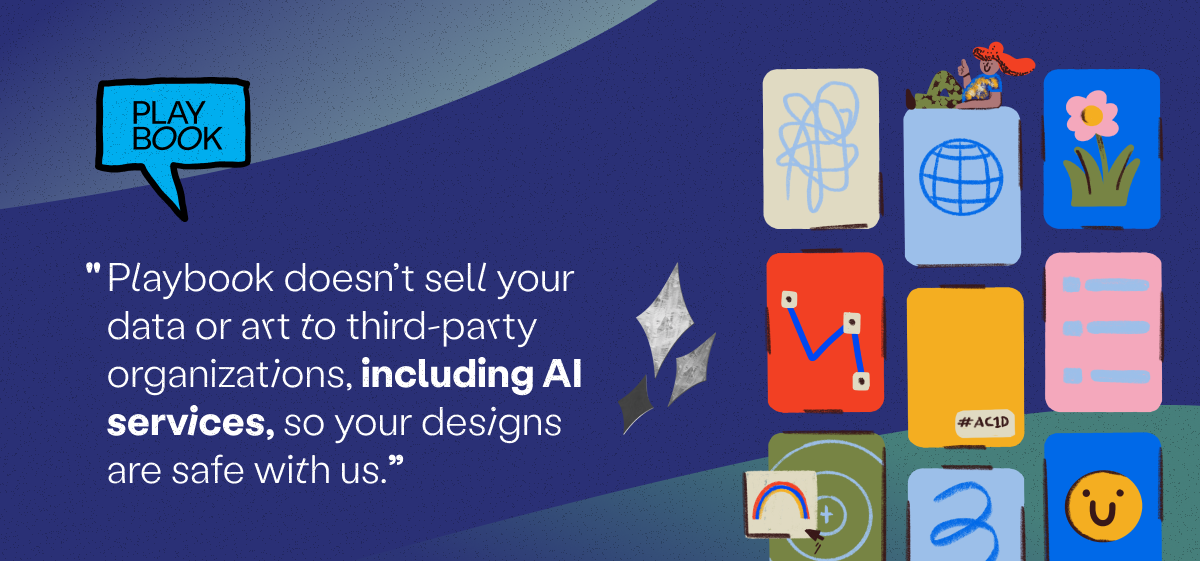 Pricing: The cost of an image is about ~0.5 to ~3 credits and depends on factors such as dimensions and plugin provider. For creating AI art:
A&D accounts receive 25 monthly credits monthly with no rollover
Pro accounts get 1,000 monthly credits with rollover.
Team accounts receive 2,000 monthly credits with rollover.
RemoveBG
RemoveBG is an AI-powered tool that simplifies the process of removing backgrounds from images. With a simple drag and drop, it automatically removes the background of each photo, leaving a transparent background and giving you professional-looking results in just a few clicks. It also offers quick editing options and design templates for creating impactful visuals.
RemoveBG is easy to integrate into your workflow with its plugins for popular graphic design software, including:
Playbook
Photoshop
Figma
Sketch
Gimp
RemoveBG's 28,000 customers span 200 countries and include AT&T Sportsnet, Canva, and Samsung.
Pricing: Free plan available, paid plans start at $9 per month.
Midjourney
Midjourney is a text-to-image AI tool accessible through its Discord server. Although not all results are perfect (a common occurrence with generative AI tools), the tool generates realistic, high-quality images and illustrations based on user prompts, enabling you to quickly visualize your ideas.
Midjourney uses machine learning and algorithms to understand your prompts and generate unique designs that match your style and preferences. Plus, it's easy to use. However, the server is often busy, and when this happens, it will usually only work if you have a subscription.
Pricing: Free plan available, with paid plans starting at $8 per month (billed annually).
Khroma
Choosing colors and color combinations for projects is a heavy-duty task for any designer, and the problem AI color tool Khroma sets out to solve. The platform was born when George Hastings realized there weren't any tools that allowed him to browse and compare color combinations easily.
Khroma uses AI to create personalized color algorithms based on initial color selections, leveraging knowledge from popular human-made palettes to generate fantastic color combinations.
The tool generates infinite color combinations related to the initial color selections and allows you to browse, search, and serve these combinations. You can also:
Explore different design types, such as typography, gradients, duotone, and color palettes, to see how your selected colors work in various contexts.
Conduct a color search and add your favorite color combinations to a collection.
Upload your own images and apply colors to them.
Pricing: Free
Adobe Sensei
Adobe Sensei is a powerful tool integrated into Adobe's Creative Cloud range that uses AI and machine learning to enhance creative assets, improve business operations, and provide deeper marketing insights.
It streamlines work processes, automates tasks like font recognition, makes images discoverable, and lets you create high-quality graphics that automatically adjust to screen size and resolution.
It also offers performance forecasting to optimize campaign strategies and supports designers in ideation, creation, and client engagement.
Pricing: Prices are available upon request from the vendor.
Adobe Firefly
Adobe Firefly is an innovative software currently in beta that offers a collection of AI design tools within Adobe's cloud programs like Illustrator and Photoshop. It excels in generating stunning text effects, transforming text into images, and recoloring vectors to create various color variations.
The text-effect generator allows users to input a text prompt and create a wide range of effects, although results depend on carefully selecting a specific prompt.
The text-to-image feature operates similarly, with output quality dependent on the input prompt. Users can customize the generated output, including content type, style, color, tone, lighting, and composition. However, Adobe strictly prohibits commercial use of the generated images and watermarks them accordingly.
Pricing: Starts at $20.99 per month.
Let's Enhance
Let's Enhance is an AI-powered image enhancer and upscaler founded in 2017. It upscales images up to 16 times without quality loss, addressing the challenges of user-created images prone to compression and pixelation. With one-click adjustments, it offers features like image cleansing, logo resizing, and color retouching.
Let's Enhance allows you to process up to 20 assets simultaneously, streamlining your workflow. It excels at obtaining high-quality image assets, removing noise, and sharpening blurry images.
One of its standout features is the image enhancement tool, which allows you to generate larger images while adjusting lighting and tones. Presets are also available for specific use cases, and it has an image generation tool (in beta) for creating images from text prompts.
Pricing: Free plan available, with paid plans starting at $9 per month (billed annually).
Uizard
Uizard is a great option for graphic designers who dabble in UI design and want to design professional-looking mobile apps, web apps, websites, and software interfaces.
The tool uses machine learning algorithms to turn sketches and wireframes into polished designs, with options to add animations and interactions. It's perfect for anyone who wants to create high-quality interfaces quickly and easily without needing in-depth programming or web design knowledge. Uizard offers:
A simple drag-and-drop editor that makes it easy to create designs.
Hundreds of templates.
The ability to upload hand-drawn sketches.
An intuitive interface.
Support for animations and interactions.
Pricing: Free plan available, with paid plans starting at $19 per month.
AutoDraw
AutoDraw is an AI-powered drawing tool that helps you draw quickly and refine your artwork. It pairs machine learning with drawings from various artists to suggest improvements and complete your drawings. You can download your work as a PNG file and share it on social media from any device.
Pricing: Free.
Fontjoy
Fontjoy is an AI tool that helps you create the perfect font pairings for your design work. The tool uses machine learning algorithms to analyze your preferences and find font pairings that complement each other.
Fontjoy offers three font types—header, subheader, and body text—and you can choose between high and low contrast to generate new font groupings. It's a simple tool that allows for important customization to help you create your best designs.
Pricing: Free.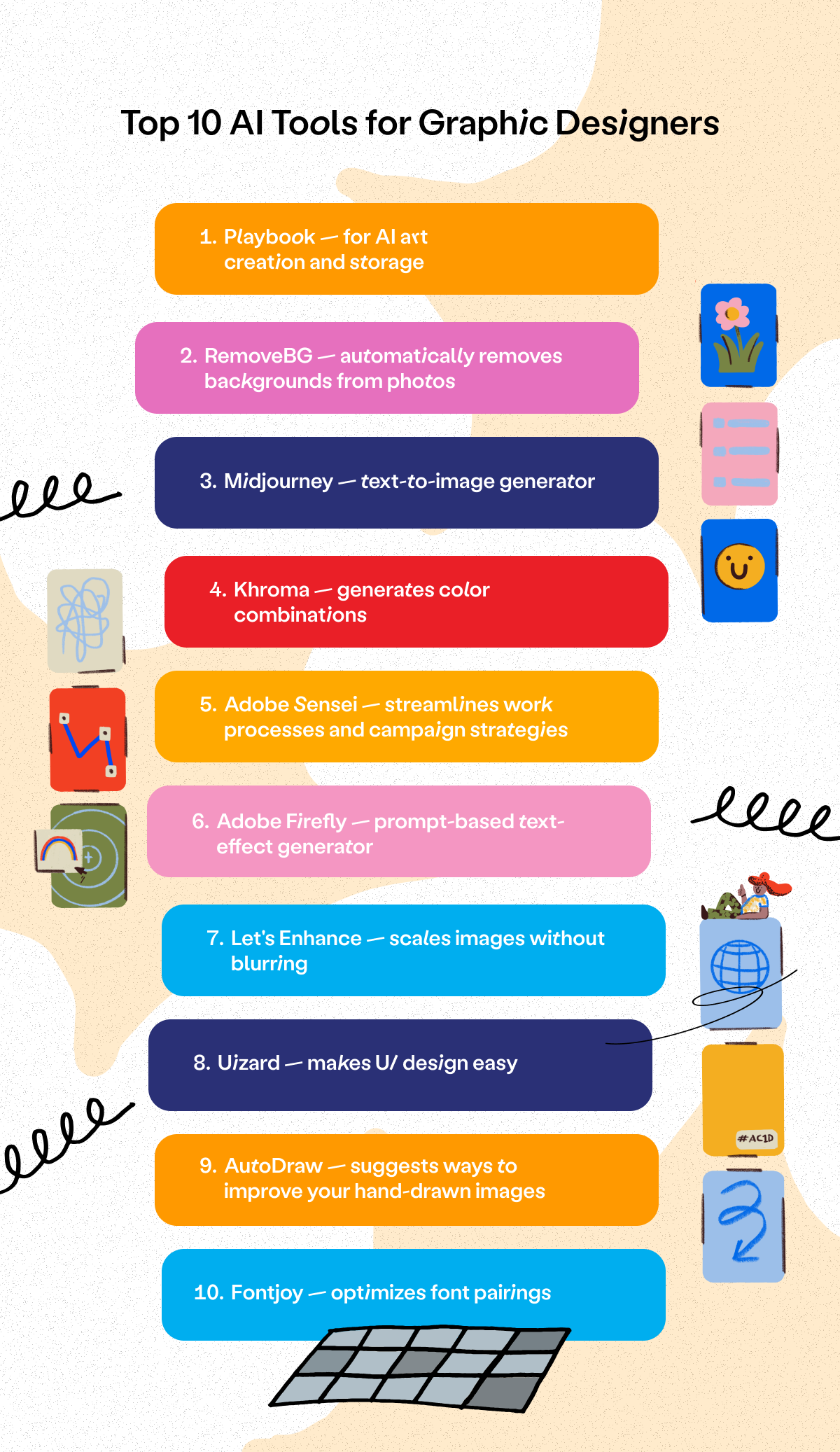 If you can't beat the bots…join 'em!
Incorporating these AI graphic design tools into your tech stack will streamline your work processes, help you generate ideas faster, save you time on manually retouching your work — and make your design skills more in demand.
Of course, you'll need a handy platform to store all your incredible AI-created work — one with all the space you'll ever need, an intuitive interface, and advanced search capabilities that make your designs easy to find…like Playbook.
With Playbook, artists and designers receive 4TB of free lifetime storage — create your free account today to claim yours.