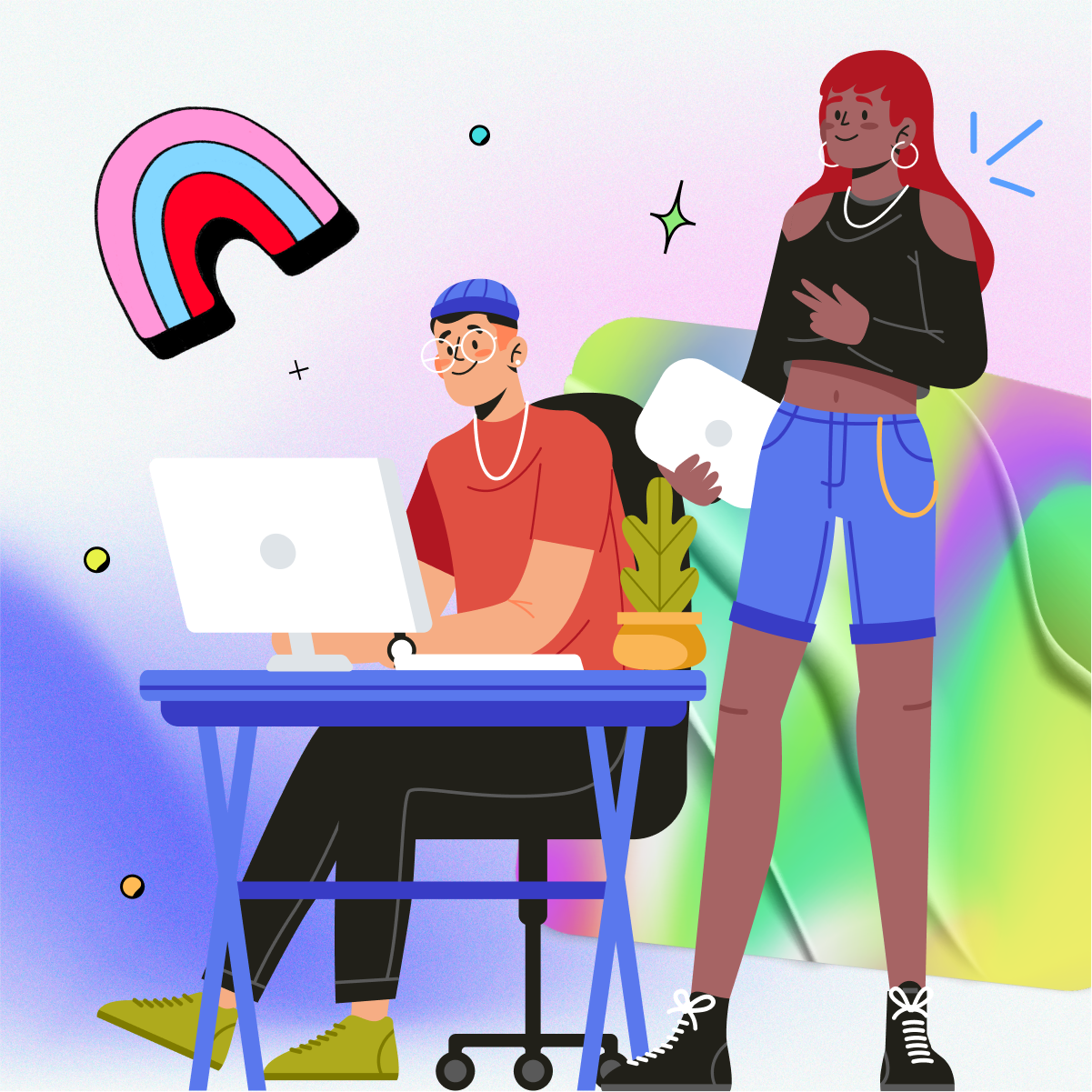 It takes more than epic design skills to manage a team of designers (although you'll definitely need those, too!). Just like any other management role, heading a design team requires a range of leadership skills, including communication, decision-making, emotional intelligence, problem-solving, and strategy.
Whether you're a seasoned design leader or just stepping into a design leadership role for the first time, there are a few things you need to do to create a positive work environment for your design team members that fosters their creativity while delivering results for your clients.
The Playbook team has put together our top tips for managing a design team effectively so you can guide your team successfully and help them create their best work. Let's take a look at them.
1. Hire and Build a Strong Team
Leading a successful design team starts with hiring the right people. Look for designers with a diverse range of technical design skills and styles, including:
As well as diverse skills, it's important to look for people whose personalities mesh well with your team and company culture and who possess soft skills such as communication and teamwork that facilitate effective collaboration.
But design diversity shouldn't stop at skills — a team that's truly diverse at every level will be stronger and produce better quality work, as people from different backgrounds can contribute their unique perspectives and ideas based on their lived experiences.
Research by Zippia found that 70% of designers are white and 57% are men. Additionally, a mere 13% of designers are LGBTQ+. Actively recruiting designers from all walks of life will strengthen your design team and boost your employer brand, helping to attract even more diverse talent.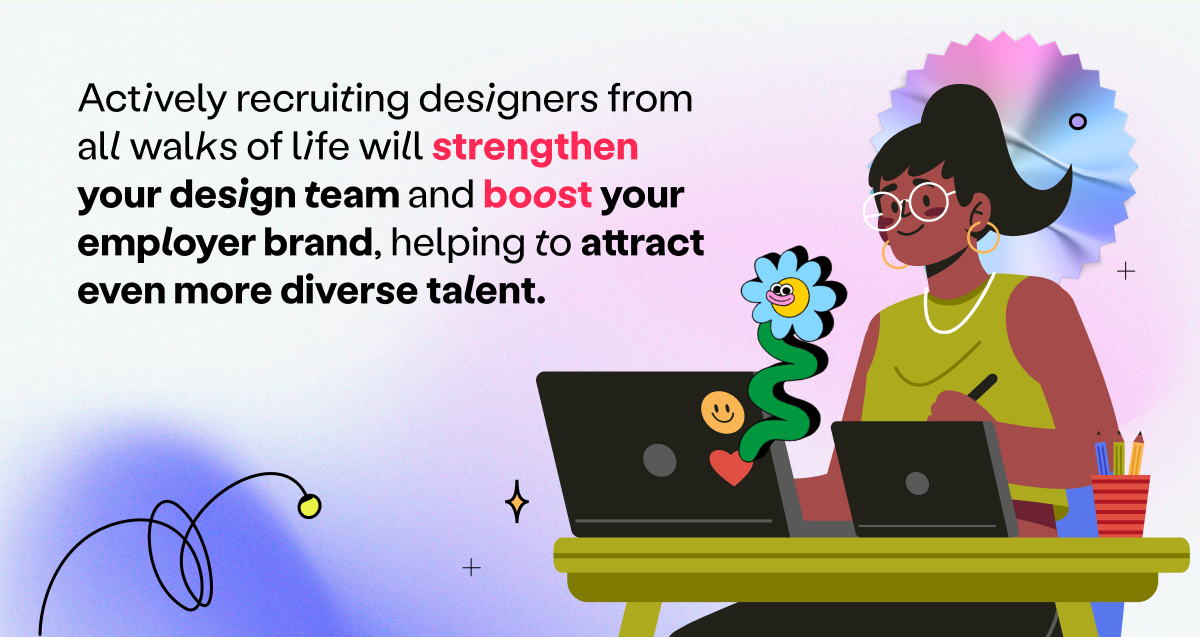 2. Set Clear Goals and Expectations
It might seem like we're stating the obvious, but you shouldn't underestimate the importance of setting clear goals and expectations for your design team. When setting goals, include your team in the process to foster ownership and ensure alignment with both their professional goals and the company's broader objectives. Here, you'll need to practice active listening and empathy and have an open mind — being a manager doesn't mean you know everything, so be open to learning from your teammates.
If your hiring processes have been successful, each member of the design team will have a clearly defined role and understand what's expected of them. These roles and responsibilities should feed into organizational processes and company goals so that your designers understand how their work fits into them.
Additionally, make sure that any project deadlines are reasonable and leave a little wiggle room for unforeseen snafus and additional tweaks. As a designer, you know that creating quality designs takes time, and you don't want to stress your team out with unrealistic deadlines or by overloading them with work. Ask your designers for their opinions and ideas regarding workload balance to prevent burnout and maintain productivity.
3. Establish Transparent Communication Channels
A team is only as strong as its communication skills — especially if you're managing a distributed team of designers. Establishing clear communication channels, norms, and protocols will strengthen collaboration and keep your creative team running like a well-oiled machine.
Project management software — like Asana, Toggl, or Monday — is your best friend when it comes to organizing workflows, assigning tasks, and staying on top of deadlines. Lean on communication tools like Slack, Zoom, and Loom, and hold regular team meetings and check-ins to make sure everyone is on the same page. In remote teams, there's a risk of information becoming siloed, so when in doubt, it's better to over-communicate than under-commuicate.
One caveat, though — beware of dragging your designers into too many meetings and disrupting the flow of their work. The key is to strike a balance between face-to-face and solo work time.
4. Have Clear Guidelines for Providing Feedback
Regular feedback is essential for your designers to develop their design skills, nurture career growth, and improve the quality of their work. When someone does a great job on a design, let them know — tools like 15Five can help with creating a culture of recognition and positive feedback. Recognition and celebrating team achievements make your team members feel valued, which can help them stay motivated and keep producing high-quality designs.
When it comes to giving constructive feedback, offer guidelines such as focusing on specific behaviors, providing examples, and offering actionable suggestions. Encourage team members to constantly give each other feedback, creating a culture of constant improvement.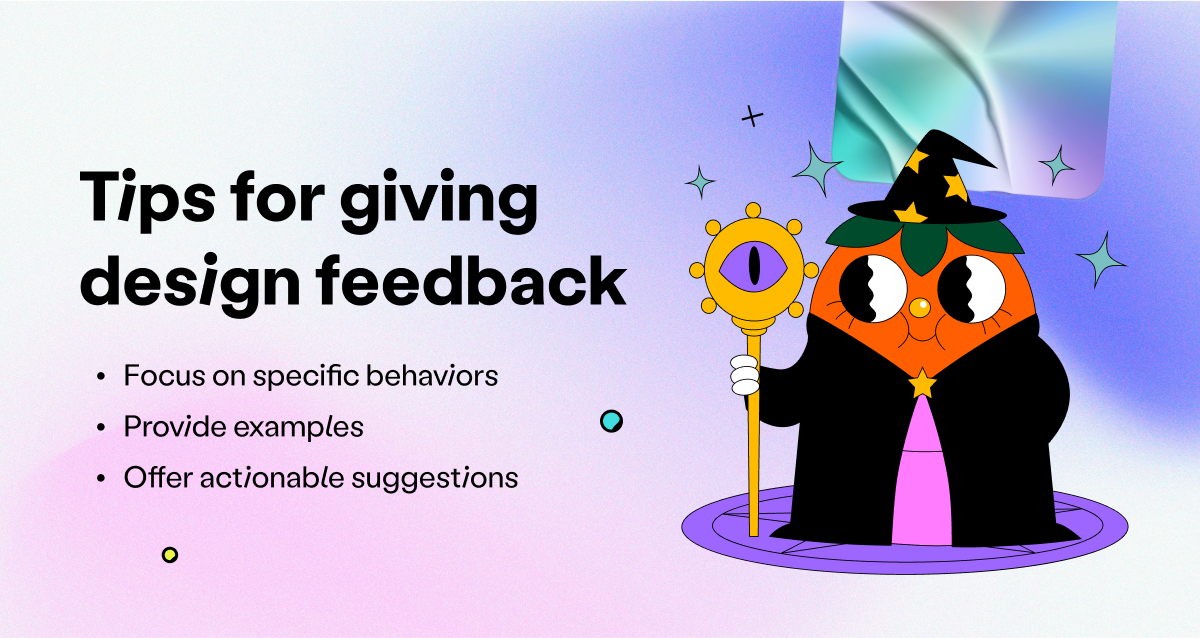 5. Foster A Positive Work Culture
A positive and inclusive work environment enhances team collaboration and boosts morale, creativity, and quality. Here are a few ways a design team leader can create a supportive and inclusive team culture.
First, it's important to strike a balance between control and creativity. Avoid micromanaging, and show you trust your team members by giving them the freedom to try new approaches to task completion while still setting timeframes and goals. This can boost creativity and inspiration in the team while still maintaining project deadlines on track.
Additionally, employing techniques like collaborative brainstorming sessions, design thinking workshops, or design challenges can stimulate innovation and cross-functional collaboration — both of which contribute to a positive work culture.
Lead your design team to success
Effective design team leadership requires a mixed bag of skills: from managing projects and workloads to giving usable feedback and even resolving conflicts. By following the steps outlined above, you can create a positive, inclusive work environment that inspires your designers to try out their skills, use their imagination, and collaborate effectively with others.
For more tips on design team management, check out this article about how to structure your design team.